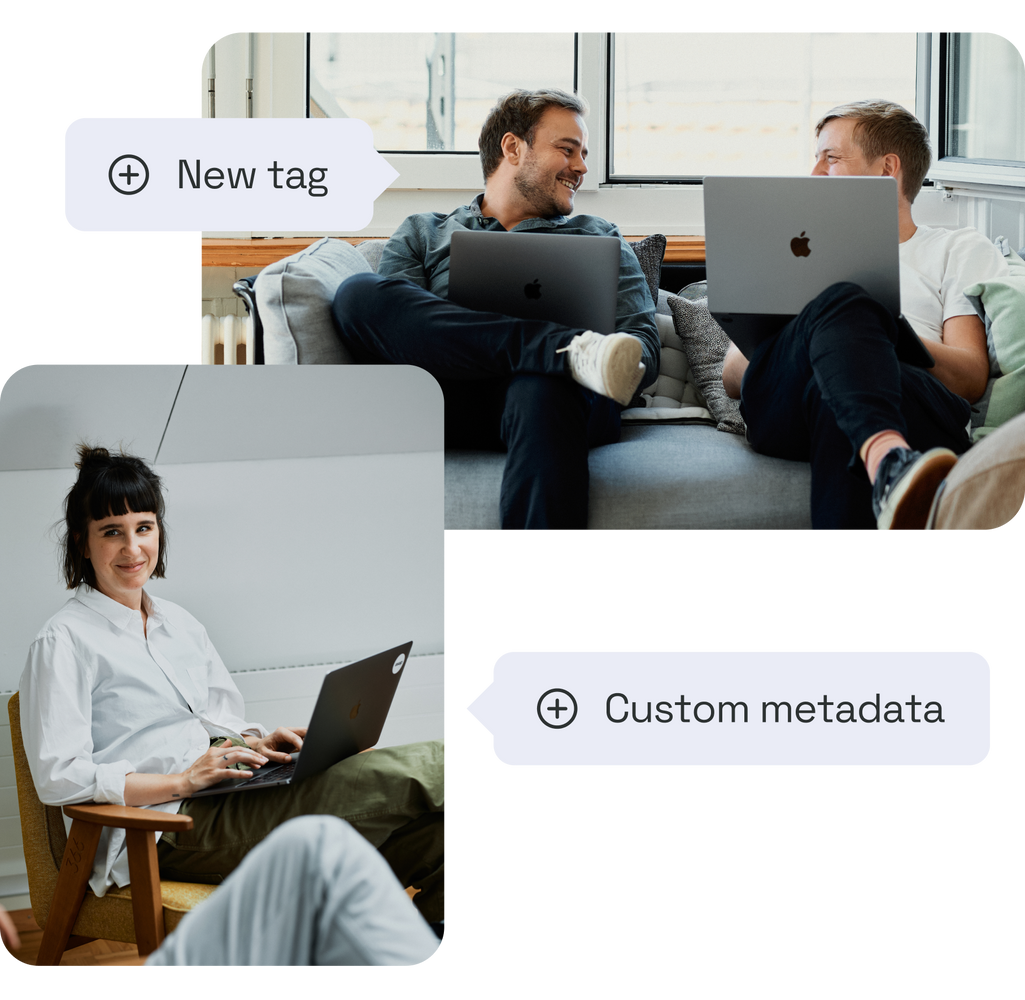 How to set up metadata and tags to get the most out of your digital asset management system
Implementing metadata and tags can be challenging: Even though you know — or have at least heard — that such processes can simplify workflows and user experience, starting such a process can feel daunting. We're here to help. We'll share all the information and best practices you need to set up efficient and effective tags and metadata.

Let's start with some definitions: Metadata is the information used to describe a digital asset – in other words, it's data about data. Metadata management in digital asset management (DAM) is the process of assigning the proper terms and descriptors to your digital assets.
Setting up proper metadata and tags is essential to ensure users find the asset they need easily and faster within their DAM system.
The difference between metadata and tags
Metadata and tags work similarly to search for assets, but there is a difference in the data and structure:
Metadata guides people to categorize appropriately. Metadata has a clear format — like "date" — and is often used to structure an asset library, similar to how "genre" structures your music library.
Tags are user-defined and entirely open-ended with no restrictions whatsoever. That means that if you use tags only and multiple people upload assets, people might be tagging inconsistently, and finding the right image or logo will become more difficult.
The image below shows an example of a metadata structure versus tags. If you want to learn more about metadata and tags, check out our help article.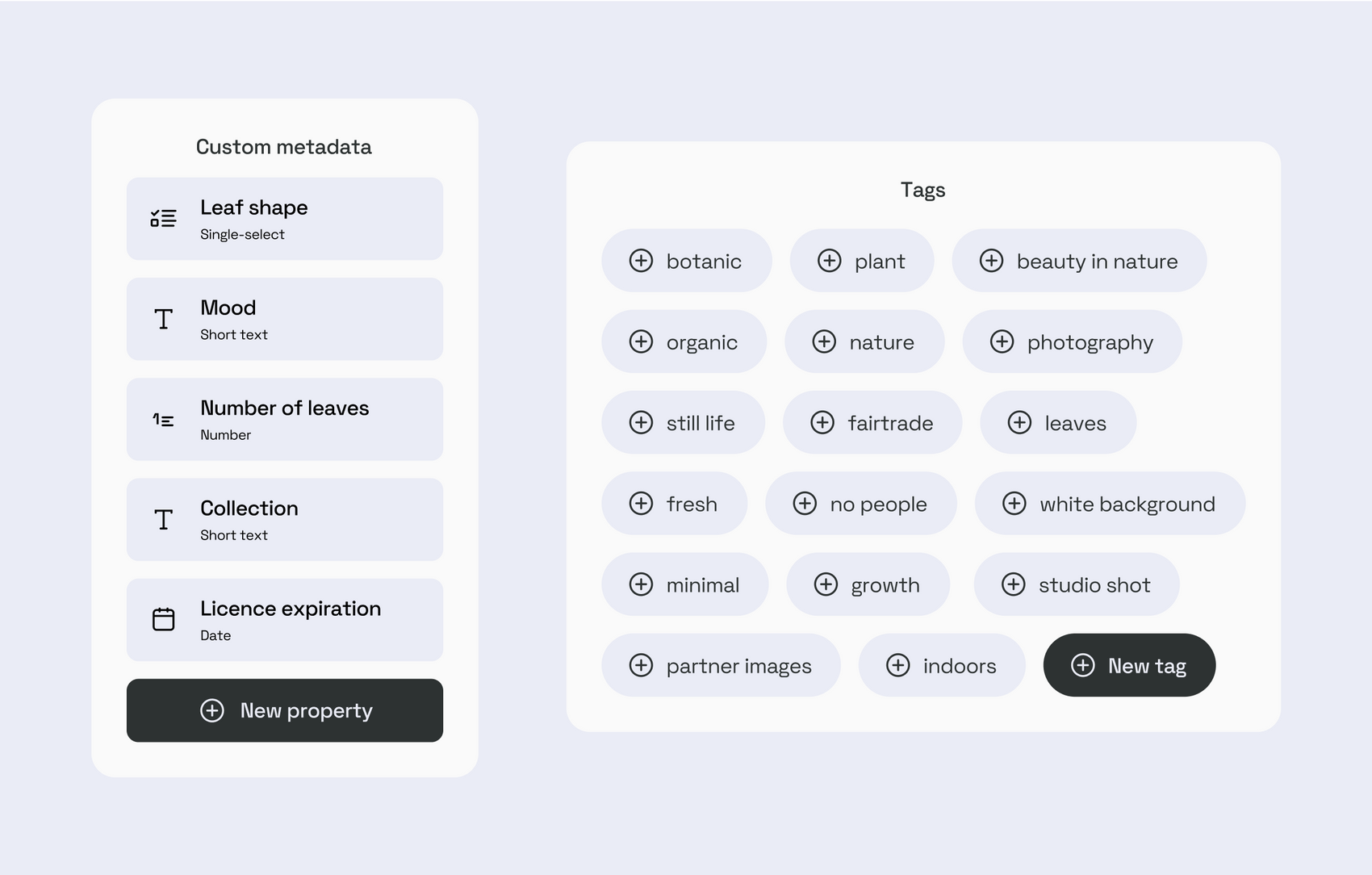 Metadata and tags increase user happiness and your ROI
The process sounds fairly straightforward, but setting up the framework behind it to ensure people tag assets correctly and consistently needs a bit of effort. But this initial effort will pay for itself: If the asset properties and information are not structured and implemented properly, users will struggle to find the content they need. People then get frustrated and stop using the DAM system — and you're back to emails, in-person requests, and a high risk of off-brand marketing materials. Proper metadata and tagging help you increase DAM adoption and return on investment.
How Frontify users can use metadata and tagging
We know how critical optimized DAM workflows and easy-to-use solutions are, so we continue to enhance our metadata capabilities. The Frontify DAM includes features such as required metadata, metadata permissions, and metadata dependencies that enable users to set up asset information in an intuitive way so that brand builders can find content faster.
But we don't provide metadata support alone: We partner with experienced brand agencies to set up DAM systems and structure metadata and tags for clients. One of those partner agencies is Windrose Management, which worked with The National Academy of Television Arts and Sciences (NATAS).

Case study: How Windrose Management set up metadata management for the Emmy® Awards
Caroline Lewis, the principal consultant and co-founder of Windrose Management, takes us through the process of setting up metadata and tags for the iconic Emmy® Awards brand.
Caroline, what are some of the challenges that organizations face when it comes to metadata management?
The primary issues we see with organizations are too many assets and not enough consistency in their metadata, which leads to one main complaint: "We can't find anything!"
Usually, once organizations realize this, the next step is to try to leverage an existing metadata process from another system — and they realize they're actually dealing with too many metadata processes in their business. These existing metadata lists tend to grow organically for different specific reasons: It may be a list of target audiences for their customer relationship management (CRM) platform, product names in the product information management (PIM) tool, and regions in their marketing automation platform.
As they build a DAM metadata system that touches each of these pieces, companies realize these differences and discover the gaps they need to resolve.
What were some of these gaps that you helped fill for the Emmy Awards?
The Emmy Awards had an extensive image library with tens of thousands of images in a nested folder structure. This content was organized by show, but the rigidity of the folder system didn't allow users to browse or filter the content in any other way. Searching for images was cumbersome and a poor user experience.
Another issue we often see is the confusion between metadata and tags. Metadata fields are defined properties for your assets, and they are really important to creating consistency in your organization's asset management strategy. It's a way of creating a common language for how you will describe your assets. In the case of the Emmys, we used metadata fields for defined selection lists, such as the event year and show name. These are distinctive attributes with a set amount of unique and universally understood options, and they became the dropdown navigation in the library. (Example: Year: 2015 | Show: Daytime Emmys)
We utilized tags where the options were a bit more open-ended. For example, descriptions of who was in the photo, what was happening, where the image was taken — these are all terms that can be searched for in the search bar to narrow down images. (Example: red carpet Los Angeles).
What was the result of this process?
The organization now has the ability to dynamically search the assets with an improved user experience: Filtered navigation allows users to narrow down their results to find exactly the images they need without having to browse through thousands of images.
Platform users can now also scale the new-and-improved system administration. This means that the search list can be easily updated to scale for new event years and shows, which is critical for an event that happens every year.
A third benefit is improved content integrity: The Emmy Awards' consistent metadata system enables them to connect the DAM to other platforms seamlessly.
What are some of the best practices you recommend?
I think that the most important thing to do when setting up a metadata and tag strategy is thinking about your end users. I like to interview stakeholders — the people who will be tagging the assets, the people who will be using the system, and the people who will be adding assets — to understand how they currently look for and use the content. By understanding how they describe, talk about, and search for content, you'll get the starting framework for the taxonomy.
Prototyping and testing are also critical. One way you can do this is to build out your taxonomy and return to your stakeholders to ask them to tag some assets to ensure there's a close consistency and definitions of the selection lists. This will be your check to see if there are any misunderstandings, gaps, or redundancies.
Finally, we recommend setting up a governance committee in your organization to properly maintain your taxonomy and metadata structure. This is especially helpful if your organization relies on system integrations. This committee can provide cadenced reviews and approve changes to the metadata structure as the organization requires.
Small labels with a big impact
Metadata and tags streamline processes and optimize digital asset management: Brand builders can organize, find, and use files easily — nobody has an excuse to store visuals on their desktops. Having carefully tagged assets also empower people to find specific files and formats to create exciting marketing materials that are always on brand.
If you want to learn more about Frontify's ability to manage metadata and tags, contact us — we're happy to help!
Claudia Colombo
Brand ambassador