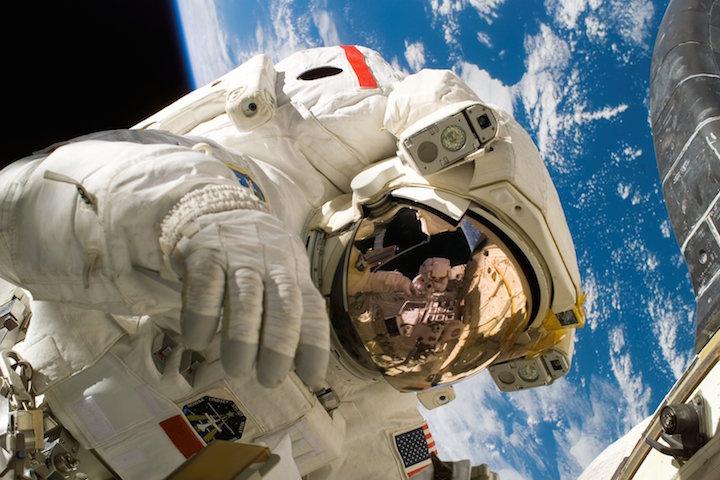 NASA's Style Guide Sends Designers Into Orbit
The story of the logo's journey through time (and space), as well as NASA's brand guidelines, offers important lessons for today's brand managers. NASA's brand guidelines themselves are a thing of beauty and a joy to behold, a document that anticipates logo usage in literally any environment, including outer space.
Graphic designers and brand managers are often faced with tough challenges. Designers must make sure that logos will look good online, in print, on packaging, and sometimes in outer space. Outer space? That's the challenge that NASA faced back in 1975 when the National Endowment for the Arts urged them to ditch the beloved "meatball" logo and find a way to give Americans a sense of the agency's energy and forward-thinking work.
NASA's Logo: A Chance of Meatballs
The Cold War was raging, and America was reeling. The Soviets seemed to be beating them in the Space Race. In 1959, the National Advisory Committee on Aeronautics became the National Aeronautics and Space Administration: NASA. The head of the research department, James Modarelli, was asked to design a logo. He came up with the agency's familiar design, a blue sphere representing Earth, stars, and a red wing to represent aeronautics. The logo, dubbed "the meatball" in 1975 during the agency's rebranding, served the agency well during its first decades.
It was in 1975 that the National Endowment for the Arts started a campaign urging government agencies to update their logo. To that end, NASA issued a request for proposals. The winning agency, Danne & Blackburn, designed the familiar word-based "worm" logo, the word NASA with open-ended A's representing the nosecone of a rocket.
The simple text treatment didn't go over well with NASA at first. The agency had to really sell the concept of space-age logo treatment over the beloved meatball logo. But the meatball, whose style hearkened back to the dated Buck Rodgers look popular in the 50s and 60s, was very outdated. Finally, NASA agreed to the new logo, and it became the defacto logo for nearly 20 years.
In 1992, with a change in leadership, the 70s logo was switched for the now-retro style meatball logo. The same disciplined approach to style guide creation was applied to the change, however, resulting in an unambiguous style guide that helps NASA designed brand everything from t-shirts in the gift shop to the nosecones of rockets.
The NASA Style Guide
The original NASA style guide is "nearly perfect" according to a designer quoted in The New York Times. Taking their cue from the carefully constructed Danne & Blackburn style guide, NASA's officials used a similar format for the reversion to the meatball.
The new style guidelines offer direct and specific guidance on:
Colors: Only Pantone 185 and 286 plus white and black are allowed. Don't even think about adding another color or straying from those colors.
Fonts: You've got to love Helvetica if you work at NASA. If it's not Helvetica, it doesn't belong. And please don't cringe at the use of Comic Sans - the much-maligned font is actually acceptable on NASA's materials for children. The style guideline details which fonts may be used for official and general documents and which fonts may be used on children's materials. Other fonts for the children's category include Smile, Typewriter and Kidprint.
Images: You'd think that every image at NASA would be of something in outer space, but space is only part of what the agency is all about. They're about scientific exploration and the excitement of discovery, two brand attributes that are conveyed through photography. Tight cropping and images that convey life and liveliness are encouraged. Even images of buildings should convey this concept.
PowerPoint: PowerPoint is often the bane of a designer's existence at large companies. Employees tend to get creative with the available templates, fonts, and ubiquitous clip art. NASA preempts this by providing employees with an official template. Don't want to use the template? You've got to get approval from the agency...possibly a brand manager. (We can hear the cheers from you guys now).
For all that it's loved by NASA's employees, the meatball can be a nightmare logo to work with in modern technology. Designed before laser printing and other modern printing technologies, the logo can't drop below 5/8 of an inch across or the text is illegible. Laser printers lose the slight gradation on the red wing or airfoil design. Color copiers have a tough time reproducing the blue accurately, and black and white? A nightmare for reprinting since the contrast isn't high enough to print the blue and red cleanly.
Don't get the designers started on the round globe. NASA admits it's a nightmare to fit type around it. Yet somehow, they manage.
Don't designers always manage?
Although the old logo can be a cantankerous old meatball, it's here to stay for the time being. NASA has retired the worm logo, but it still exists on the orbiting space station and on the older space shuttles dry docked in museums around the country.
Style Guide Nirvana
Whatever happened to the old worm style guide for the 1975 logo? It's in the public domain, but getting dusty back in NASA's archives. That is, until now, when Hamish Smythe and Jesse Reed, designers with the firm Pentagram, blew the dust off the covers and discovered a hidden treasure.
The two knew that excellent brand style guides needed to be preserved, but feared that traditional publishers wouldn't understand their passion for style guides. They received permission from the copyright holder to reprint the book and launched a Kickstarter campaign to have the book reprinted. The two had successfully preserved and reprinted another classic design style guide, the guide to the New York Subway's signage style.
Preserving a Design Style Guide Treasure
Why would a graphic design manual merit reprinting and preservation? The utilitarian design style guide offers more than a glimpse into 1970s design aesthetics. It's crystal-clear guidance on everything from logo size to proper usage in all formats is a great guideline for young designers seeking to create enduring brand guidebooks.
Whether your aim is to create a style guide that reflects modern tastes or an enduring brand like NASA, we can all learn from a design style guide that still makes designers whisper "Wow!" when they see it over 40 years later, If you'd like to see a sample of the old NASA Style Guide from Dunne & Blackburn, visit NASA's website.
Rocket Your Brand to New Heights!
Ready to create your own style guide that's out of this world? With Frontify's style guides, you can successfully create a design style guide that will build a memorable brand for your company. Creating and maintaining style guides should be fun. With Frontify, it can be. Learn more and start building your style guide online today at Frontify.

Roger Dudler
Founder & CEO