The Future of Agency & Client Collaboration
Rethinking the structure of the agency-client relationship is a bold move. But in order to adapt to a new age and drive client satisfaction, one agency set off on a new course, powered by Frontify. Learn how Ogilvy South Africa invested in a new digital transformation and the template for tomorrow's client relationships.
Ogilvy uses Frontify since 2020
Brand Guidelines
Digital Asset Management
Creative Collaboration
Digital & Print Templates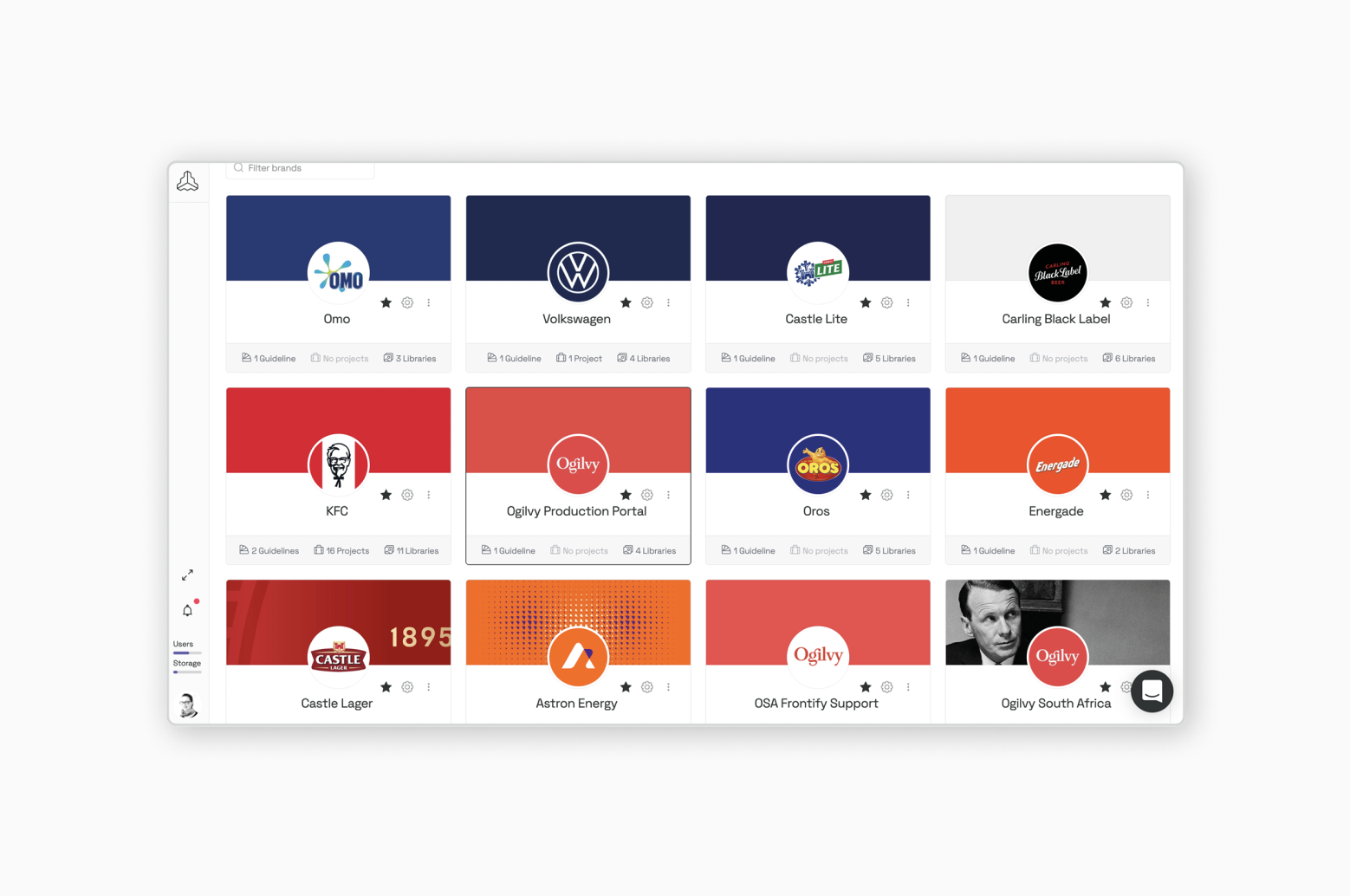 There are things that all modern agencies aspire to, but few actually achieve. For instance, hassle-free client relationships, high levels of client satisfaction, and overall business stability. While achieving that takes actively engaged and happy creative teams, it could be argued that many agencies settle for less lofty goals. But one agency found their own way to achieve all the above and more, triggering an amazing transformation.
In an industry that is constantly changing and evolving, Ogilvy South Africa has taken command of their future by unlocking new levels of collaboration, thanks to Frontify. By adopting a new mindset, and a new tool to support it, Ogilvy set a new dynamic for client relationships. This created a win-win for both clients and employees, and gave the agency the chance to enter new pitches and collaborations with even more confidence than before.
In this case study, you'll discover how Ogilvy did it, and how your agency can replicate parts of their success. Key insights are provided by Lynda Ewing (Design Ops Director at Ogilvy) and David Breytenbach (Strategic Business Technology Director at Ogilvy), who're both sharing their story of what really drives digital business transformation inside agencies. Let's jump in.
"
Frontify is a big part of our digital transformation strategy. It's the vehicle that drives us, and demonstrates just how far we've come.
"
David Breytenbach
Strategic Business Technology Director
The Insight: When Brands Change, Agencies Must Transform Too
Ogilvy South Africa has a long history in the market, having looked after brands for over 30 years. Their focus has often been on designing brands, making them the best version of themselves, and finding new ways to make brands matter.
But the advertising industry isn't what it used to be. The communication business is evolving at a continued break-neck speed. In the light of globalization, digitalization, and you're-on-mute-ization through new remote working preferences, it can sometimes be a nausea-inducing roller coaster ride filled with twists and turns of changing client needs. Unfortunately, that leaves very little time for agencies to rethink how to effectively and efficiently build brands.
Ogilvy SA realized that their business was shifting. They weren't only making big traditional advertising campaigns anymore. Their tools needed to be more dynamic and flexible, but also more responsive and calibrated to the increasing amount of channels and assets. They needed a toolbox for the changing media landscape.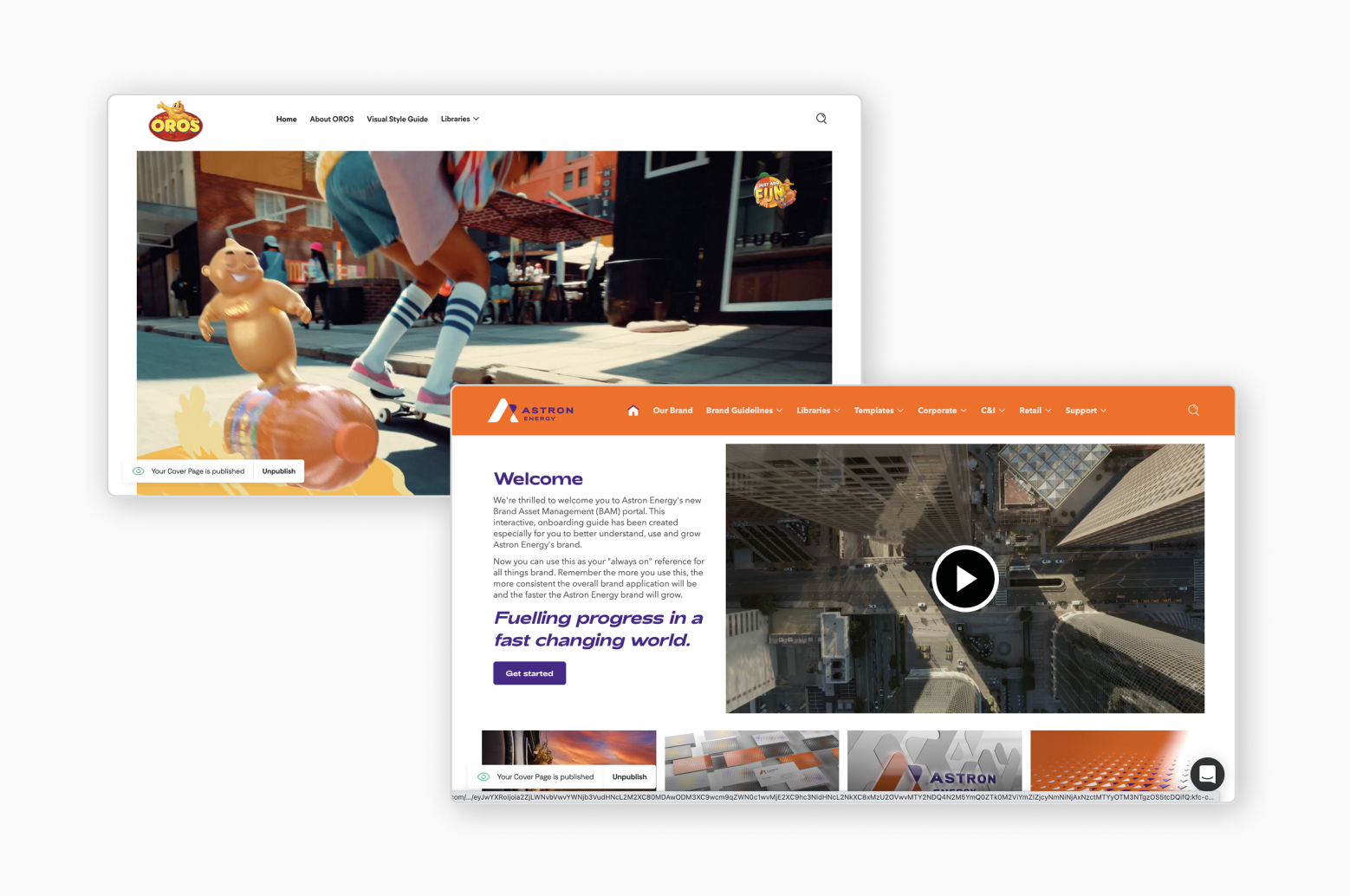 There was also a change in expectations. Ogilvy's clients wanted to take a more strategic approach to branding, they wanted to be more involved, and activate their own internal experts and decision makers throughout the process. With "brand" being fully recognized as an important business asset, it could no longer be a black box.
The first step towards Ogilvy's success was a big shift in mindset. Ogilvy SA realized that the best way of giving their clients a stand-out experience – while also giving them executive power over their own brand – was to open up new lines of communication, delivery, and engagement. To create a shared space where everybody could be part of the brand building process, and engage multiple stakeholders. They wanted to become even more collaborative, and let the strength of the relationship be the determinant of the agency's future success.
This made the next step quite straightforward. They needed a digital tool where they could build entire brands, while connecting with their clients in realtime, working collaboratively. They needed a platform for joint ownership, blurring the line between agency and client, to create a unified brand team.
Ogilvy started looking for a solution, and they found Frontify.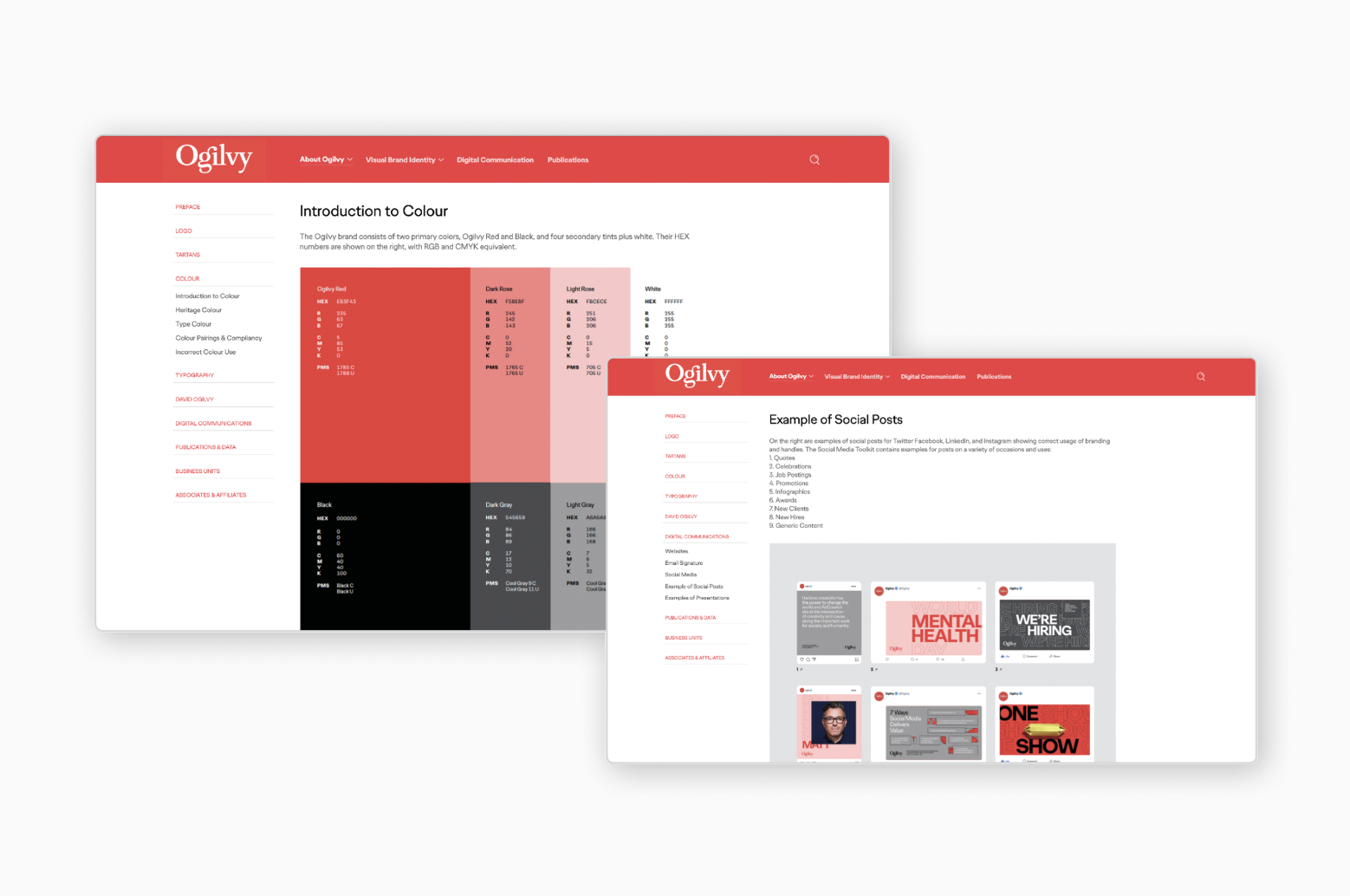 The Tech: Using Software to Trigger & Boost Digital Transformation
Ogilvy had discovered a gap in their offering. They needed a software solution that integrated well within their tool ecosystem. A digital platform that could face their clients and provide a space for collaboration. Something that could solidify the shift to an even more client-focused way of working, to offer a service that stayed relevant despite the constant media landscape changes and new business paradigms.
But a lot of the available tools they found appeared to be designed by IT teams, for IT teams. Ogilvy's main work force weren't IT people, and neither were their clients.
"
The Frontify experience is tangible, easy to apply and understand. It's great!
"
Lynda Ewing
Design Ops Director
Ogilvy's list of technical requirements was long and comprehensive. They needed something with a strong API – a well-designed product that connected well with other products, and could save on the coordination costs from multiple service providers that are the bane of many marketing teams. A solution that made it easy for a brand to scale, and support future innovations like brand AI to ensure that anything a brand could ask for could be accessed in one portal – a single source of brand truth.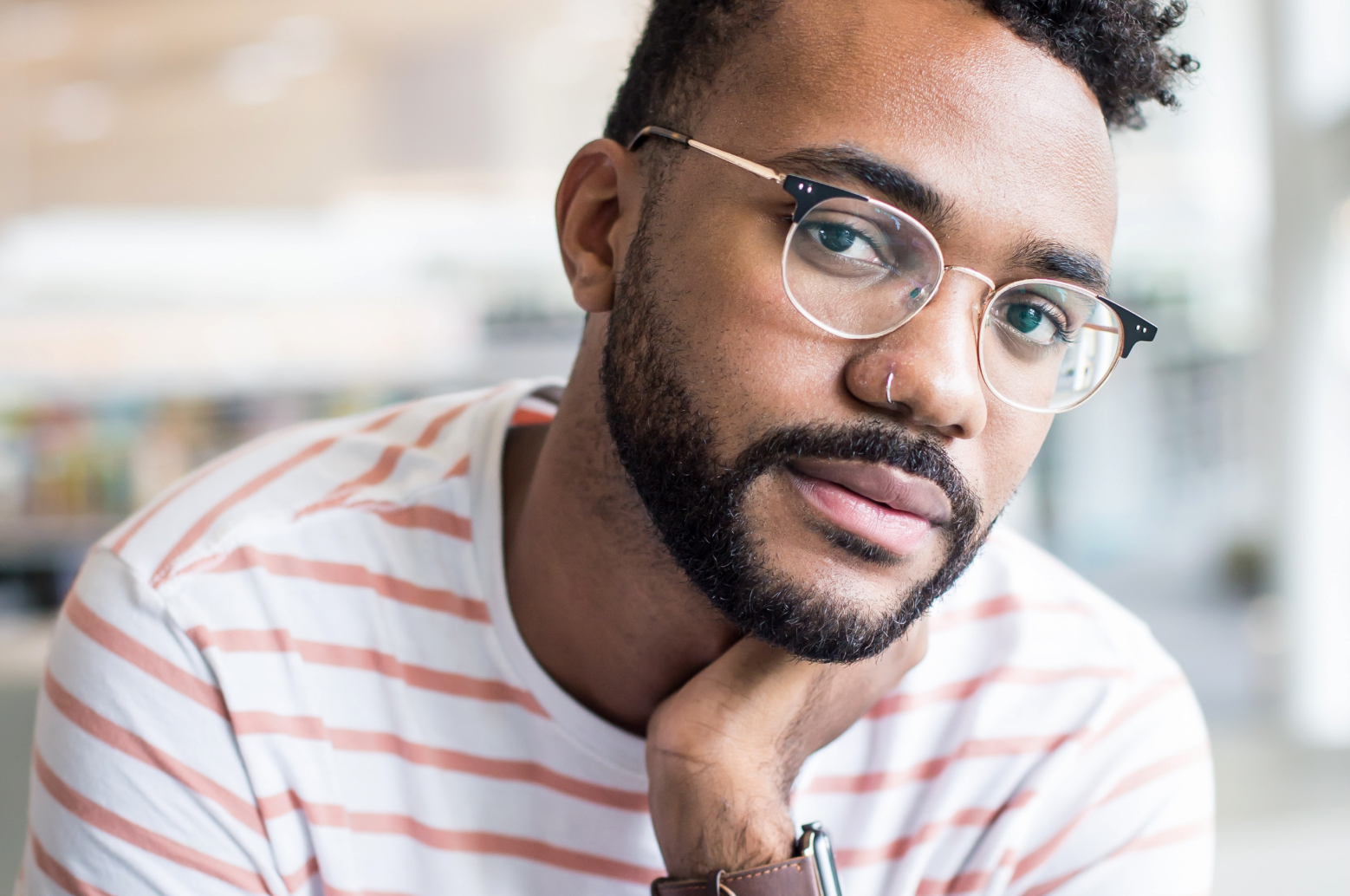 According to Ogilvy, that's when Frontify came into play. The product spoke for itself, the two companies had good chemistry, and there was a lot of common ground around the focus of bringing branding and tech together in new ways.
Having their clients share the space where they work, digitally, was crucial to Ogilvy in making sure both the client and agency had clear insights into the development of a given brand and its creative assets. It was the key to unlocking a new type of transparency.
"
There were no technical challenges. A very, very good product. We also had a very good time working with the Frontify team.
"
David Breytenbach
Strategic Business Technology Director
With Frontify as the starting point, Ogilvy could move their clients' brand material (guidelines, digital assets, project spaces) into a centralized platform, where they could track end-to-end processes, work collaboratively with the client, and speed up the review process for any and all projects.
More than that, with all the material (new and old) consolidated, Ogilvy were able to align a lot quicker both internally and with clients, giving them more time to focus on how to grow their clients' brands and businesses instead of wasting time on repetitive tasks like downloading assets, guidelines, or requesting project reviews and approvals. It also made onboarding, or involving new people, much easier – even in later project stages.
By centralizing their brand through a more simplified, single experience (the Ogilvy E2E, more on that later), where client and agency could co-exist and see progress being made in real-time, Ogilvy could make their work more accessible and engaging for all. They could also use that as the spark to trigger a new wave of digital transformation across the agency and its clients.
But the technical aspects of the Frontify platform itself just helped set the stage. The real transformation came from the people themselves.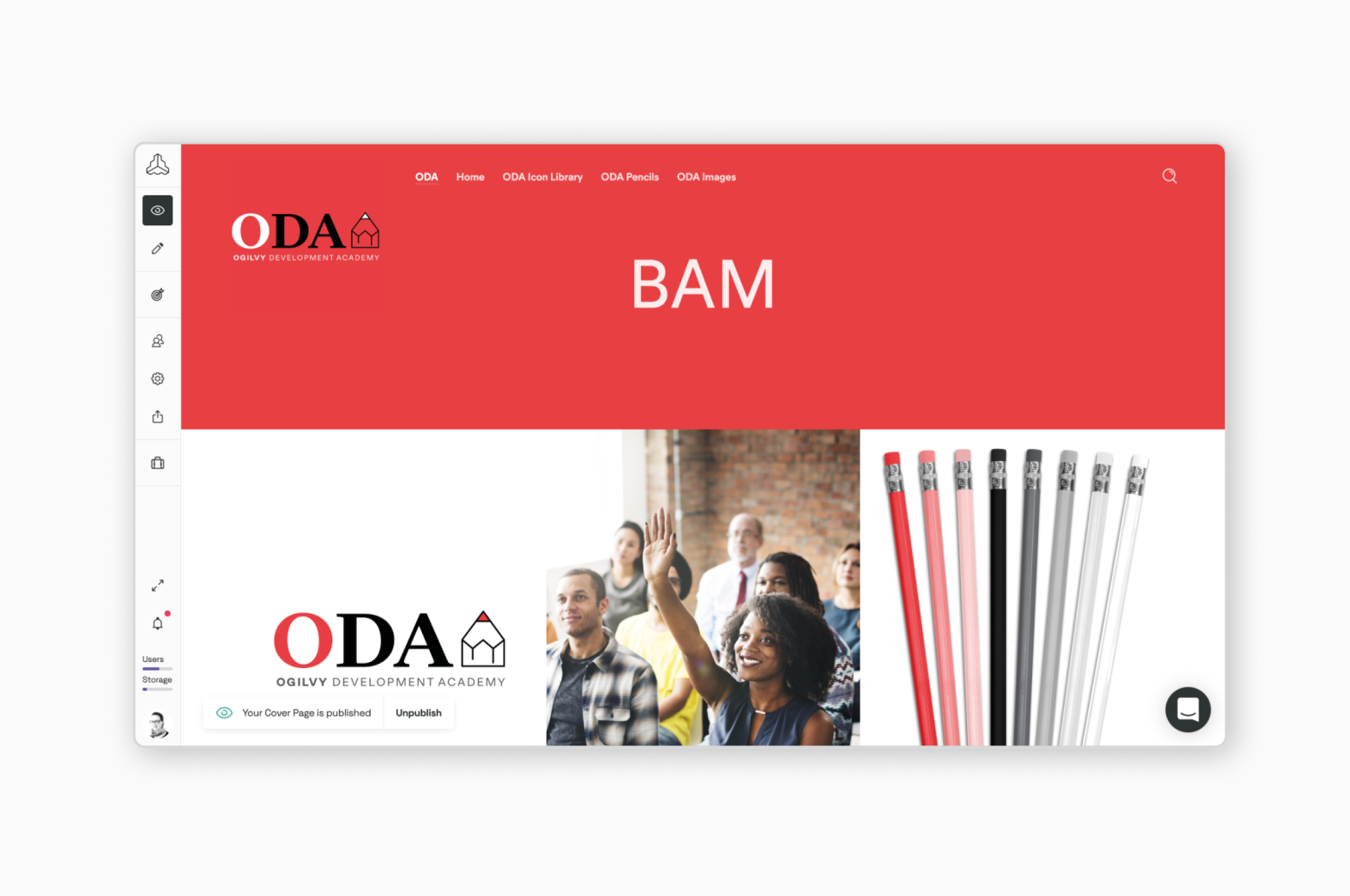 The Internal Transformation: Improving the Ogilvy Work Experience
Initially, it was the feedback loops that were one of the bigger issues Ogilvy wanted to solve. Receiving timely and consolidated feedback from clients following review sessions is a frustrating challenge that most agencies are familiar with. Not only is it frequently out of their control, but the more reviewers there are, the less coordinated the feedback is – and subsequently, the more disruptive it is to the agency workflow. With Frontify, all of this could be tackled (and organized, with historical versions included) in one single space – making quality iterations in a timely manner a whole lot easier.
Ogilvy also wanted to improve the working experience, internally, so that they'd be able to augment their creativity. Because, quite simply, happy people work better. Part of doing that was to empower employees to make a difference themselves – making it easier for the right people to gain access to the right material and project overviews. This helped increase the feeling of ownership, and save time where they'd previously had to request information and material from a few project managers or the client directly – often leading to the frustration of waiting before moving on an urgent topic.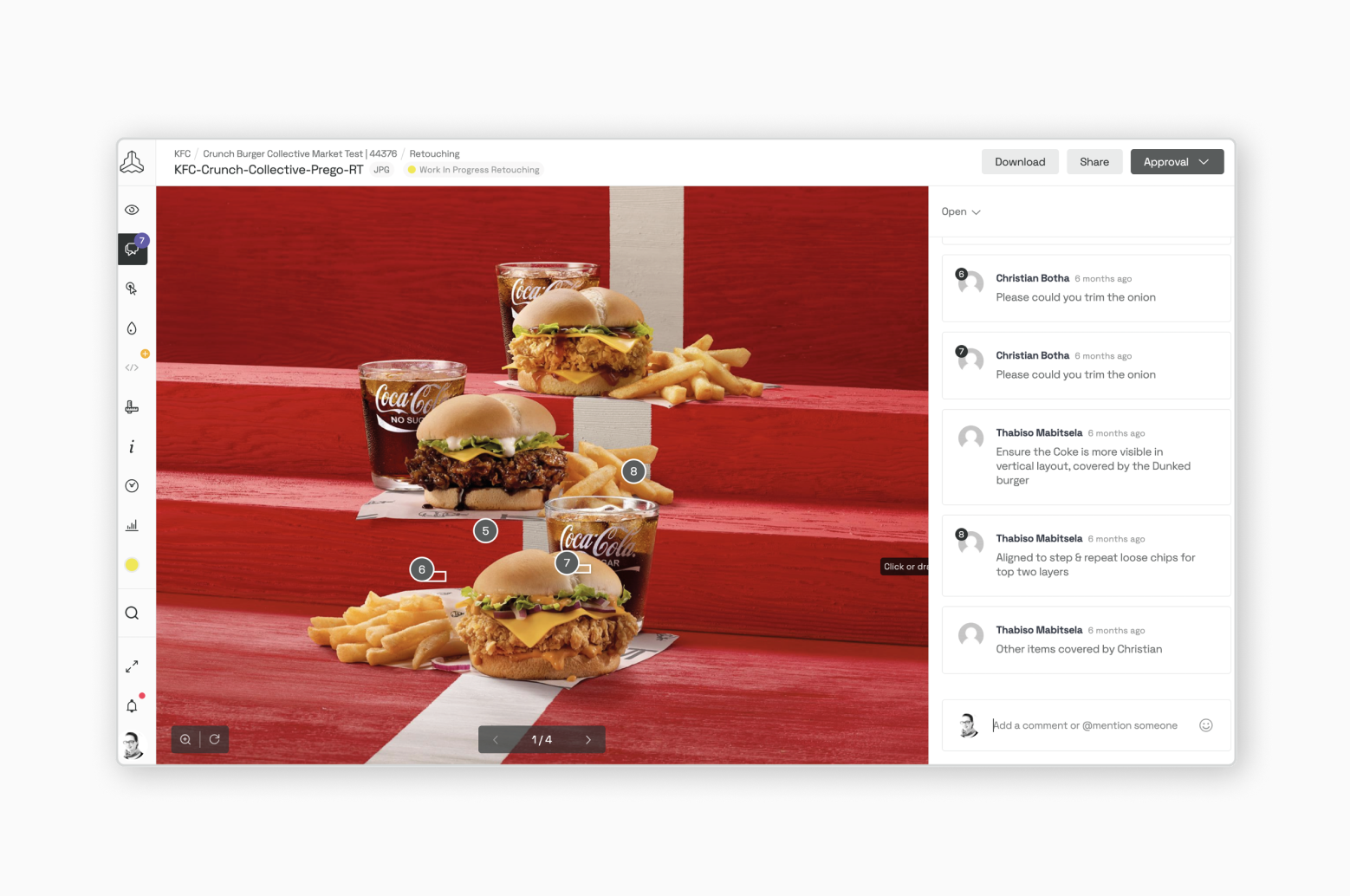 Another positive for their internal teams was the way they used Frontify for training. Housing all the need-to-knows of the Ogilvy brand and operations, and giving the right people access to clients, made the work a lot more self-driven – focused heavily on changing the mindsets towards ownership, responsibility, and inclusion.
As there are so many changes happening in the life of an agency, Ogilvy wanted to put the responsibility to attain knowledge, and to stay up to date, on the employees. This led to an increased feeling of being part of the journey, which in turn led to even higher quality of work.
Ogilvy focused first and foremost on the internal workflows. But the big change that happened later was a shift from that internal focus to extending it to the client's business, and to new ways of creating business value.
"
We're currently using Frontify quite extensively for training our teams. Even people that are far from being digital natives can build themselves a portal within Frontify – which makes a big difference for themselves and their work, because they've done it themselves, which adds a much bigger sense of ownership.
"
Lynda Ewing
Design Ops Director
The External Result: More Transparent, Lasting, & Valuable Relationships
The shift to a more collaborative, transparent way of working centered on Frontify is changing the way Ogilvy works with clients, bringing the sides closer together.
But fostering digital transformation not only internally, but also externally in their relationships with clients, is of course not something done overnight. And it comes with new opportunities for innovation.
Digitizing the whole review process, using the digital guidelines and bringing the whole internal process and execution on a new level, laid the foundation for the next step: Ogilvy introduced Ogilvy E2E (End-to-End) – an automated dashboard that shows the client the progress of their briefs through the process, alerts the different teams to respond, and keeps all the users within the ecosystem up to date.
Frontify plays a big role in the E2E-dashboard, as it houses the brand's finished assets. The system can be seen as almost the final component of the digital transformation that brings the ecosystem together. More than that, this is not a solution that they're keeping for themselves. Ogilvy has opened this system to their clients, and also to other agencies, as it makes sense to unite tools and take leadership on shared processes.
"
Frontify gives you so much confidence when you're bringing in a client. Because, as you can imagine, that is when we're most vulnerable. Now, with Frontify, we feel like they're part of the family – just like we're a part of theirs.
"
David Breytenbach
Strategic Business Technology Director
Overall, the new Ogilvy setup didn't just help make teams at the agency – and the clients alike – work smarter. It also helped Ogilvy create additional revenue streams for their agency.
1. The new platform services (and all the benefits that come with it) have the potential to help Ogilvy add value to existing clients. The clear benefits for their clients (being able to see the entire project scope, speed up time to delivery, while keeping people in the loop) makes for a perfect long-term relationship with already existing customers.
2. This was also an amazing opportunity to expand already existing businesses with tools that would help their clients work more efficiently – modernizing more of their clients' setups, helping them digitally transform their brands, and identifying new needs and opportunities for business growth.
3. Going into pitches with Frontify and their new solution (E2E) helps Ogilvy win new business, too. Being able to clearly show the ROI of this new system in a more digital-friendly way, Ogilvy could showcase this way of working to new clients (or previously short-term clients) – leading to an expansion in business.
By working from a single source of brand truth, identifying business needs for the clients becomes a more natural process. It's a question of prioritizing things that need solving together, and working on what the brand really needs, rather than trying to sell projects.
"
I am pretty sure that our automated E2E dashboard with Frontify is going to be a key differentiator when going into pitches.
"
Lynda Ewing
Design Ops Director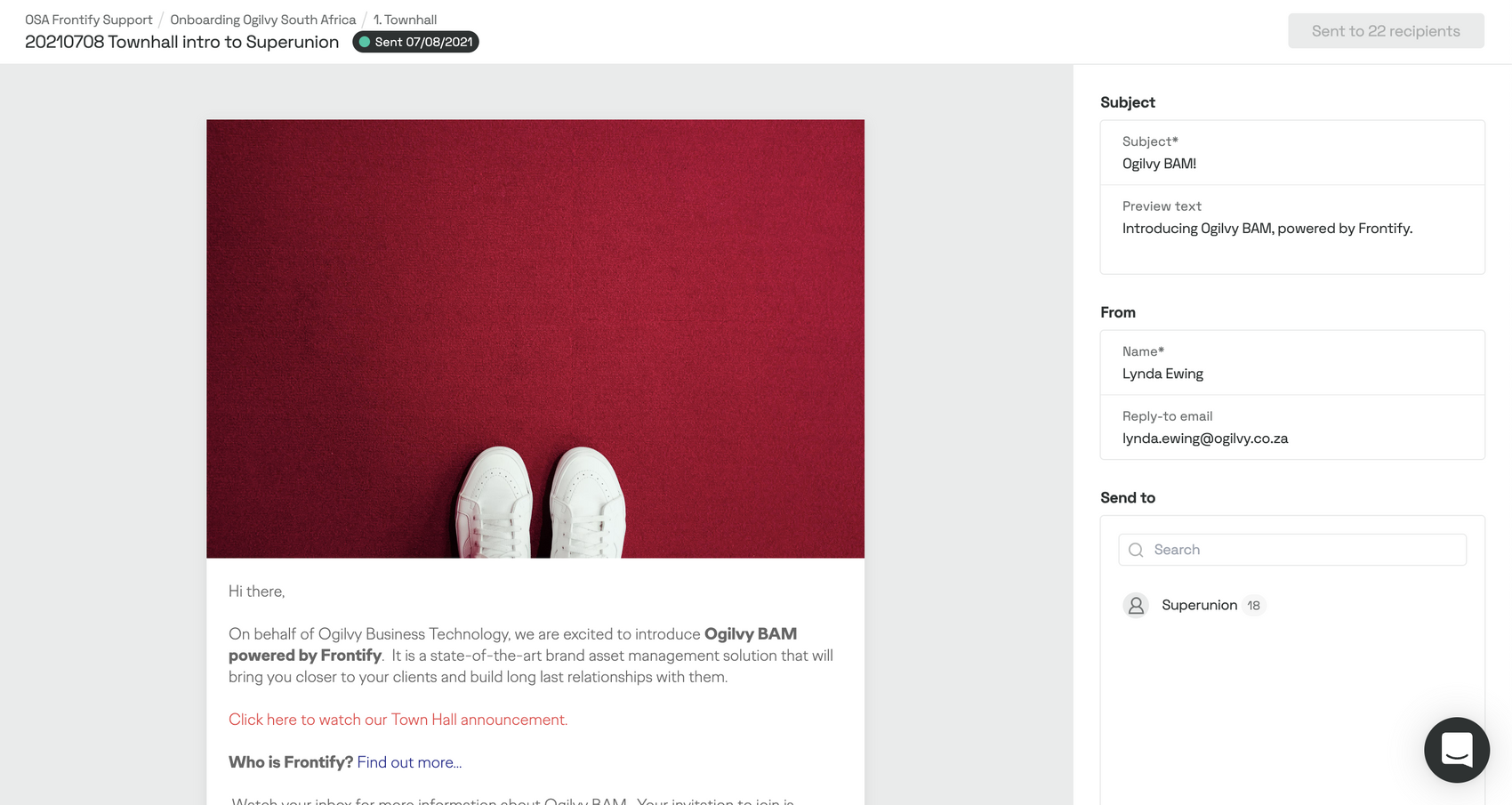 The Future: Everyone On the Same Page, Primed for Success
The change process that Ogilvy started has set up their business for new success, and helped renew their agency. From increased internal alignment and ownership, to greater transparency and real-time progress monitoring, the change has enabled both greater efficiency and strategically effective work that can reach the market faster.
It's an upgrade of the agency-client relationship to a new paradigm. Everyone is on the same page. No agency, no client, just a brand in the center, and experts gathered around it trying to scale it, improve it, and keep it fresh. A more hassle-free way of working, freeing agencies and their creatives up to do what they do best: create.
It's important to note that this transformation is a testimony to the imagination, tech-savvy and sheer force of will of Ogilvy South Africa. They had the foresight to imagine it and implement it. Frontify has just served as a catalyst and a rallying point for the change in client relationships they envisioned. It was through innovative use of the platform that Ogilvy made some of their biggest strides forward.
But that also means that there are still opportunities to envision new ways of using Frontify, both internally and externally, complementing the many benefits of the platform with tailor-made inventions of an agency's own making. All it takes is the imagination to see the future a little differently.
Ogilvy has started to uncover a new success formula for digital transformation in the agency world, with the help of Frontify. And we can't wait to see what they do next. We'll just give them the last word:
"
Competitor products (to Frontify) are great, too. But it is not the same. The richness of the product is not the same. And you kind of feel sorry for them.
"
David Breytenbach
Strategic Business Technology Director