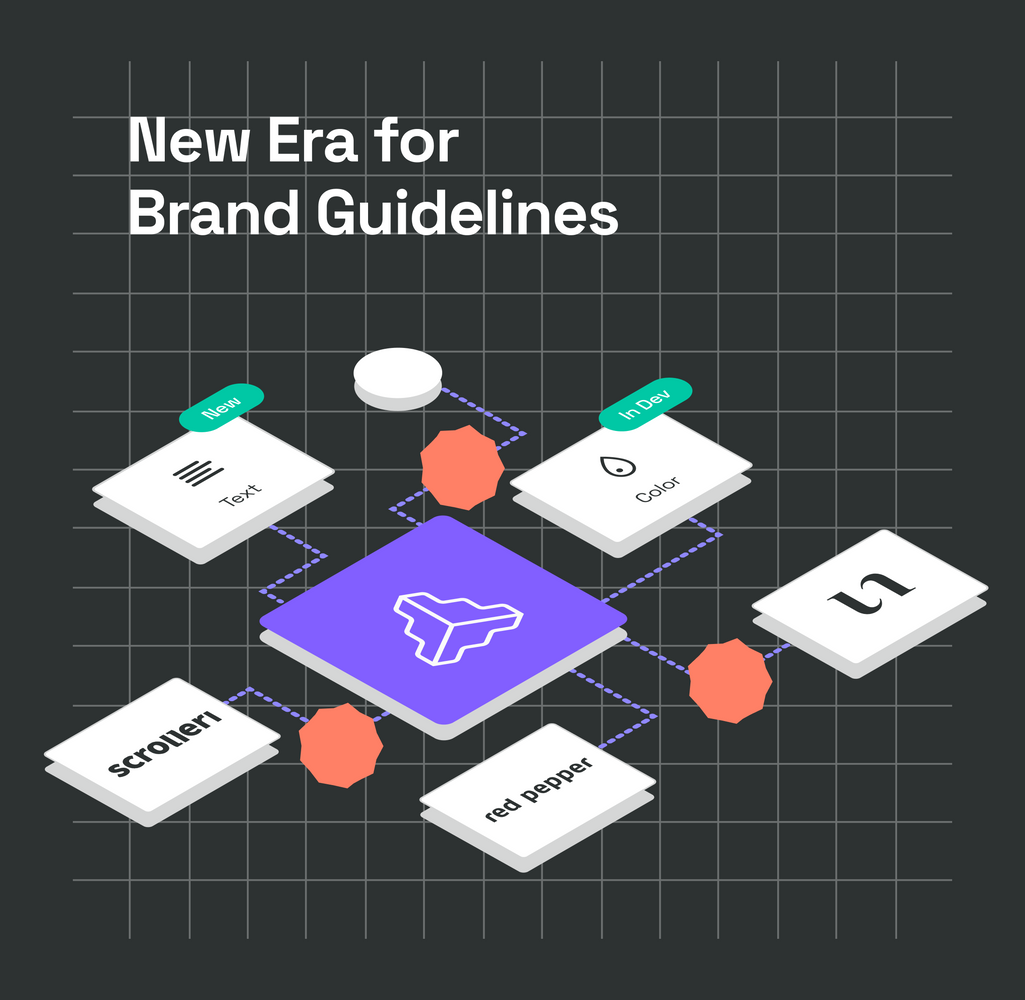 Custom Content Blocks: The New Era of Brand Guidelines
Find out how custom Content Blocks for Guidelines make Frontify the most flexible brand platform on the market.
Last month, hundreds of brand builders from around the world came together for the launch of our Brand Software Development Kit (SDK), introduced by Roger Dudler, Founder and CEO of Frontify: "We got overwhelmed by all the interest in the topic. It's that kind of confirmation that shows us that we're doing the right stuff. And it's only the beginning. We're going in the right direction, and I'm really, really proud of what the team has created!"
Let's have a look at what's been introduced.
Striving for Creative Freedom in Building Brand Guidelines
We want to give you unlimited possibilities to express your brand when creating Brand Guidelines. By introducing the Brand SDK, we enable all of you to expand your Frontify platform further than ever before: Create Brand Guidelines according to your needs – we provide you with all the necessary tools.
We want to ensure that teams can fully express themselves when creating Brand Guidelines: Building Guidelines should be possible without any limitations. The Brand SDK brings your idea to life – all of them.
We call it creative freedom. Why? Because we realized that brand agency partners and customers want to see more flexibility in making Brand Guidelines truly their own while still using a powerful SaaS platform.
Becoming the Most Extendable Brand Platform on the Market
Our current Brand Guidelines are built on a number of available Content Blocks, which can be limiting. By launching the Brand SDK, we (and you) are about to create a whole Content Block universe for brand builders.
Listening to feedback from our customers and agency partners is key: There are many ideas and thoughts on creating best-in-class Brand Guidelines, and we want to make sure that Frontify customers have the flexibility and tools to build a strong brand.
Introducing our new Brand SDK is a logical step to start building on top of our existing SaaS platform.
Gone are the days when you'd need to look into custom solutions such as a CMS or other content management frameworks to create web-based Brand Guidelines that look and feel how you want them to (but can actually raise many other issues along the way). The Frontify Brand SDK eliminates the need for any intermediary or outside support to create exactly what you want in your Guidelines. It's your brand, after all.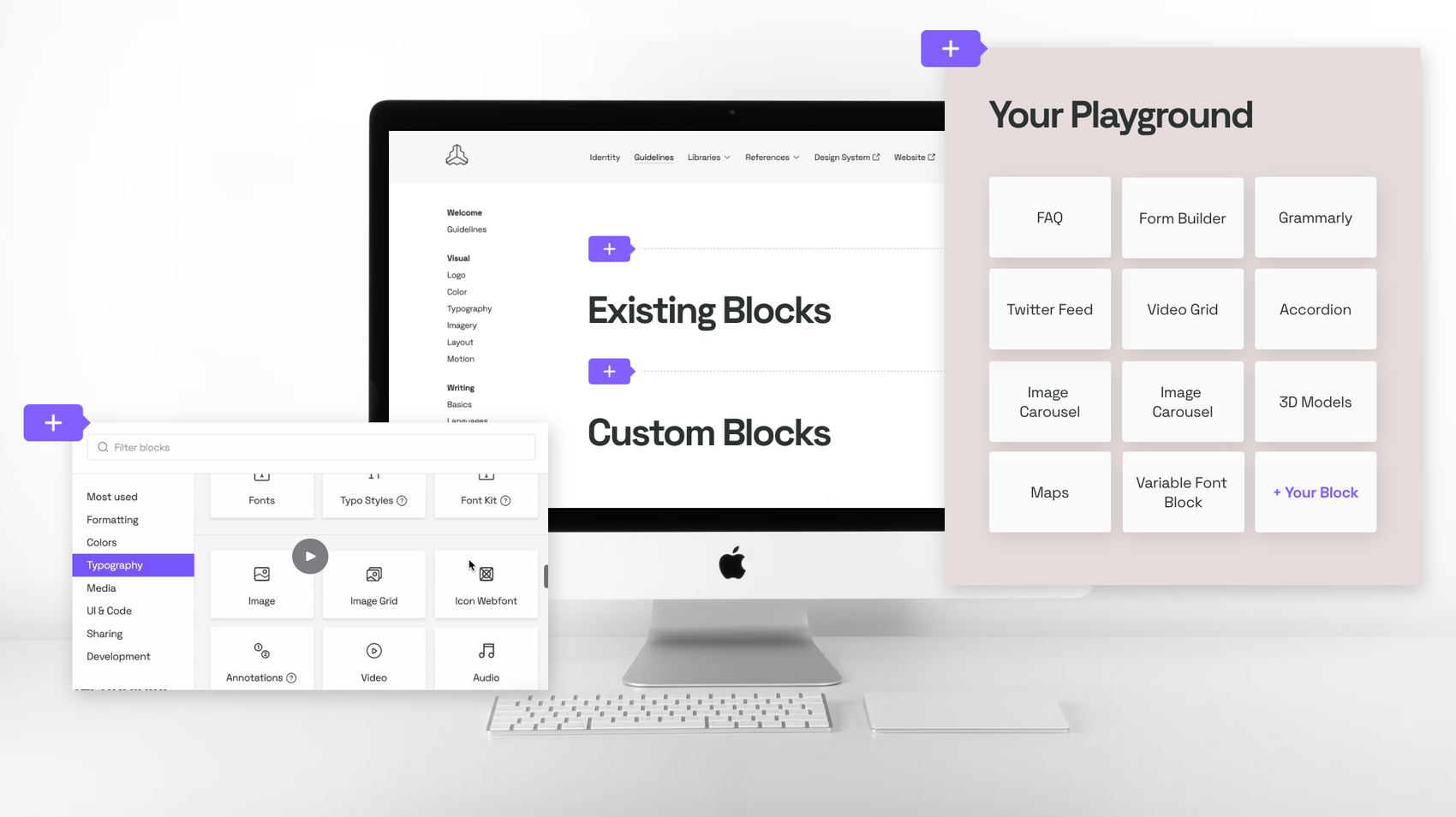 Everyone is now able to create custom Content Blocks and make them available within their own Frontify instance. And soon, we'll offer the option to ship them through our global in-app Marketplace (more information to come).
Need Proof? See Examples from Our Awesome Partners
Edward, Technical Director at Superunion: "We're really happy about the efforts that some of our partners have put into creating the first Content Blocks using the Brand SDK. Now, we already feel the power of this toolkit and see many new opportunities coming up."
Superunion
Edward from Superunion spoke about great examples and use cases on how digital Brand Guidelines can be extended by using 3D. Their tailor-made, interactive 3D Content Blocks allow displaying 3D views that can be used to explore products, packaging, and much more – all within Frontify Guidelines.
red pepper
Nicole and Kjell from red pepper created a custom Content Block called Type calculator. It's a calculator that lives within the Brand Guidelines and can be used by all target groups. The new Type calculator Content Block helps users determine the typography sizes on different channels, making consistent design decisions. In the past, these calculations were done in an Excel file that was emailed back and forth (You might feel the pain).
Scrolleri
Felicia and the team from Scrolleri were able to create tailored solutions that will deliver real value for their industry-leading clients.
Color Grid Block Scrolleri's first block creates a visual color grid and offers flexible settings to drive creative freedom while documenting colors within Guidelines.
Color Match Block The Color Match Block allows you to analyze images and detect prominent brand colors to get suggestions for using appropriate brand colors next to an image, which results in more consistent design experiences.
"Custom Content Blocks will provide us and our clients with the opportunity to think outside the box and revamp the shape and purpose of Brand Guidelines, which is pretty cool," said Felicia Renholm, Creative Director at Scrolleri.
After seeing all the examples above, we are super excited about our next-level Guidelines that can now be extended in many different ways.
Feel free to reach out to us to learn how to build your own Content Blocks or explore our Brand SDK documentation yourself. Check out our deep-dive webinars for creatives and devs if you want to get started with the Frontify Brand SDK today.
Johannes Waibel
Product Ambassador