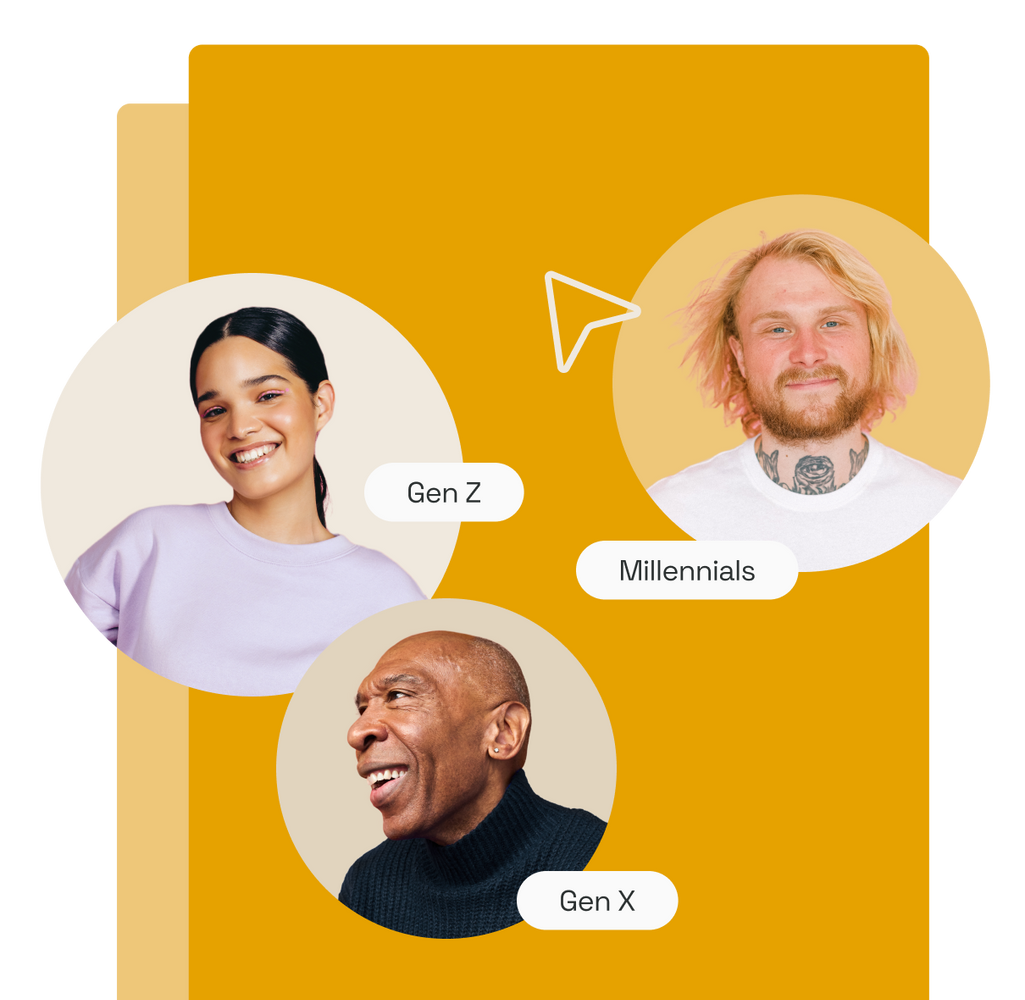 Generational marketing: 7 tips to help you connect with your audience
Understanding generational differences makes your marketing more impactful: Paying attention to your customers' ages helps you determine what they care about and how to best reach them.
What is generational marketing?
Generational marketing is a marketing strategy that segments target customers or audiences based on age, breaking them into groups based on their generation. This is because each generation often has different preferences or common traits — for example, based on media consumption and buying habits.
More than 40% of Gen Z turn to TikTok when they shop. If you want to reach younger generations, your brand has to build a presence there. As a generation focused on sustainability, one way to win them over is by demonstrating your dedication to the environment. But what if you're trying to connect with other generations?
While the youngest generation of adults flocks to social media to learn about brands and their products, Gen X prefers simple Google searches. Millennials fall somewhere in the middle, relying on social media and their own research to make purchasing decisions. But if you want to win either of these generations over, it'll take more than just showing up on the right channels.
The tips we've outlined below demonstrate effective ways to engage members within the three largest generations: Gen X, millennials, and Gen Z. But they aren't exclusive to a single group — every generation has some diversity, which means you can use a combination of tactics to reach your audience.
1. Don't abandon traditional advertising to reach Gen X
Cross-channel marketing strategies are one of the best ways to connect with Gen X. The MTV generation still loves the channels they grew up with — more than 40% of Gen X watch live TV daily. But they're also social media users. According to GlobalWebIndex, 81% of Gen X have a Facebook account.
A combination of traditional channels, such as outdoor and print, alongside digital channels, like Facebook, ensures your messages show up in more places Gen Xers are. The wider the reach of your marketing efforts, the more likely you're to connect with members of other generations besides your target audience in Gen X.
Making an effort to show up on these channels increases the chances that members of Generation X will see your content. Just take the recent Penn Medicine campaign below as an example: It reminded Gen X to schedule cancer screenings through a witty combination of billboards and radio ads that share the same message that if you know what a floppy disk is, it may be time for your annual cancer screening.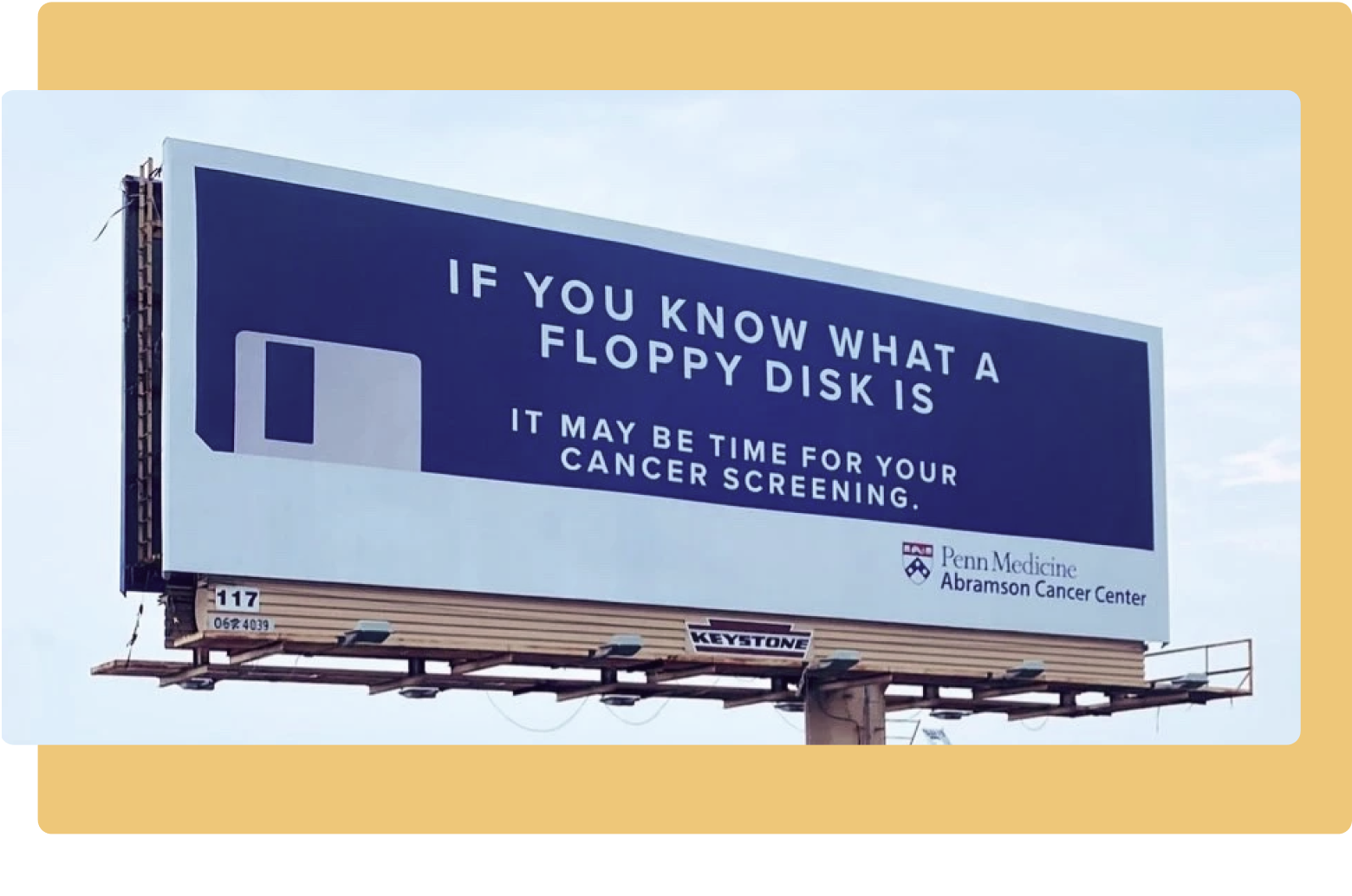 By investing in two communication channels (physical and audio), Penn Medicine doubled the chance that its messaging would reach its audience on their daily commute — and they probably get through to some older millennials along the way.
2. Gen Xers love nostalgia
The more powerful and impactful your messaging is, the better your audience will connect with it. What makes our Penn Medicine example work for focusing on Gen X is that it incorporates a memory from their youth.
According to research from Google, 75% of Gen Xers watch YouTube videos that make them feel nostalgic. This means one of the best ways to capture Gen X's attention and make them want to support your brand is by incorporating music or iconography that evokes that nostalgia.
Just take Workday's latest Super Bowl commercial as an example. The TV ad tapped into Gen X nostalgia by casting '80s icons like Ozzy Osbourne, Joan Jett, and Billy Idol to ask "corporate types" to stop calling themselves rock stars — even if Workday's product makes them feel like one.
Likewise, Michelob Ultra's recent Caddyshack-themed ad, which featured tennis champion Serena Williams, used the '80s movie to promote its beer.
But this tactic isn't exclusive to communicating with Gen X — everyone loves a trip down memory lane. Brands are using throwbacks to connect with millennials, too, as they are also driven by nostalgic messaging. Consider the PopCorners commercial that featured the co-stars of the hit TV show Breaking Bad — a show millennials loved so much they've turned the show's setting (Albuquerque, New Mexico) into a popular travel destination.
3. Promote user-generated content to win over millennials
User-generated content such as blogs and product reviews can help validate the quality of your products and services for all generations. If you want to persuade millennials to support your brand, lean into that kind of content by encouraging customers to talk about their personal experience with your brand and its offerings.
Consider the tattoo-inspired brand Take To The Grave as an example: Earlier this year, one satisfied customer made a TikTok video about their recent shower curtain purchase, which came with a fun scratch-off card that tapped into the "you get what you get" trend in tattooing, where you get a tattoo based on a randomly chosen design. The brand encouraged customers to post about their tattoo designs and tag the brand. Since then, the brand has struggled to keep its shower curtains in stock.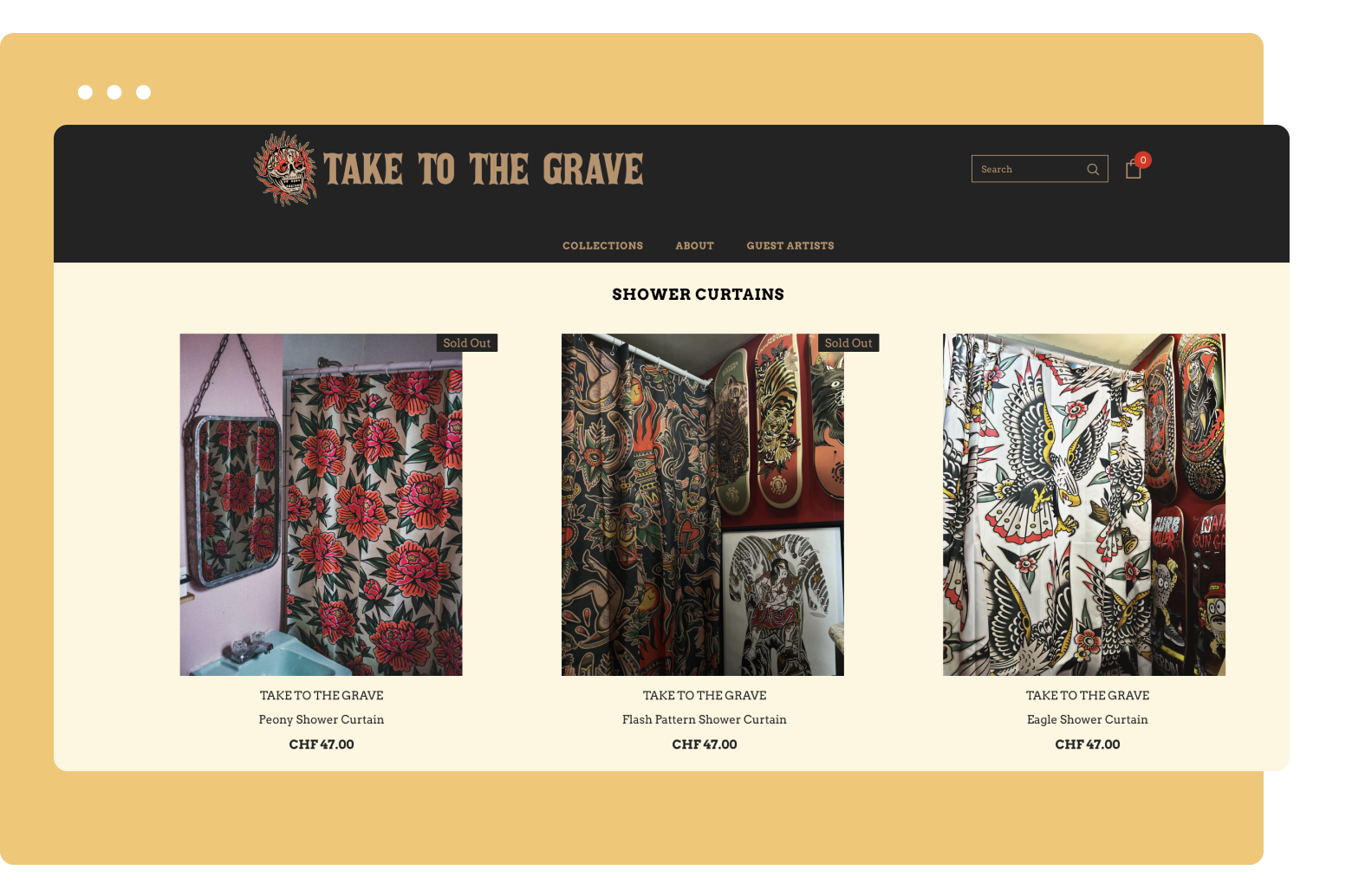 Testimonials and reviews are also valuable because they offer an unbiased perspective about your brand. Plus, 78% of millennials in a recent survey said that reviews are helpful for decision-making. In fact, 42% of millennials turn to social media to verify information with their peers rather than checking convenient sites like Wikipedia.
For example, the travel bag brand Tom Bihn featured a post on its blog in which a real customer shared how they use Tom Bihn bags every day. The personal testimonial gives new customers more context to help them decide what bag to purchase.
This tactic isn't exclusive to millennial marketing. Customer endorsements (aka social proof) can propel any brand's success. Or at least support the success of a single product, just like it did for Take To The Grave.
4. Make sure Gen Z knows you share the same values
Gen Z is more likely to support brands that have shared values. If you want to win this generation's loyalty, you must demonstrate a commitment to the issues Gen Zers care about:
Sustainability: They're willing to spend as much as 10% more on sustainable products, regardless of the brand name.
Mental health: According to Latana, 70% of Gen Z would rather buy from brands that promote mental health awareness.
Diversity: According to a report from Snapchat, 74% of Gen Z believes everyone should strive for equality.
Gen Z also engages more when brands emphasize these values in their messaging. For proof, look no further than JanSport's Lighten the Load campaign, which saw "unprecedented engagement" with Gen Z thanks to its emphasis on mental health.
But Gen Z isn't the only generation interested in supporting brands with similar values. More than 80% of millennials would prefer an ethical purchase over an affordable one. On the other side of the coin, Gen X is much more cost-conscious — they're nearing retirement age and are focused on financial security.
5. Establish an authentic TikTok presence to engage Gen Z (and everyone else)
TikTok is only becoming more popular with young users. In fact, one report found that more than 60% of Gen Zers use the platform daily. This makes it the best place for brands to reach them, especially since almost 40% of female consumers in Gen Z say they've made a purchase because of TikTok.
But the platform isn't just for Gen Z — TikTok is quickly becoming the world's number one social media app, making it a great channel to reach all generations. According to TikTok's own data:
So, it should come as no surprise that companies like Duolingo are increasingly using TikTok to communicate with audiences across generations. And it's working incredibly well: The antics of its mascot, Duo, helped the brand amass a following of over 6.6 million people.
Or take a look at the success Crumbl Cookies has seen thanks to the platform: The company was founded in 2017, and in just six years, it had more than 750 stores across North America. In 2022, Crumbl Cookies sold nearly a million cookies every single day. The company used its TikTok account to hype up its rotating cookie flavors and capture the attention of TikToking dessert enthusiasts everywhere.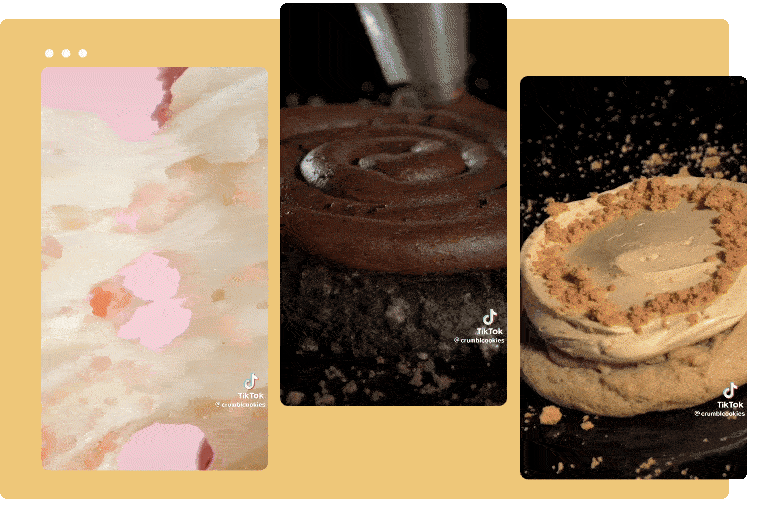 6. Find opportunities to co-create with influential figures in each generation
Last year, Rolling Stone Magazine proclaimed that "influencer marketing is dead." But is that really true?
Sure, people are tired of celebrity influencers promoting their unattainable lives on social media. But that doesn't mean they're done taking influencer advice. In fact, almost 70% of consumers are likely to trust influencer recommendations over branded ones.
The key to successful influencer marketing is partnering with influential figures that can connect with the generation you're trying to reach.
Gen Z + de-influencing
Authenticity is a top priority for 92% of Gen Z. So, it should come as no surprise that this generation has started to embrace "de-influencing." To connect with Gen Z, you'll have to work with smaller content creators with their own authentic presence.
It's a particularly good idea to work with nano influencers — creators with small but dedicated fan bases — who see nearly 60% engagement on TikTok, Gen Z's favorite platform.
Millennials + expertise
Just like Gen Z, millennials want authentic content. But unlike the younger generation, millennials are much more likely to trust professional content creators and influencers on social media. According to a recent report from Morning Consult, 57% of millennials would buy a product if the influencer who recommended it is knowledgeable about the brand or the industry.
Gen X + relatability
Unlike the generations after them, Gen X still likes celebrities — remember how great Workday's Super Bowl commercial with Ozzy was?
But celebrities aren't the only ones who can connect with Gen X: Recently, social media has seen a rise in Gen X influencers who tap into this audience's love of nostalgia by talking about things they can all relate to.
7. Acknowledge similarities and overlaps within different generations
Even within a single generation, there's a lot of diversity among consumers. After all, not every Gen Xer is nostalgic for their childhood, and only some millennials love avocado toast — not to mention the fact that Gen Z is the most diverse generation in history (at least so far).
There are also micro-generations to consider. These smaller age groups fall between two larger generations — like zillennials find themselves between millennials and Gen Z — and they often connect with some elements of both groups. Since this small demographic doesn't feel like it belongs to either of the generations, it's often overlooked and left out.
That's why it's critical to use a combination of marketing tactics, not just those focusing on a single generation. A balanced approach will allow you to reach everyone in your target audience, regardless of age.
Establish a brand that will resonate with future generations
Even though some tactics work better than others for targeting specific age groups, they aren't exclusive to any one generation. It's essential to develop authentic messaging that can be adapted "across all the multiple platforms and touchpoints," says Freddie Öst, brand director and founder of Snask.
When brands focus too closely on generational differences, they're "looking at the wrong axis." Instead, Zoe Scaman, founder of Bodacious, explains that it's important to find "the thread that connects" these different generations. This means building an authentic brand with clear values.
Read more about what the experts had to say and learn how to build an authentic brand with our guide to building multi-generational connections.