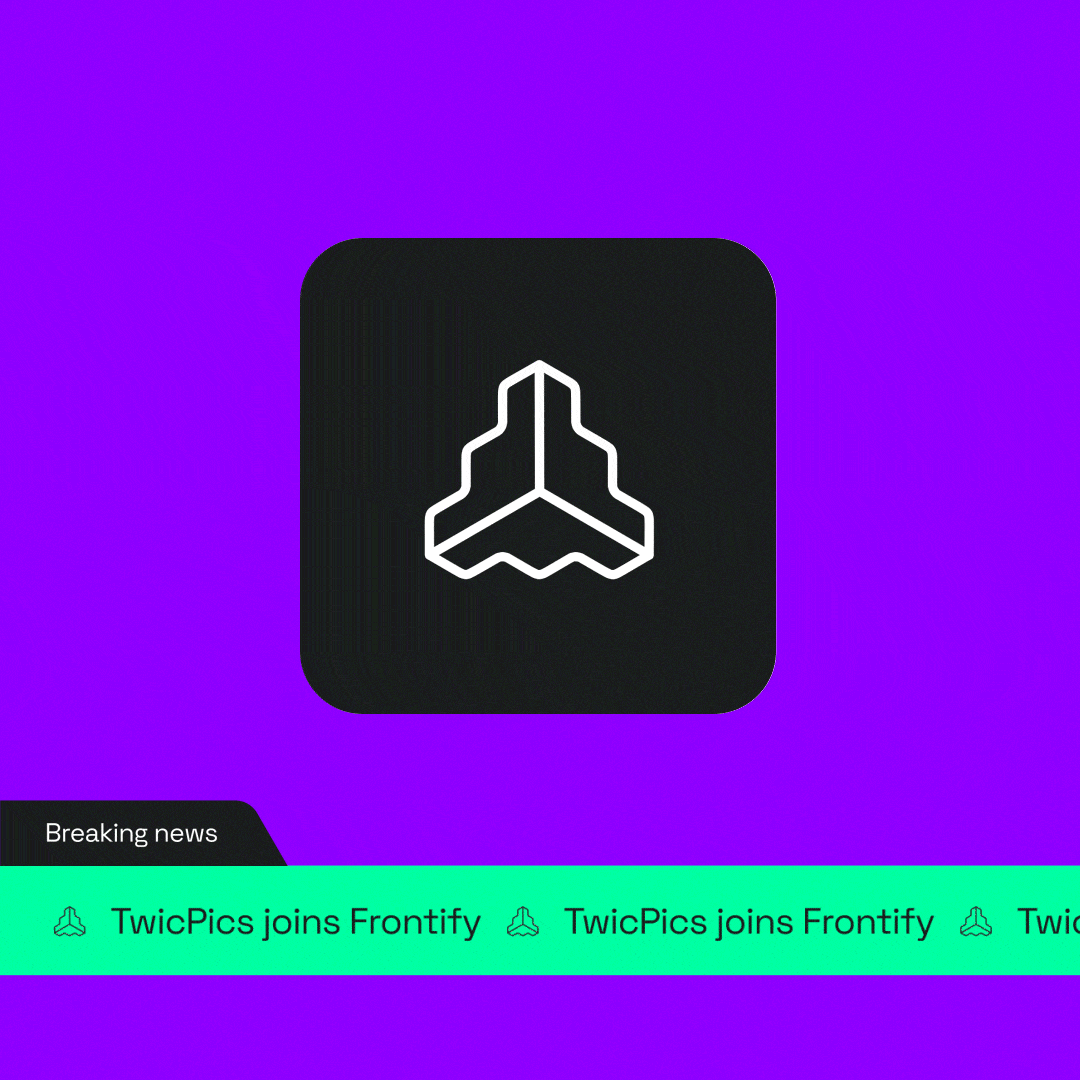 Frontify acquires TwicPics: A brand new era for DAM
Frontify's acquisition of TwicPics creates a seamless brand management experience, merging asset delivery services and a leading DAM platform. This strategic move meets market demand for centralized solutions, enhancing brand efficiency while providing comprehensive, user-friendly brand management solutions.
Frontify has made a significant move to enhance our capabilities and deliver an even more comprehensive digital asset solution to our customers. Through our acquisition of TwicPics, a leading real-time image and video processing service company, we're expanding our offering and further positioning ourselves as the one-stop shop for brand management. This strategic fusion aligns with current market trends and aims to meet the increasing demand for integrated solutions and centralized digital asset management.
Improving asset delivery services for the leading DAM platform
By joining forces with TwicPics, we can offer world-class asset delivery services, complementing our existing suite of brand management tools. TwicPics, a cloud-based solution with a strong track record of serving renowned brands like L'Oréal, Celine, and Yves Rocher, specializes in optimizing page load times and simplifying image processing. This expertise will seamlessly integrate into the Frontify platform, enabling users to enhance their brand assets and streamline their digital experiences.
Creating a seamless ecosystem for the future
The acquisition of TwicPics represents a significant step forward for Frontify in building a seamless ecosystem that caters to the evolving needs of modern businesses. Today, organizations seek integrated solutions that provide centralized digital asset management (DAM) while supporting various e-commerce touchpoints. By consolidating tools and services, Frontify aims to meet the growing market demand for a holistic brand management platform.
"
This is a super exciting move that propels Frontify towards a truly holistic brand management platform, meeting the evolving DAM needs of modern businesses with one seamless ecosystem.
"
Roger Dudler
Founder and CEO, Frontify
Meeting market demand
Our decision to acquire TwicPics responds to the market's demand for comprehensive and efficient brand management solutions. With the consolidation of these two innovative companies, we can address this demand by offering an end-to-end platform encompassing DAM, asset delivery, and image processing capabilities — not to mention our world-leading brand management tools. This holistic approach streamlines workflows and reduces costs for managing multiple tools and services.
Enhancing user experience for brand-building
Our primary focus has always been to provide an exceptional user experience for brand-builders. With the integration of TwicPics' real-time image and video processing service, users can expect an even smoother experience managing their brand assets. Optimized page load times, simplified image processing, and improved asset delivery services will empower users to create compelling digital experiences while ensuring their brand assets are showcased in the best possible way, always.
Building a home where all brands can thrive
This marks an important milestone in our company's mission to "create a home where all brands can thrive." By expanding our capabilities to include world-class asset delivery services to our DAM platform, we're more able than ever to meet the increasing demand for integrated solutions in the e-commerce and brand management landscape.
Customers can expect the following:
State-of-the-art asset delivery service
A one-stop-shop for brand management
A seamless and user-friendly system
"
We're delighted to join forces with Frontify. Frontify already caters to thousands of prestigious brands around the world. By partnering up with them, we're now equipped to provide an even stronger and unified solution for brands.
"
Florent Bourgeois
CEO & Co-Founder, TwicPics
This move aligns with market trends and reflects our commitment to providing centralized and user-friendly solutions for brand-building activities — further elevating the power of brand in everyone's hands. With the power of TwicPics and their incredible team of innovators, Frontify users can look forward to an enhanced experience in managing their brand assets and creating compelling digital experiences today and in the future.

Roger Dudler
Founder and CEO, Frontify