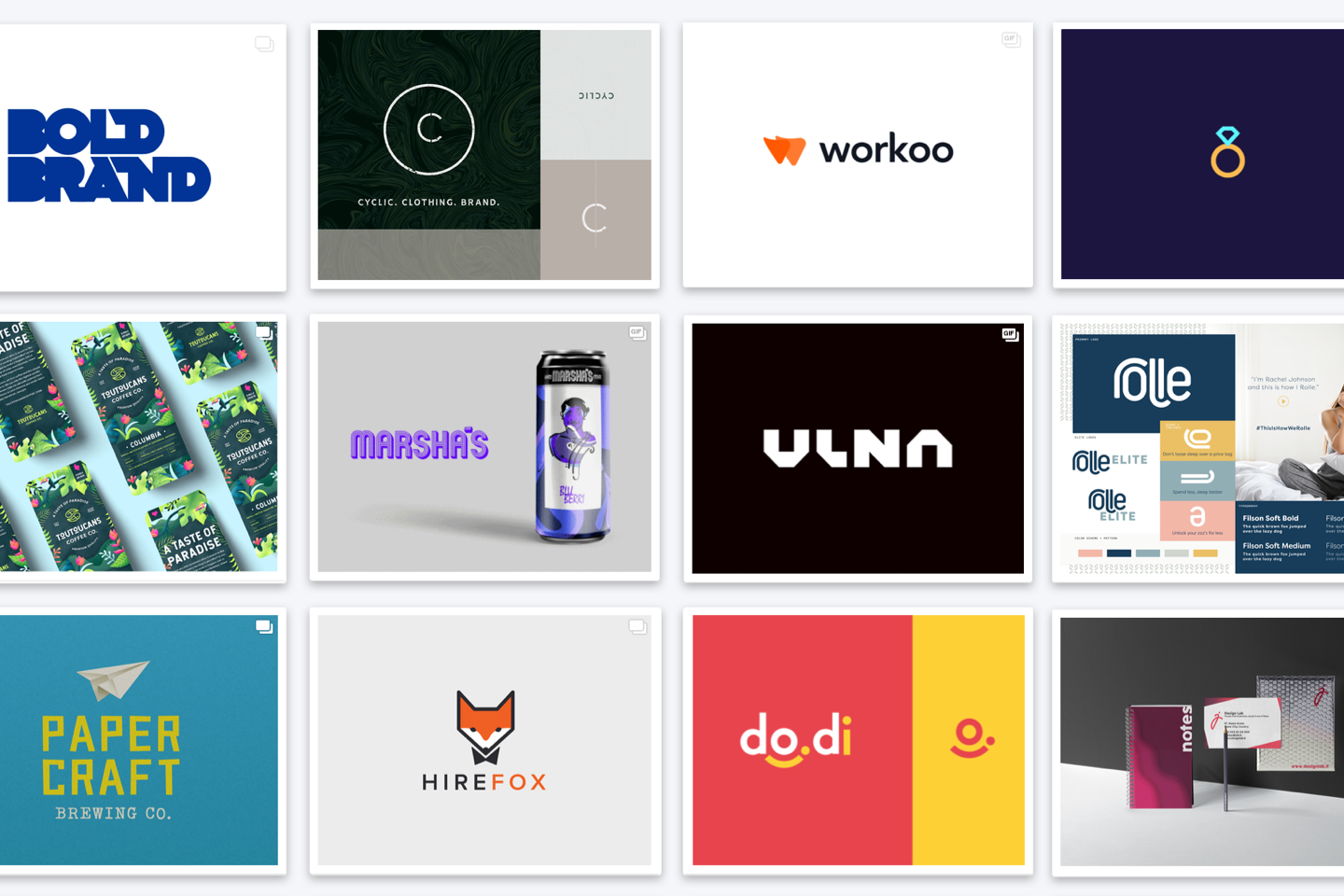 Design a Faux Brand Dribbble Contest
We recently ran a visual branding contest and were incredibly impressed with the epic talent in the Dribbble community – with amazing results mixing strategy and design.
With a win-win approach to activating creative brand talents and spreading the word about our free Frontify Brand Guidelines, we ran a competition on Dribbble to see who could create the best 'faux brand.' To qualify, designers had to create an original brand identity – including a brand name, logo, color scheme, and typography – and show mockups of their brand in all its glory.
Jaw-Dropping Submissions
What we got in return went way above and beyond our highest expectations. Some designers created beautifully-clean animated logos (see Workoo and Diamond Divorce), while others built in-depth Frontify Guidelines with photography, illustrations, and visual guidelines (Marsha's Hard Cider and Bite!), or added detailed brand stories to their already stunning designs.
Runners-up, you rock. Before we get to the top 3 winners, first, we have to say that this was an extremely difficult decision-making process, and we want to give a major hi-five and a huge shout-out to everyone who entered. You certainly didn't make the choice easy for our jury. Feast your eyes on the work of just a few more of our honorable mentions:
Olive's Organics: Healthy Foods by Nathan Holthus
Muerto Brewing: Craft Brewery by Frank Hylsky – check out more where this came from in the Frontify Brand Guidelines Frank created.
Cavea: Streaming Service by August Schippert
The thought and depth put into the submissions were top-notch (check out Traject, with speed accounted for within the logo) and we were impressed - but not surprised - by the skills of the brand designers.
In all, we had 40 faux brands created for the Playoff, and 12 Frontify Brand Guidelines were submitted as part of the faux brand. But when it came time to choose just finalists, our jury of 6 design and product team members had the task of choosing winners.
Our Dribbble Playoff Winners
In no particular order, the following brand designers have been selected as having created the top faux brands for our contest – each receiving a 13" MacBook Pro and a custom Frontify environment to showcase their amazing, inspiring, exciting (honestly, we could go on forever) work.
Ulna: Wristwatches by Matt Cole Wilson
Simplicity, accessibility, and style are the three brand values of Ulna's retro-meets-minimalist watches. We were most impressed by the in-depth mockups and illustration guidelines created for this brand. Dive into the Ulna Frontify Brand Guidelines for a closer look at the thought and detail that when into this one.
Mixtape: Music Service by Kalpesh Prithyani
Mixtape is an app that connects users with similar music preferences, reviving the culture of sharing music with people that are close to you – portrayed by the classic 80s cassette tape. Nostalgic and innovative, we loved the detailed logos, loader .gif, icons and favicons, and awesome animation in the Brand Guidelines.
Toutoucan: Coffee Bean Brand by Rachel Whitt
With an aesthetically pleasing design and claim of being a taste of paradise, the story goes that Toutoucans love coffee and the people who grow it. It's a trendy approach with a decidedly youthful brand. We really loved the visual appeal, the expert-level product packaging, and the presentation of the Brand Guidelines.
Thanks again to everyone who participated. We're still amazed by the level of talent and effort that went into these submissions. Keep up with us on Dribbble and join in the fun with your own free Brand Guidelines.

Jennifer Harvey
US Marketing Manager