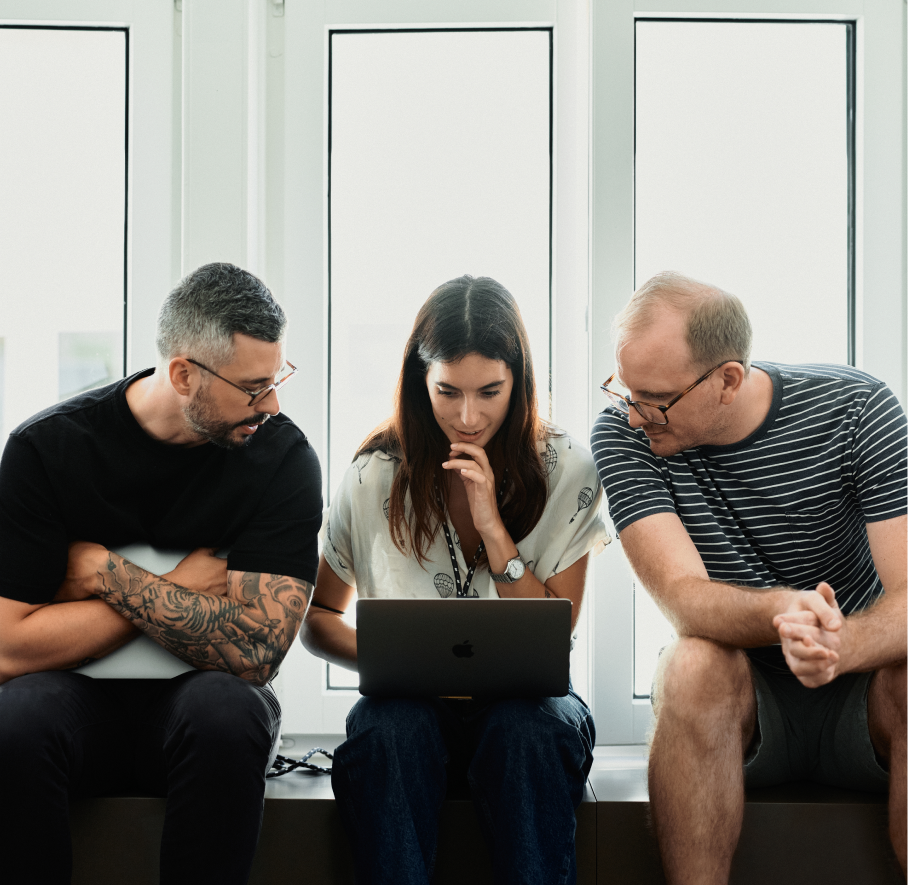 DAM vs. CMS: Key differences and which one to choose
In the digital era, DAM manages a company's entire brand assets, while CMS focuses on website content. Explore their key differences.
What are the differences between a DAM and a CMS?
Digital asset management (DAM) and content management systems (CMS) are tools that help companies store, manage, and access their branded digital assets. The main difference between a DAM and a CMS is that a DAM system is a comprehensive solution to manage all your company's brand assets, while a CMS is primarily used to manage the assets on your website.
Even though they're different tools, some features or functionalities overlap, so some organizations find it hard to understand the difference. Let's take a closer look at the two systems and how and why you'd use each one. Then we'll explore how they can work together as part of a comprehensive brand ecosystem — and when you might need both.
Understanding digital asset management
Digital asset management is the process of storing and managing all your company's digital assets. These assets could include everything from logo files and product photos to marketing collateral and pitch decks.
Many companies use dedicated DAM systems to make the digital asset management process as easy as possible. A DAM helps companies organize, collaborate on, and distribute their files within one centralized location. It can be used by anyone in the company — from sales teams to product managers.
Key features of a DAM
DAM software is a commonly-used tool to help with comprehensive asset management: It allows companies to access and organize their digital content and creative assets. Here are some of the most important features of DAM software:
Cloud-based, centralized platform to organize content in one place
Storing and managing brand assets — from product photos to sales enablement material
Supporting different file formats, from JPG to PDF
Organizing digital assets into libraries — for example, by department, file format, campaign, or product
Enriching digital assets with tags or custom metadata
Version control and change tracking for digital assets
Locating media assets using advanced search and filters
Ability to resize or reformat media assets
Customizable permissions for internal and external users to control who can access specific libraries or even individual assets
Analytics to understand how the assets get used and how the different teams engage with the brand
DAM use cases and benefits
Companies often use DAM solutions when they have a lot of digital assets to manage or if they have many people — in the company and externally, like agencies or other partners — who need access to those assets. Here are some common use cases for DAM:
Centralizing a large volume of digital assets: If you've got a lot of digital assets, it can be hard to keep track of the current ones. A DAM helps centralize your assets and makes managing and organizing them easier.
Managing a global and distributed organization: A DAM helps everyone — no matter their location — access the right assets. For example, you can set user permissions so users in one location can access only brand assets relevant to their location or language.
Tracking asset usage: Many DAMs offer analytics and usage data so you can track how employees are using different brand assets. This helps you understand the most valuable assets to your organization.
Strengthening content governance and access control: If many internal team members and external partners — like investors, agencies, or freelancers — need to use your brand assets, a DAM makes it easy to give, change, and revoke access as needed.
Understanding content management systems
A content management system (CMS) helps companies create, manage, and modify content on their website. It's typically used to publish, change, and remove website content — everything from logos and product images to web copy and blog articles.
A CMS is most often used by web designers, developers, and marketing teams. It's where you make changes and publish to the website, so companies typically don't want everyone to have access.
Key features of a CMS
Companies use content management systems to manage the content on their websites. It helps them create and organize their web content and related assets. Here are some of the most important features of a CMS:
Ability to upload, publish, and edit website content
Templates or builders for web pages
Media library to store videos, images, documents, and audio to use on your website
Ability to stage content to test changes before publishing
Version controls and backups for previous versions
Basic analytics to monitor website performance
Publishing or user permissions to control who can add or change content on your site
CMS use cases and benefits
Companies use a CMS to manage their website. Here are some of the most common use cases for such a solution:
Add and publish website content: You can use a CMS to publish web and blog content. This includes text, audio, video, and other visual content.
Manage and organize visual assets on your website: Companies upload visual assets to their CMS to publish on their website. They can then organize these assets into folders within the media library to make them easier to find.
Make changes to your website: Companies use a CMS to update their website. This could include adding pages, updating product listings, or publishing blog posts.
DAM vs. CMS: When to use DAM, CMS, or both
As we've seen, a DAM and CMS are very different tools with different use cases. Having one doesn't mean you won't benefit from using the other. In fact, they're complimentary and often work well together as part of your wider tool stack.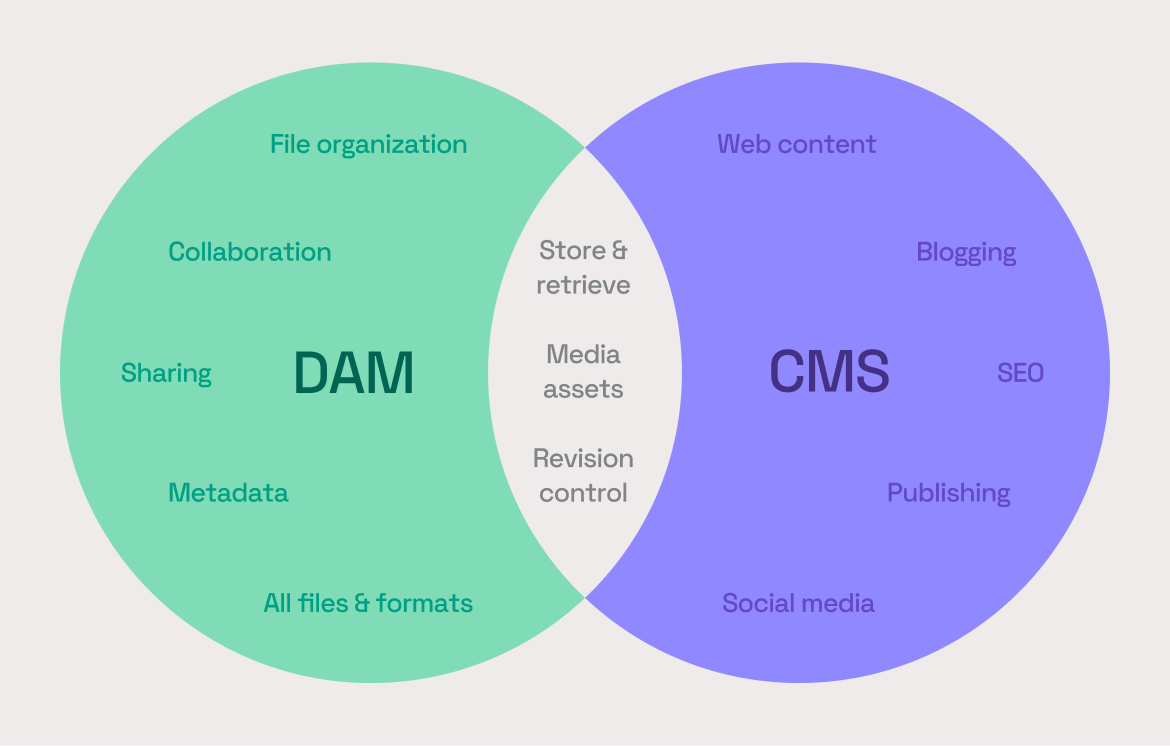 When you would use a DAM
A DAM is best for companies with large amounts of digital or branded assets that need a better way to produce, store, organize, and collaborate on that content. Here's an overview of when you would use a digital asset management solution:
Storing and organizing all your brand's digital assets — not just content for your website
Having complete control over access, editing, and approvals for brand assets
Collaborating on creating and reviewing brand materials
Rolling out a company rebrand and replacing outdated brand assets with new ones
Organizing access to brand assets across multiple locations or for external and internal collaborators
Managing content for multiple brands or companies
When you would use a CMS
A CMS is best for managing your website content, especially if you only have a small amount of digital or branded content to go on the site. Here's an overview of when to use a content management system:
Managing the content on your company's website, including uploading, editing, and publishing
Organizing the visual assets for your website, such as product images, logos, and icons
Enabling web developers, designers, and marketers to make changes to the website via an easy-to-use interface
When you would integrate a DAM and CMS
Many companies use DAM and CMS solutions as part of an integrated technology stack. Here are some examples of when you would integrate a DAM with a CMS to use them both together:
Ensuring developers and designers have instant access to brand materials for the website — directly within the CMS
Improving brand consistency across your website and all other digital content
Searching and filtering for the right content to use on your website
Streamlining the publishing process on your website, knowing all assets in your DAM are approved or finalized
Repurposing brand content from multiple content channels onto your website
Integrating DAM and CMS
Integrating a DAM with a CMS offers two core benefits: It helps improve brand consistency across your website and makes it easy to get approved branded content onto your site without constantly switching between tools.
If you want to integrate a DAM and CMS, you'll need to look into the integration options in your DAM solution. For example, the Frontify DAM integrates with many common CMS solutions, including WordPress, Contentful, Sitefinity, and Drupal.
- See the full list of Frontify CMS integrations. Your developers may also want to build custom integrations, but a purpose-built integration is an easy way to get started.
Be confident in choosing the right system for your needs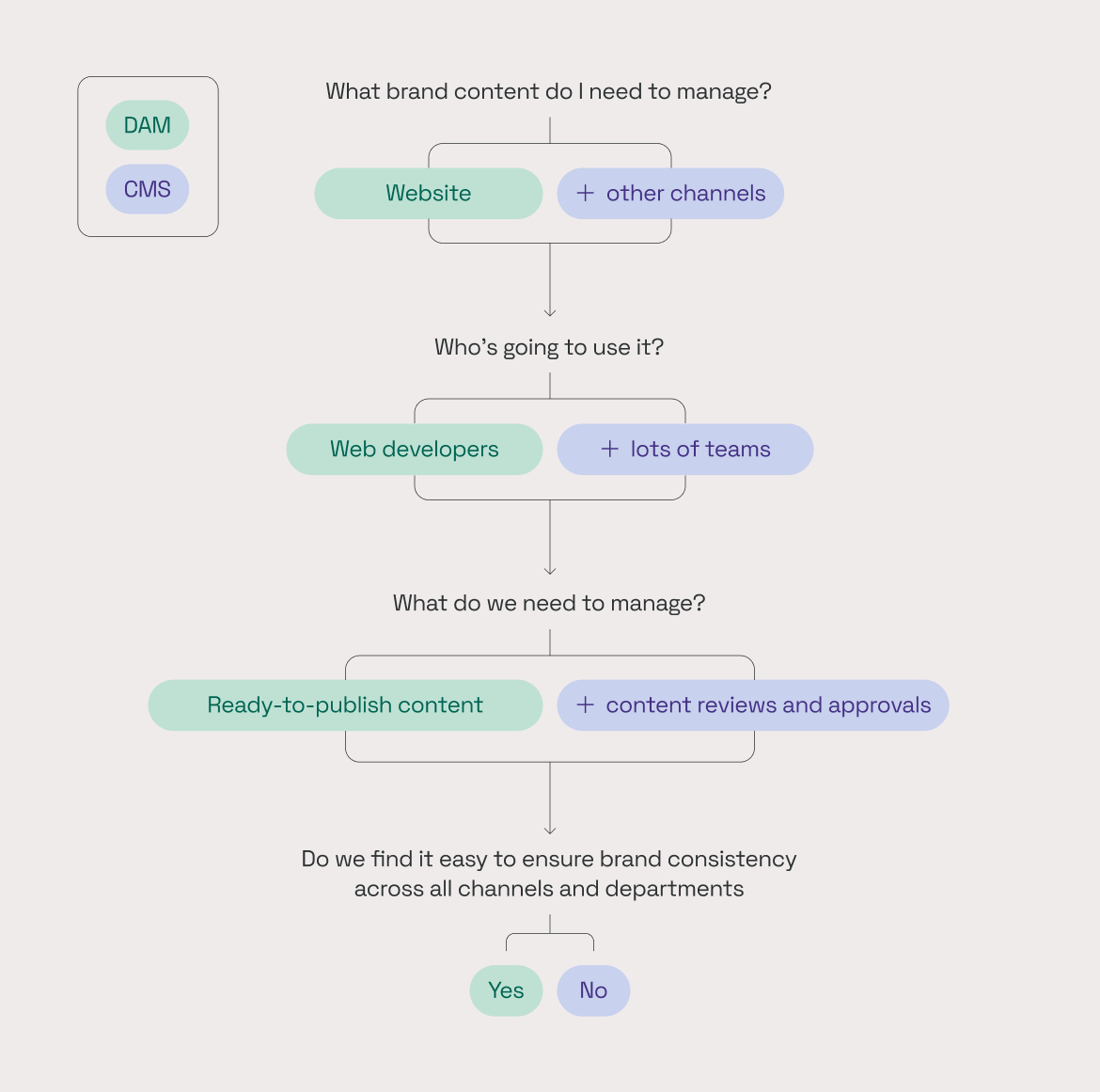 It can be hard to know if the best system for you is a DAM, a CMS, or both together. Start by asking yourself the following questions to find out which solution to choose:
What brand content do I need to manage? Just website content or content for other channels?
Who's going to use it? Just our web developers or will lots of teams need to be able to create and use brand assets?
Do we just need to manage ready-to-publish content, or do we also need a way to manage content reviews and approvals?
Do we find it easy to ensure brand consistency across all channels and departments, or is this a challenge we're looking to solve?
For all these questions, if you pick the first option, it sounds like you need a CMS, while if the second option is more relevant, a DAM is a better fit. If you choose the wrong type of solution — for example, by implementing a CMS when you really need a DAM — then you'll find yourself struggling to manage your digital assets properly. It'll be hard to give the right people access or to distinguish between draft and finalized assets. Over time, it'll get harder for people to keep track of approved assets, and brand consistency will drop.
When you're comparing different solutions, or trying to pick between a DAM and a CMS, focus on the big goals you're working toward here. Consider the wider needs of the organization to choose the right system for your current and future needs.
Frontify's DAM helps companies like Telefónica and Uber manage their brand and creative assets. Learn more about our DAM and how it integrates with many popular CMS — perfect when you need both systems to best manage your brand.