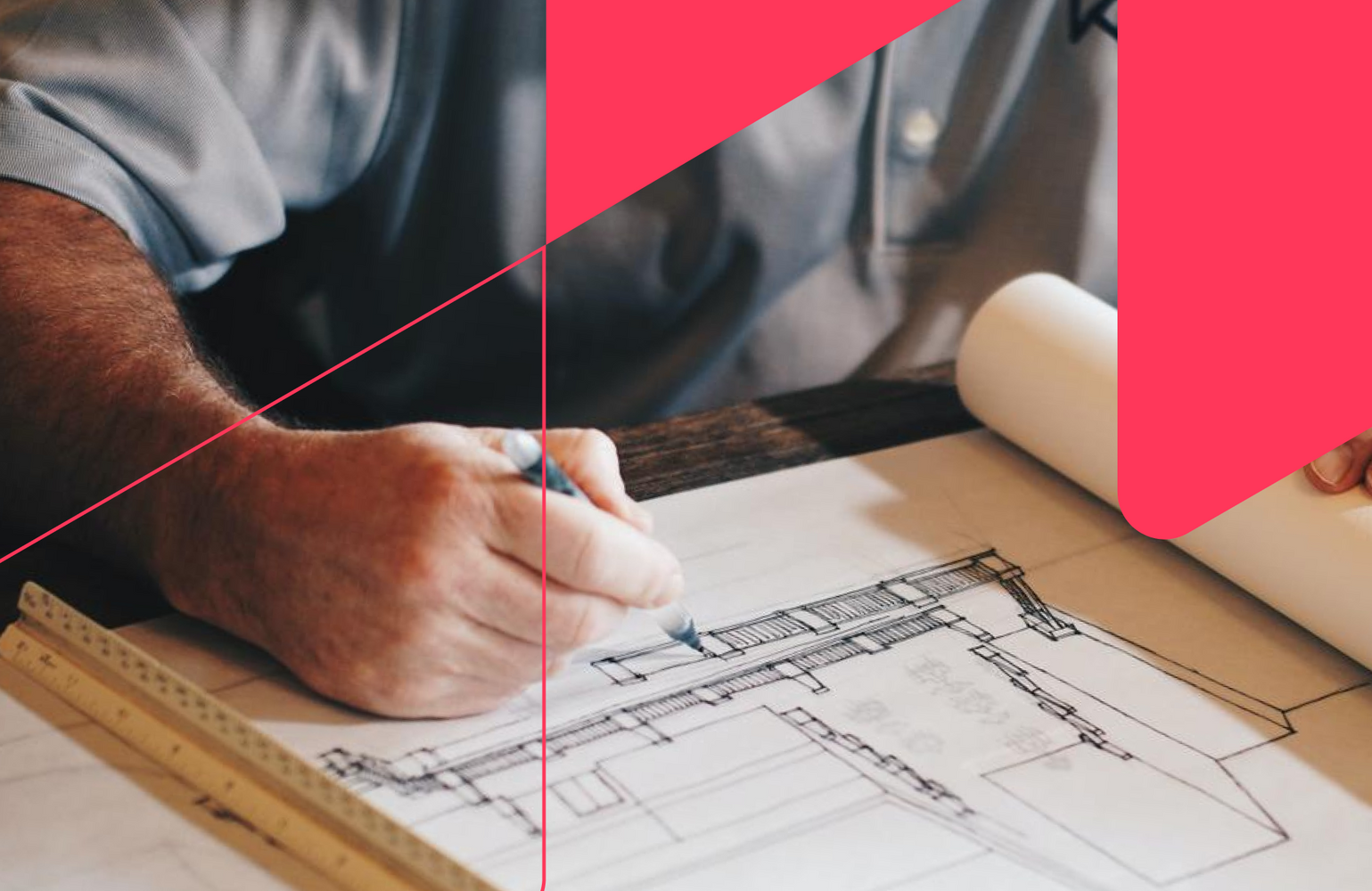 Multi-Brand Architecture: Frontify's Holistic Approach
Struggling with how to manage a multi-brand universe? Complex brand ecosystems, a global footprint, and a wide range of user cases within an organization can make this goal tricky at best. Digital centralization of your brands with Frontify is key – where everything can come together under one roof – ensuring ease of adoption and rollout with scalability, flexibility, and usability top of mind.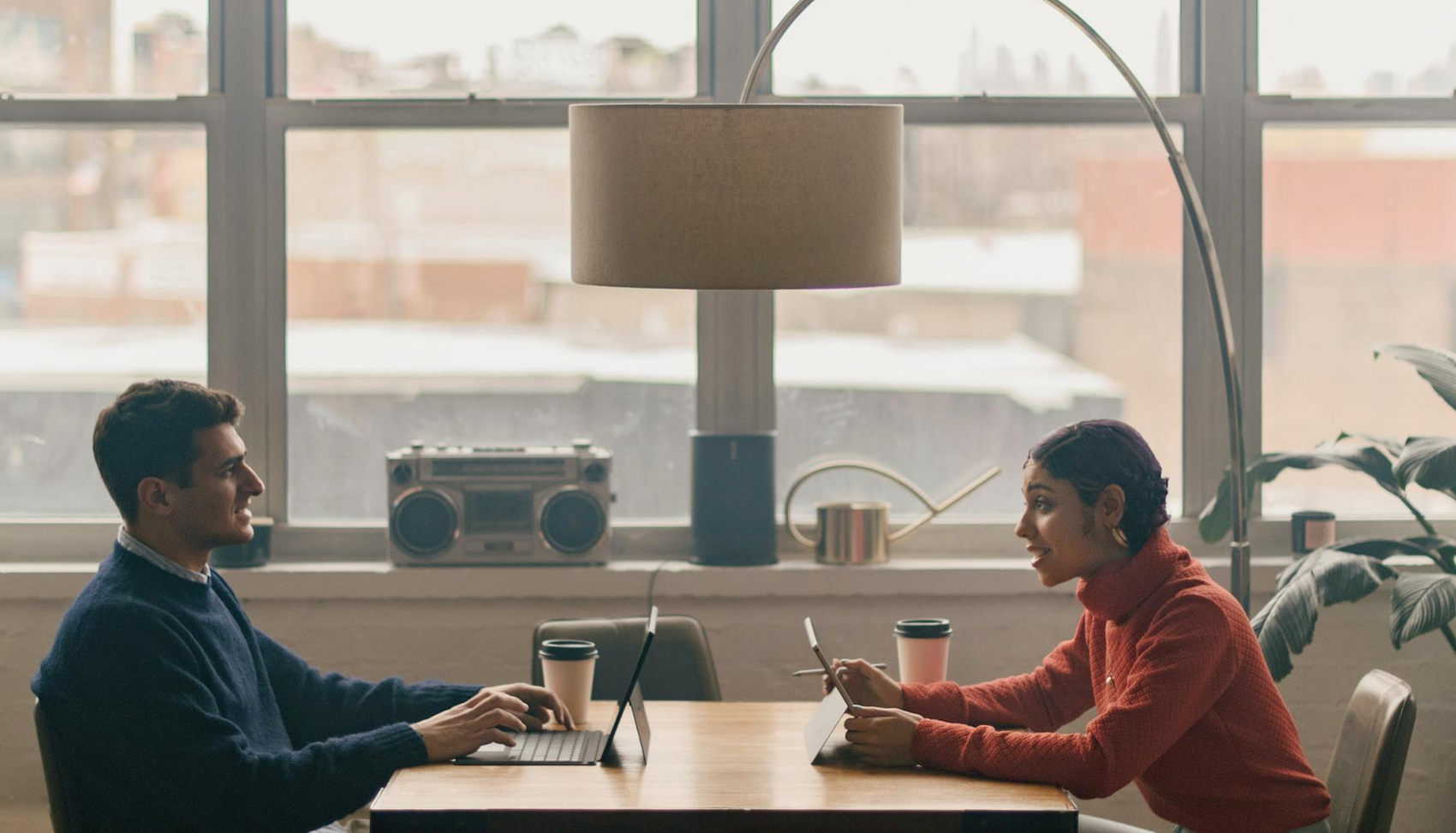 Frontify's holistic brand management experience makes it possible for companies of all shapes and sizes to grow and adapt to their unique and fast-growing environments. For global companies in particular, this means that their brands can be managed through a single cloud-based platform, while still allowing some more decentralized autonomy for their sub-brands if and when needed. This multi-brand management power is a hallmark of our software, and a true differentiator in choosing Frontify.
Beyond the benefits of keeping a tidy house, organization behind the scenes can lead to clarity in brand ownership and transparency in communication. The return on this investment is immediate, as well as a contributor to long term brand value and impact. Breaking down silos, frictionless exchange, and increased consistency through a single source of truth will bring the people behind those brands – and the nuances felt across brands, business units, markets, regions, partner relationships etc. – even closer together.
Regardless of any given corporate structure, user journeys can be built to spec with ease and governed centrally or decentrally at any given time depending on needs. From a single brand with just a handful of employees, to a worldwide organization employing 200k+ people and maintaining hundreds of brands, each can leverage the platform to manage overarching and localized brand identities, assets, and users. From small to large scale, this process can then be expanded on and optimized to ensure best practices and efficiency gains can also be leveraged by a wider audience.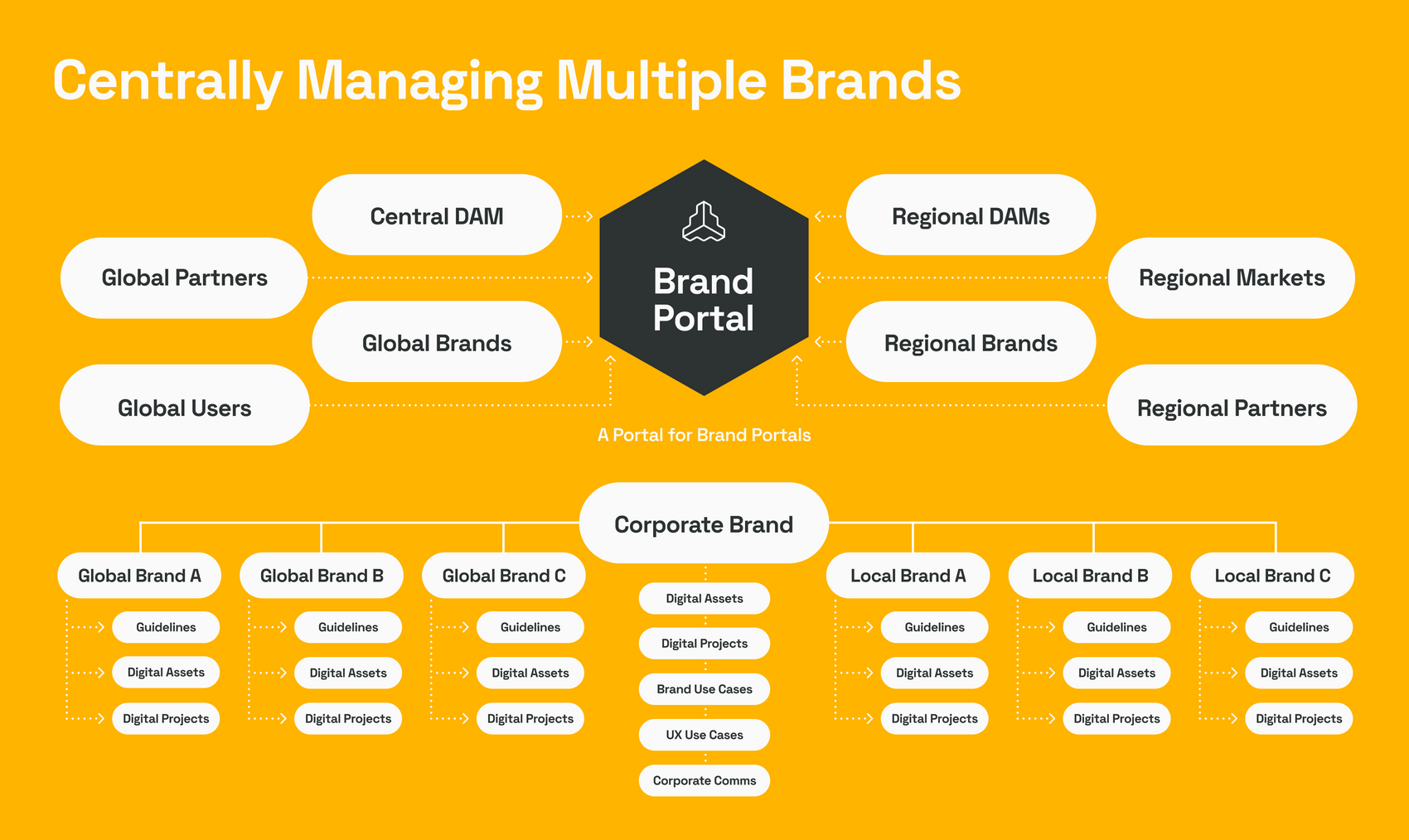 Frontify allows every organization to create a central brand portal which houses all brands under one roof. In other words, Frontify enables a portal of brand portals for large organizations to scale while giving room for each brand to grow and belong at the same time.
An exemplary use case is managing a DAM (Digital Asset Management) or Asset Library within Frontify. You could begin by creating a shared DAM or individual smaller DAMs. You then do the same on a project level and your collaboration is optimised infinitely. By adding templating options and approval workflows to the mix, you are essentially extending the scope of possibilities and pushing the boundaries for your economies of scale.
The 5 Pillars to Multi-Brand Excellence
Our web-based technology was designed to deliver on a wide set of business-critical functions of brand management through a brand home that points people in the right direction: to different sub-brands, important asset collections, or specific brand essentials made uniquely for teams or markets. Ready to use from the start, it's also highly configurable to suit global brands at every step along the way. In turn, this means you can spend more time where it matters; enabling users to create long-lasting and powerful brand experiences consistently, anytime and anywhere, all within the same platform. To help you on the journey, we've identified five pillars to an excellent multi-brand setup.
Scalability & Scope
Frontify is fully scalable as it can grow quickly and be rolled-out easily across businesses of all sizes covering the most complex IT landscapes. With guidelines and asset management together in one space, the need for multiple instances becomes obsolete. You can say farewell to duplication and redundancies, too. In many ways, scalability is synonymous with convenience on Frontify and with its API, the platform can stay connected to its fast-changing environment at all times, integrating it sustainably with its wider ecosystem.
Flexibility & Adaptability
As a brand management platform, Frontify is extremely agile and can be used to cover most scenarios. Multi-brand organizations require flexibility in order to scale. Managing numerous brands under one roof can be challenging if stakeholders lack a single place to work and locate assets. Being able to adapt easily to different brand identities and growing stakeholders groups means early adoption and engagement is always possible. Brands are ever-evolving, and their brand architectures and infrastructure needs to be able to adapt and accommodate that change.
Repeatable & Synergistic
Multi-brand environments are multi-faceted. Existing structures which have been tried and tested, and successfully implemented for given brands, can be easily repeated and reused – benefiting wider brands and teams with ease and speed. A prerequisite for such simplicity is strong guardianship and governance during the implementation phase.
Ease of Use & User Engagement
Key to any solution is usability and user-friendliness, which is synonymous with added value. Better yet, a user experience that people actually enjoy. With these boxes confidently checked, you can ensure efficient onboarding, wide implementation, and enthusiastic adoption across teams and stakeholders. For editors, seamless updates keep everyone in the loop with what's new and available in the brand portal, and encourage increased brand buy-in and engagement. When your stakeholders feel a part of it, they're more likely to stay on-brand; a win-win.
Global Structure & Local Need
It's important for multi-brand environments to satisfy global governance and usability, while enabling the smaller or localized brands to perform their niche functions; all under one space. That global/local balance becomes tangible through increased synergies, faster time-to-market strategy, and order in workflows. Frontify's ecosystem and brand-first approach means that each brand can be managed centrally or more autonomously, and accessed from anywhere at anytime depending on who the user is and what the use case is.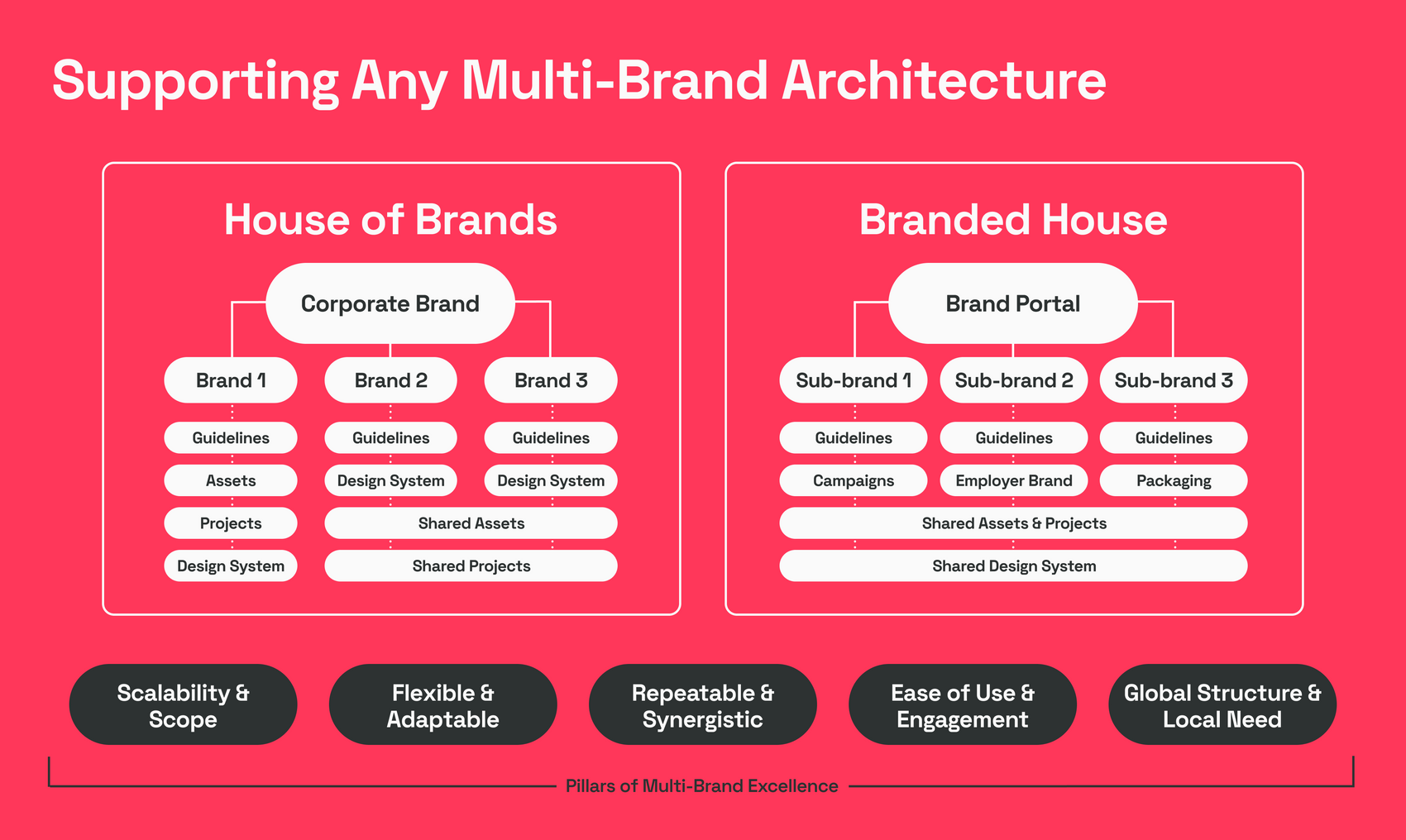 Frontify allows a clear and user-friendly representation of your brand architecture, no matter how complex it is. Whether you're working with a House of Brands or a Branded House or even a mix of both worlds, the structure can be built, optimized, and replicated in a configurable way for every brand to fit under the whole and where it's clear that each piece is connected to the corporate brand.
Brands need a home, so why not give them the attention, care, and space they deserve? With everything and everyone related to the brand – and all of its many layers – together, it's a future-proof solution for wherever the road ahead leads.

Oliver Baumgartner
Head of Customer Advocacy