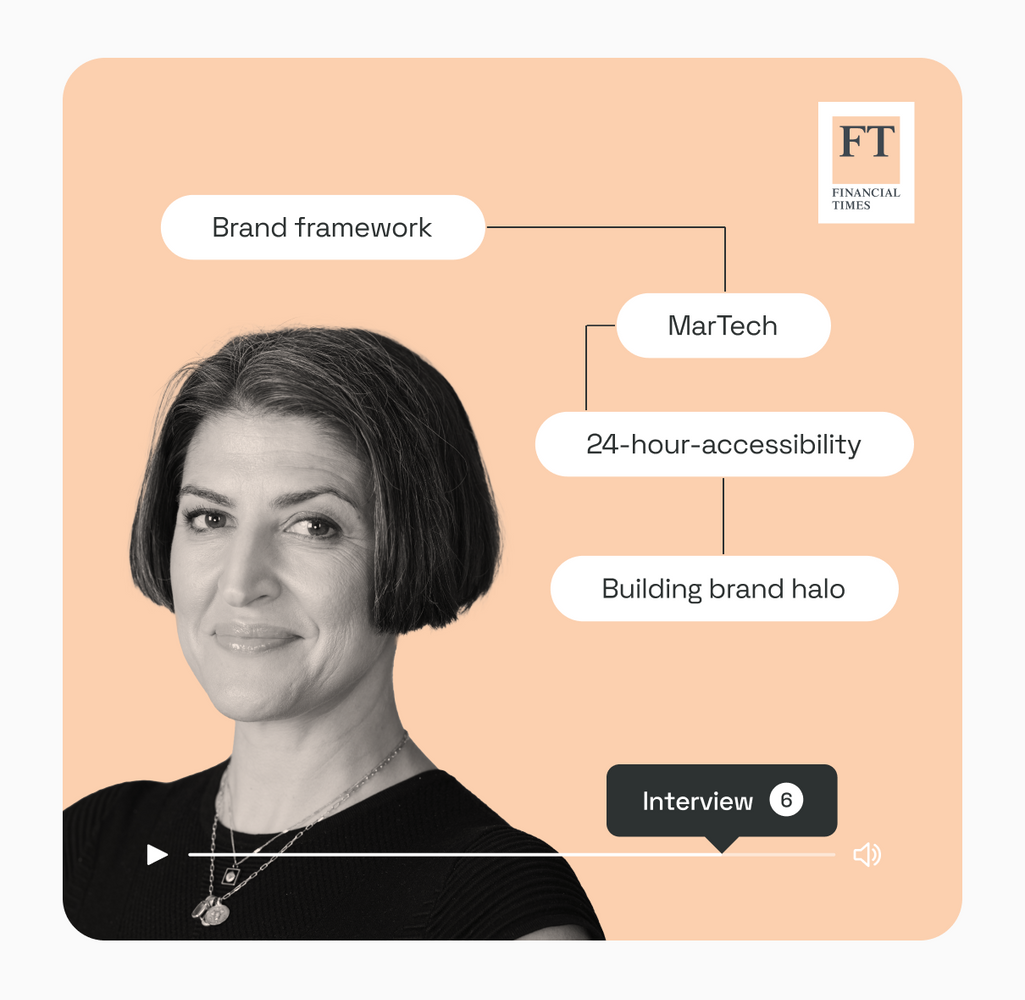 Writing the Financial Times' brand success story
Tia McPhee is the Global Brand & Partnerships Director at the Financial Times (FT), a leading international newspaper. In her role, she oversees the development and execution of the FT's brand strategy and marketing framework. The Financial Times is renowned for its trusted news, analysis, and insights on business, finance, and global affairs, serving a diverse readership worldwide.
In the interview, Tia stresses the significance of centralized brand guidelines and tools for a consistent brand experience. She talks about how technology and brand portals play essential roles in providing accessible resources, and why empowering employees as brand ambassadors – fostering creativity and confidence – is crucial.
What does brand and infrastructure mean to your company, and why is it crucial for a strong brand?
Well, I don't believe infrastructure holds much significance for others within the organization, but it is undoubtedly vital from a brand building perspective. When I took on this role, there had been no one specifically dedicated to brand for an entire year. So my task was to reestablish the importance of brand throughout the company. When describing our department to the team, I likened it to being the anchor that holds both the beginning and end of the pink thread, which symbolizes our organization as a whole. Pink, as you may know, is the iconic color of our newspaper and represents our brand.
Brand infrastructure is what enables us to cultivate a strong, unified brand identity. In our search for a suitable platform, we conducted a thorough evaluation and ultimately chose Frontify. We were drawn to its impressive track record with other brands. For us, Frontify provides a centralized space where we can showcase our work, offer best practices for brand usage, and delve into the intricate details and structure of our branding initiatives, along with the available tools.
If we delve further into the topic of systems, what role does technology currently play, or should it play, in future-proofing a brand's infrastructure? Additionally, could you provide more information about your MarTech stack?
Technology plays an integral role because it enables consistency and provides a centralized resource for individuals. Nowadays, people no longer have the patience to sift through PDFs to ensure they are adhering to brand guidelines. Unless the rules are readily accessible within the systems they use, they tend to be overlooked. Thus, technology is crucial, especially considering its constant evolution.
We are particularly interested in the concept of toolkits, toolboxes, templates, and apps — resources that support the creation of assets. It's important to continuously explore and adopt the latest available options. Regarding our specific tools, we have a brand portal that serves as a central hub for guidelines and information on available assets. It also functions as a creative templating platform. Additionally, we utilize marketing automation, a CRM stack, and a diverse range of tools that collectively form our MarTech portfolio.
How do you ensure a cohesive and efficient brand infrastructure by collaborating with other teams?
Our team's primary responsibility is to establish and communicate that infrastructure throughout the organization, symbolized by the metaphorical pink thread that encompasses everything the FT does. Our aim is to develop inspiring tools and continually share them with other departments. This way, we can avoid duplicating efforts and reinventing existing guidelines. While it would be ideal for everyone to proactively approach us, we understand that our role entails actively educating and engaging with all other departments operating under the FT umbrella. Our objective is to ensure consistency and a robust brand presence in the market.
Another question I have is about the organization of your brand globally and locally. Could you provide more insight into your glocal setup?
Certainly. I would say that we operate as a branded house rather than a house of brands. The majority of our activities stem from an FT endorsement, which necessitates a certain level of centralization to ensure consistent usage of the FT brand. Regardless of the audience, whether they belong to different divisions or reside in different countries, it is crucial for our brand to behave consistently. While we have key hub offices in New York, London, and Hong Kong, as a newspaper, we also have various stringers and outposts worldwide. This requires us to operate to support the 24-hour cycle, with tools readily available to facilitate local execution.
In terms of the global-local dynamic, our brand is still quite centralized, but the actual work is produced locally within specific guidelines, templates, and regular campaigns. We strive to issue campaigns twice a year, and these assets are accessible through tools such as our Frontify platform.
How do you go about educating employees about your brand and transforming them into true brand ambassadors?
It involves constantly seeking communication channels because not everyone reads emails or comms updates. We conduct regular livestream talks, which were initiated during the COVID-19 pandemic and have proven to be an effective way for people to access information in real-time or catch up on it later. Whenever there is something new, like a campaign or idea, we make an effort to share it as widely as possible. Additionally, we direct everyone to our brand portal, where they can find the latest work. The key is to generate excitement and make people eager to utilize the brand assets.
How do you evaluate the strength of a brand infrastructure? And what metrics do you use to measure long-term success?
There are a few ways to assess the strength of a brand's infrastructure. Firstly, it lies in the feedback we receive. Do people have access to the necessary tools? Do they know where to find what they need? Another indicator is the level of consistency across various outputs. Over time, things tend to deviate from a centralized point, so regular audits and realignments are essential. Success is measured by the ease of tool usage, the perception that individuals have the tools they require, and the ability to share resources effortlessly.
As for metrics, we examine the number and types of users on our brand portal, as well as how frequently our core users engage with it. For example, when we introduced the portal, we considered it a significant internal communications success when over 50% of our staff had accessed it within three weeks of its launch. While not everyone may use it regularly, this metric demonstrated successful awareness and initial exploration. On the other end of the spectrum, we also gauge audience perception through monthly brand tracking surveys. These surveys assess associations with our brand, such as the color pink, which is a distinctive element of our brand identity and featured in our brand technology tools. Monitoring how effectively this reaches our audiences is crucial.
What is your perspective on achieving the perfect balance between a strong brand experience and a functional brand portal? Do you believe such a perfect balance is achievable?
I believe that a functional brand portal can contribute to a more consistent brand experience, which ultimately makes it strong. Consistency is key to a powerful brand experience. It's possible to have a meaningful interaction with a brand without it necessarily leaving a lasting impression or contributing to the overall brand halo. Therefore, the functionality of a brand portal is crucial in creating that consistency. Given the diverse departments and services within our organization, which extend beyond the realm of a traditional newspaper, it becomes even more important. If we have a robust infrastructure that allows everyone to access and utilize different aspects of the brand in a unified manner, then the brand experience and the functional portal can work together harmoniously.
However, it's important to acknowledge that achieving this balance is an ongoing dance. We need to consider the fact that different people will use the brand assets, and finding the right balance between empowering users and maintaining control is essential. It's not feasible or practical for everything to originate from a single team or be overly restrictive.
What would be your top three best practice tips for enabling efficient brand management and ultimately strengthening a brand's equity?
Provide the right tools for people to use. Continuously create assets and elements that are readily available and confidently applied. It's crucial that these resources resonate with individuals on a personal level and instill a sense of pride in their usage. This approach fosters consistency because people aspire to use these tools voluntarily rather than being forced to conform.
It's important to make it more about the carrot than the stick. Encourage creativity and confidence in the brand, incentivizing employees to embrace and utilize it. By creating an environment where individuals are inspired and motivated to represent the brand consistently, the need for strict policing diminishes.
Ensure that the tools and assets created are authentic to the brand. This authenticity resonates internally with employees and shines through in the work that is presented externally. Aligning the brand's values and identity with the tools provided fosters a genuine connection and strengthens the brand's overall equity.