Five foolproof rules for client retention
Clients that provide a steady workstream and continue to come back when an opportunity arises is a holy relationship grail many agencies search for. Let these five rules of thumb, based on insights and top tips from conversations with four experienced industry minds, guide you to long-term client retention success.
Client retention rule 1: Keep in touch
When you keep in touch to show your client that they're top of mind for you, you just might find yourself at the top of their minds as well. Proactivity is a master key to reaching this ideal top spot. Humbly sending ideas for how a campaign can be further supported, or suggesting various solutions that might not have been part of the original scope, are two tried-and-true proactivity methods. For instance, when Dragon Rouge Asia had completed a major rebranding for a large international client, they kept in touch by observing the implementation and sending not only suggestions but updated content as well.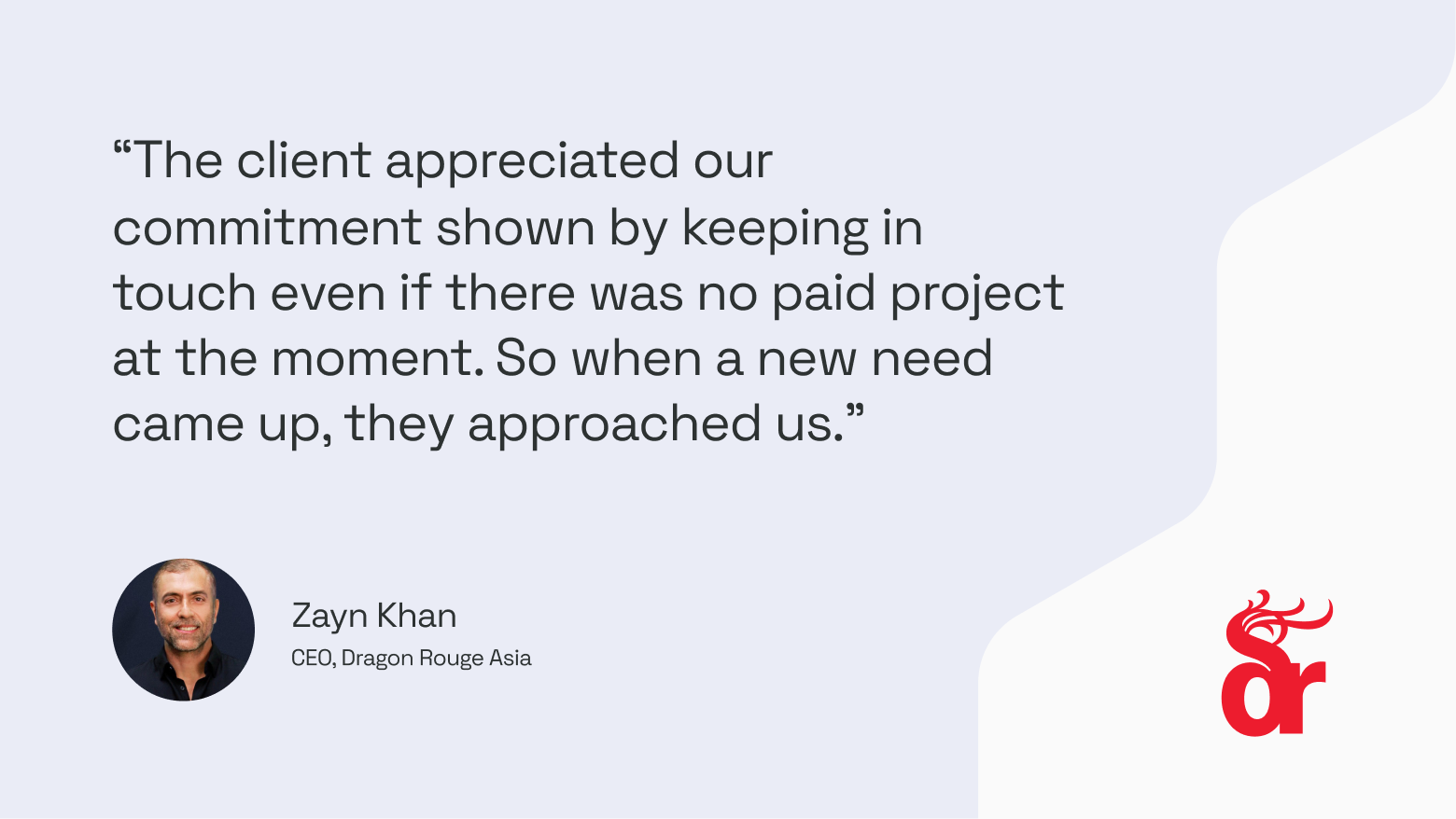 Client retention rule 2: Keep understanding
Keeping yourself in the know to understand your client and the context in which your client operates is one of the most important strategic blocks for building retention. This means constantly being up to date on the whats, whys, hows and whos of the client's inner and outer worlds. The day-to-day bread and butter along with the long-term communication ingredients for years to come. How and when the client wants deliveries in order to be on time and on point. Individual gatekeeper goals and collective company challenges. And of course, in today's globalized yet hyperlocal world, cultural codes across continents as well as just across the street, or desk, for that matter. Luckily, since this day and age sees people on the client side going over to agencies and vice versa, reaching insights and mutual understanding is becoming easier.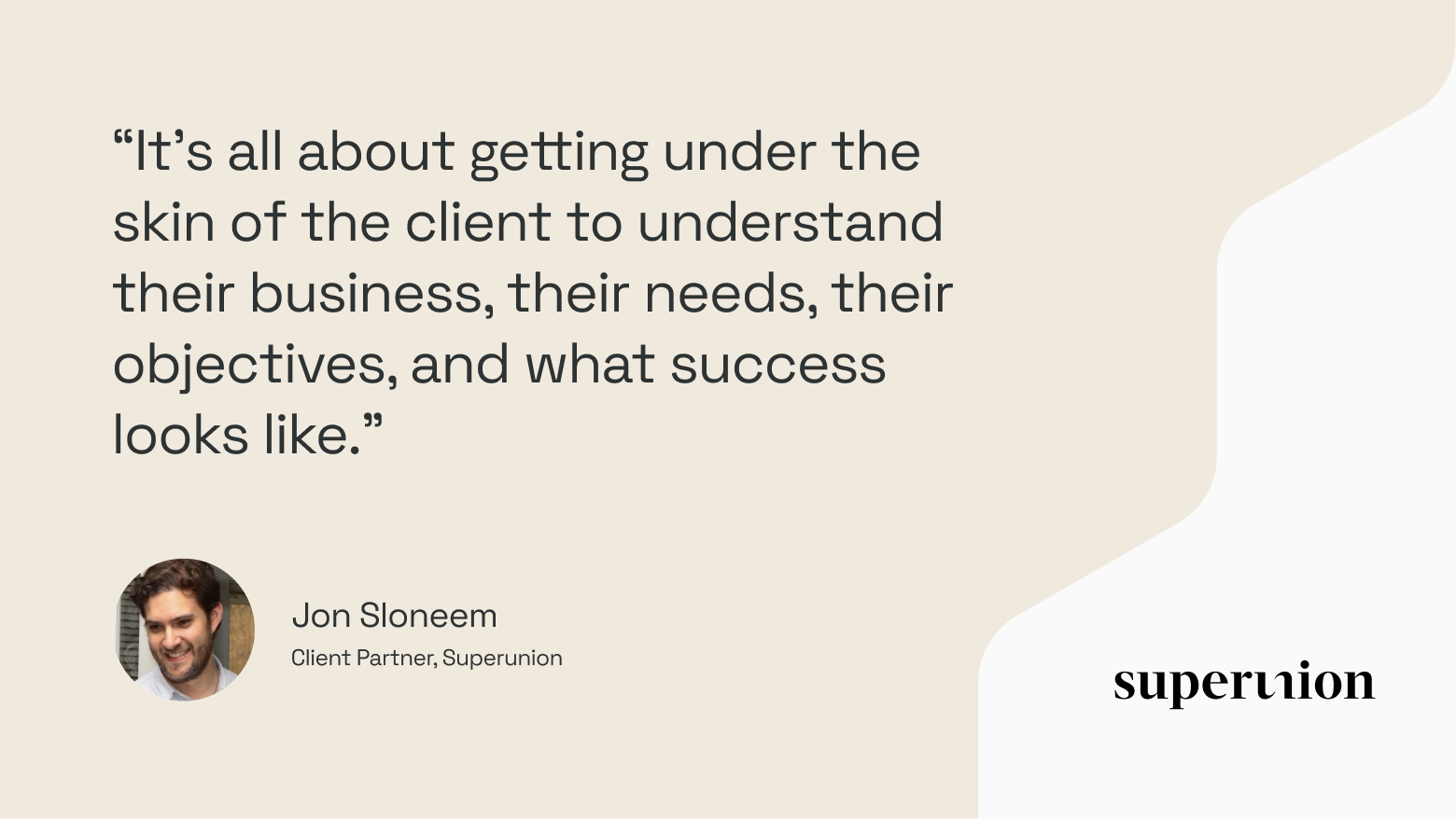 Client retention rule 3: Keep innovating and collaborating
Novel ideas, cutting-edge campaign moves and fresh strategic approaches have always been fundamental for piquing continuous client interest. Exploring new technologies, platforms or collaborative ways of working are all instrumental to provide innovative value. In fact, with the rise of in-house teams, boutique agencies, new levels of freelancing and company structures, collaboration is one of the most fruitful ways of cultivating innovation as well as retention. For instance, R/GA has a long track record of collaboration for innovation. R/GA Ventures helps corporate leaders identify and capitalize on disruptive technologies and emerging behaviors, while supporting startups with financial and creative capital to drive growth and returns. Experimenting together with clients, production partners and the actual builders of new technology, now with a focus on web3 and the Metaverse, is both an exciting and proven path to long-term loyalty. All to work out opportunities, risks, relevant activations and channels at the forefront of branding only made possible through genuine cooperation. An approach that's kept a prominent client such as Nike with the agency for over twenty years.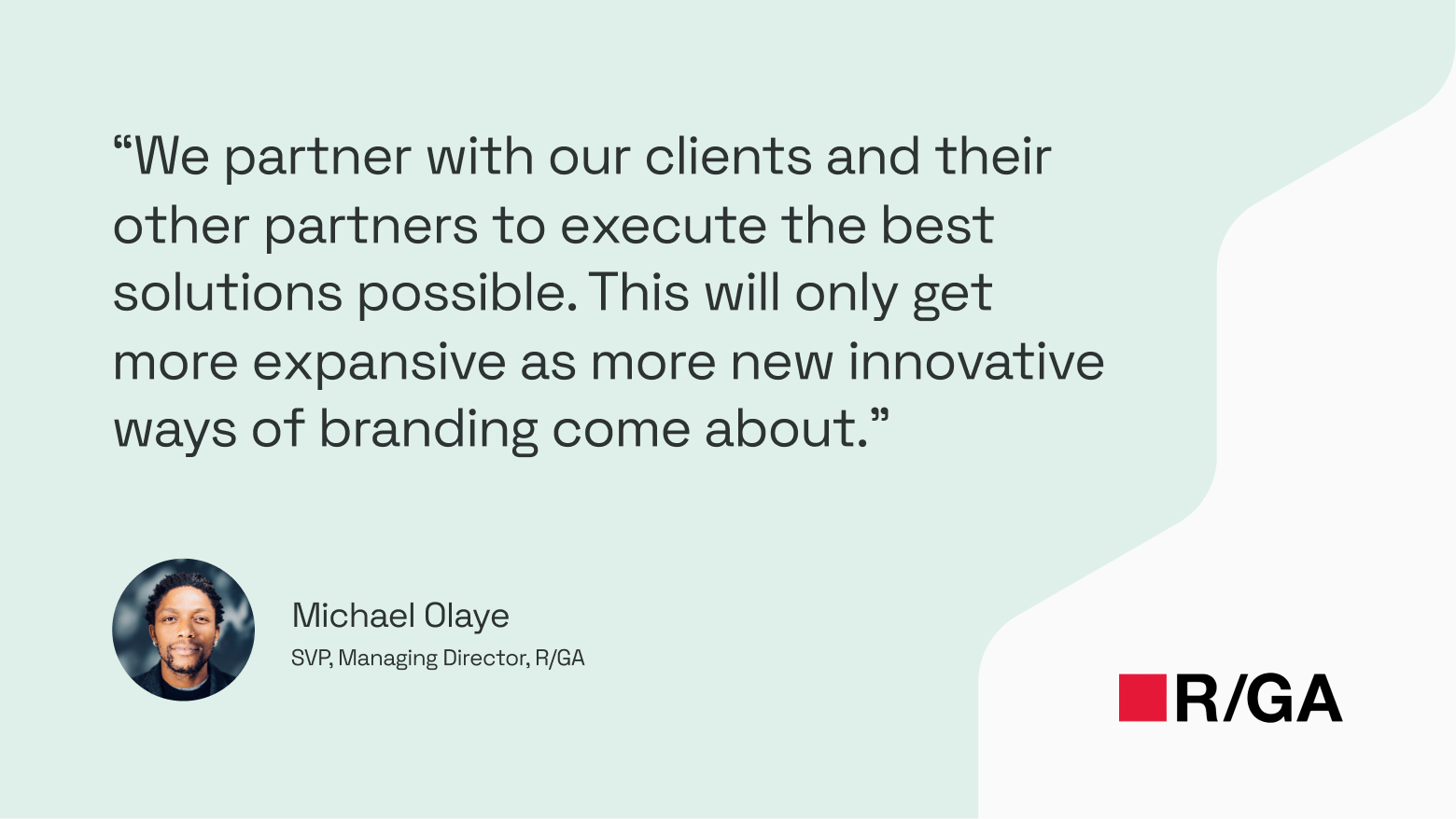 Client retention rule 4: Keep supporting
The vow "from this day forward, for better, for worse" rings true in both marriages and client-agency relationships, where you choose to stick together through thick and thin. Client retention is also known as client stickiness, after all. Keeping up the support for your client every step of the way, demonstrating on a daily basis that you're there for them and taking responsibility for successes and failures along with them, sows the seeds for a flourishing partnership. Especially going through pains together, proving that you're the opposite of a fair-weather professional friend when a storm hits, is a particular reason for why clients stay and relationships not only survive, but thrive.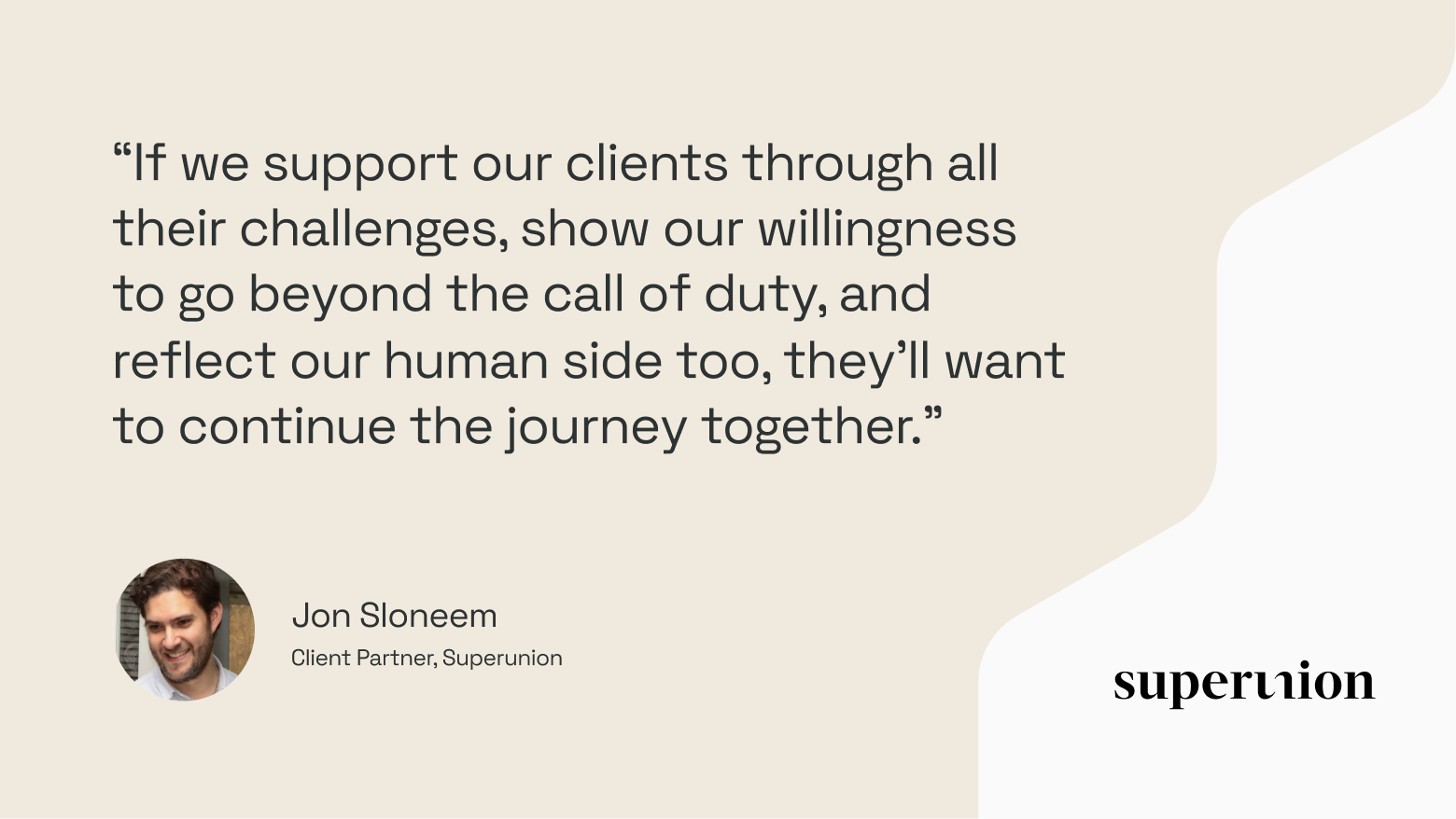 Client retention rule 5: Keep your integrity
Keeping your integrity and staying loyal to your truth can, when performed with grace, cement a client-agency relationship even further by building trust. Achieving a healthy balance is essential to do this successfully. You want to go that extra mile to serve your client, but need to be authentic, which can mean challenging them. You also have to balance your business goals with what serves your client best, even though that could mean less work for you as an agency for the moment. Mastering this is by nature tricky, but if you show that you respect yourself and your work, your client will be more likely to reciprocate that respect, see the value that you bring, and trust your advice.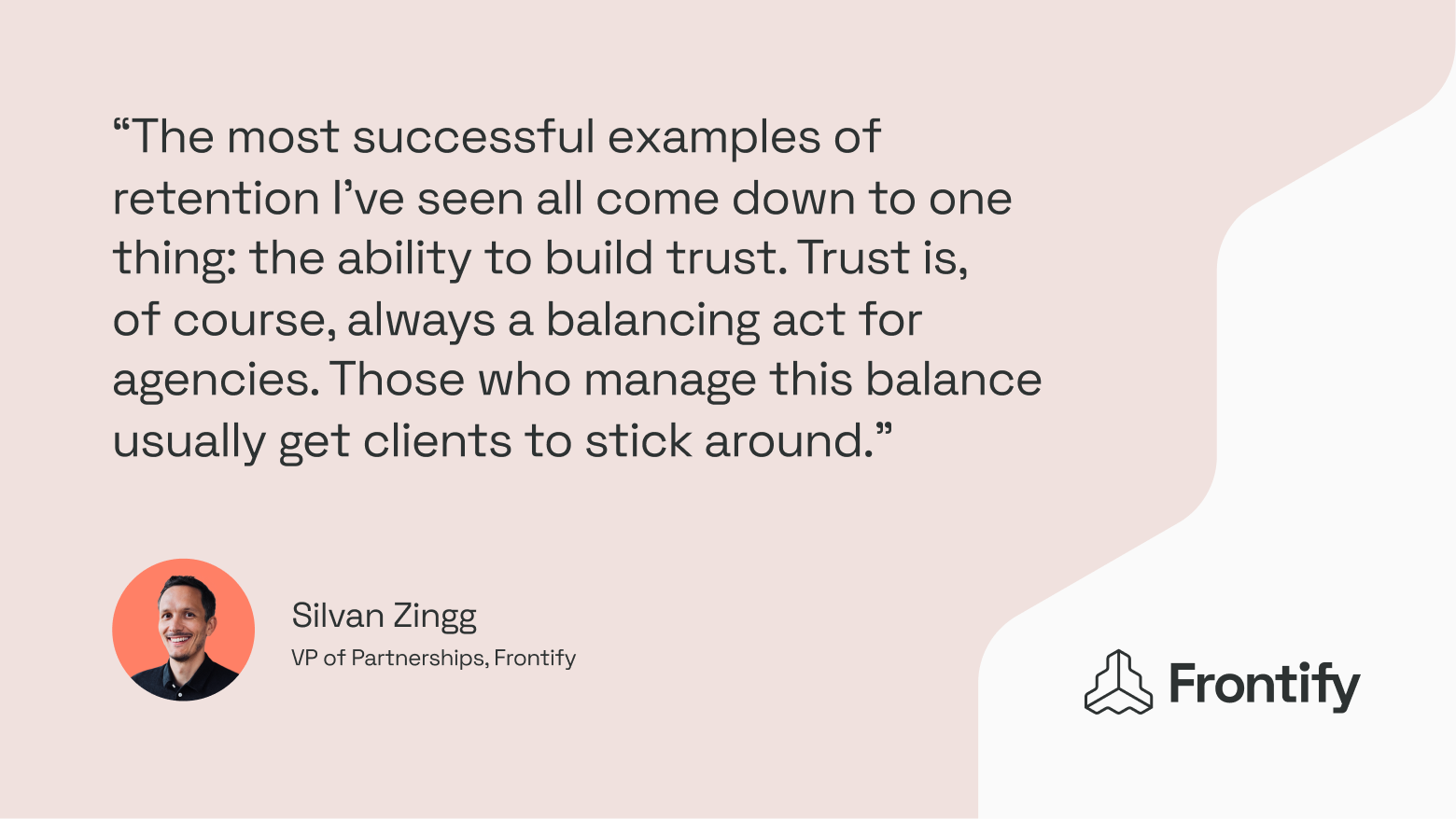 Of course, sometimes a relationship doesn't work out. But if you're doing all you can to build retention and a client still chooses to leave, simply accept that the match just wasn't right and part ways on good terms. Because you never know what the future might bring when it comes to client-agency relationship constellations or how somebody will come back to you down the road.
Want to learn more about how to take your client relationships to the next level? Explore our blog here, get inspired by other agencies here and here or download our branding guide for agencies here.
Sibylle Nüssli
Content Lead