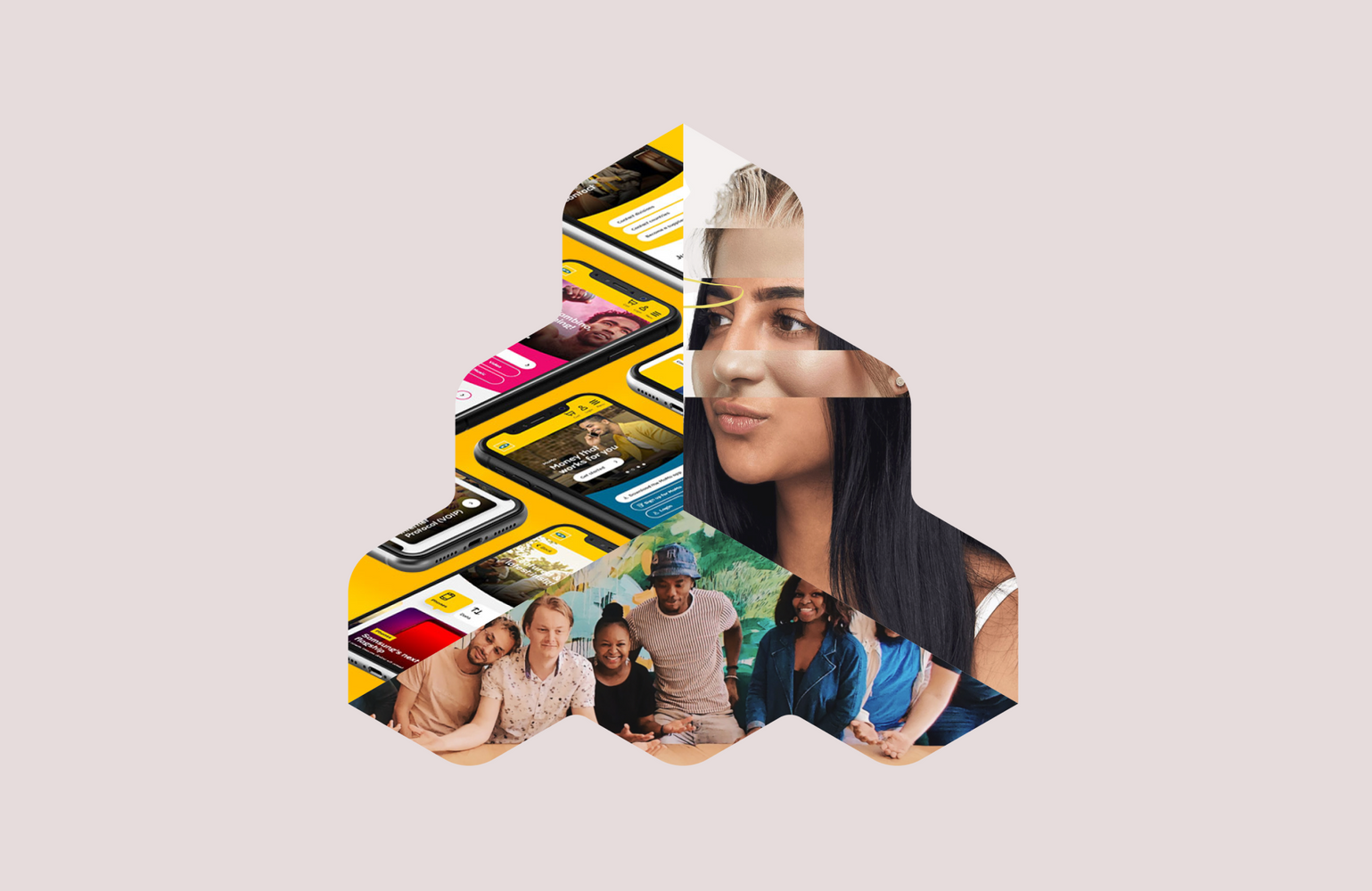 Centralizing Brand Assets & Guidelines
Discover Frontify's ability to organize and centralize brand assets and guidelines, even for brands with 20+ operating companies and 600 page PDFs.
PlusNarrative is an agency that creates digital products and implements brands in a way that puts people first. From API marketplaces and interactive healthcare apps for at-risk children to full-fledged employee apps for international corporations, PlusNarrative builds brand experiences for organizations all over the globe.
600 Pages; One Simplified Digital Experience
One of PlusNarrative's valued clients, MTN, approached the team with a big task: turn their 600-page PDF brand book that housed the corporate identity guidelines for branding, assets, and processes into a user-friendly, cloud-based format. The award-winning MTN brand guidelines built by TBWA and Grid – although well-documented and beautifully executed – needed a permanent home where they could be easily and readily accessed without storing the PDF and assets on one's own machine.
The challenges of centralizing these guidelines went beyond simply transferring the PDF guidelines into the cloud. With previous guidelines stored on individual servers and computers across MTN's 20+ operating companies, there were considerable inconsistencies in the branding to clarify.
MTN also saw an opportunity to save stakeholders precious time in sending emails back and forth as questions and answers worked their way through the communication chain.
The final challenge to overcome was for stakeholders who needed to look between PDF documents and digital files to find assets. With many agencies working on various marketing and branding projects at once, it became critical to create a single source of truth for the entire organization, quickly.
Bridging the Gap Between Dynamic & Static
After weighing all of these factors, MTN Group and PlusNarrative agreed on the use of Frontify to make the shift to a dynamic, cloud-based brand portal for the whole organization.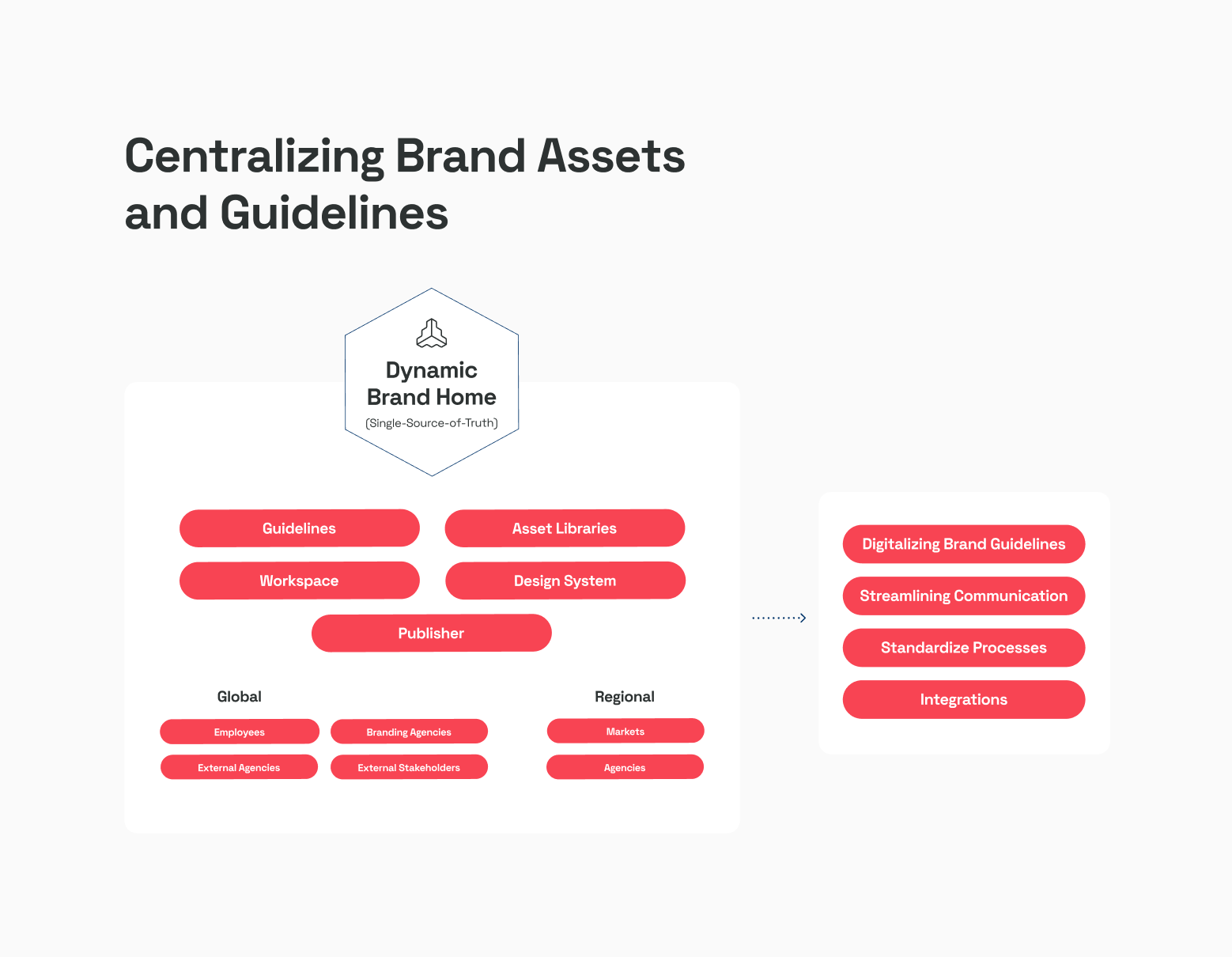 Working with the brand guidelines, templates, and assets that MTN's branding agencies (TBWA and Grid) provided, the PlusNarrative team adapted the files to best suit the user experience on Frontify's brand portal. Today, the guidelines can be easily accessed by hundreds of employees and multiple external partners across Africa and the Middle-East, simultaneously. The PlusNarrative team also set up Frontify's available integrations to build an intuitive design system into the dynamic brand home.
Now, MTN's brand guidelines are scalable and accessible for everyone.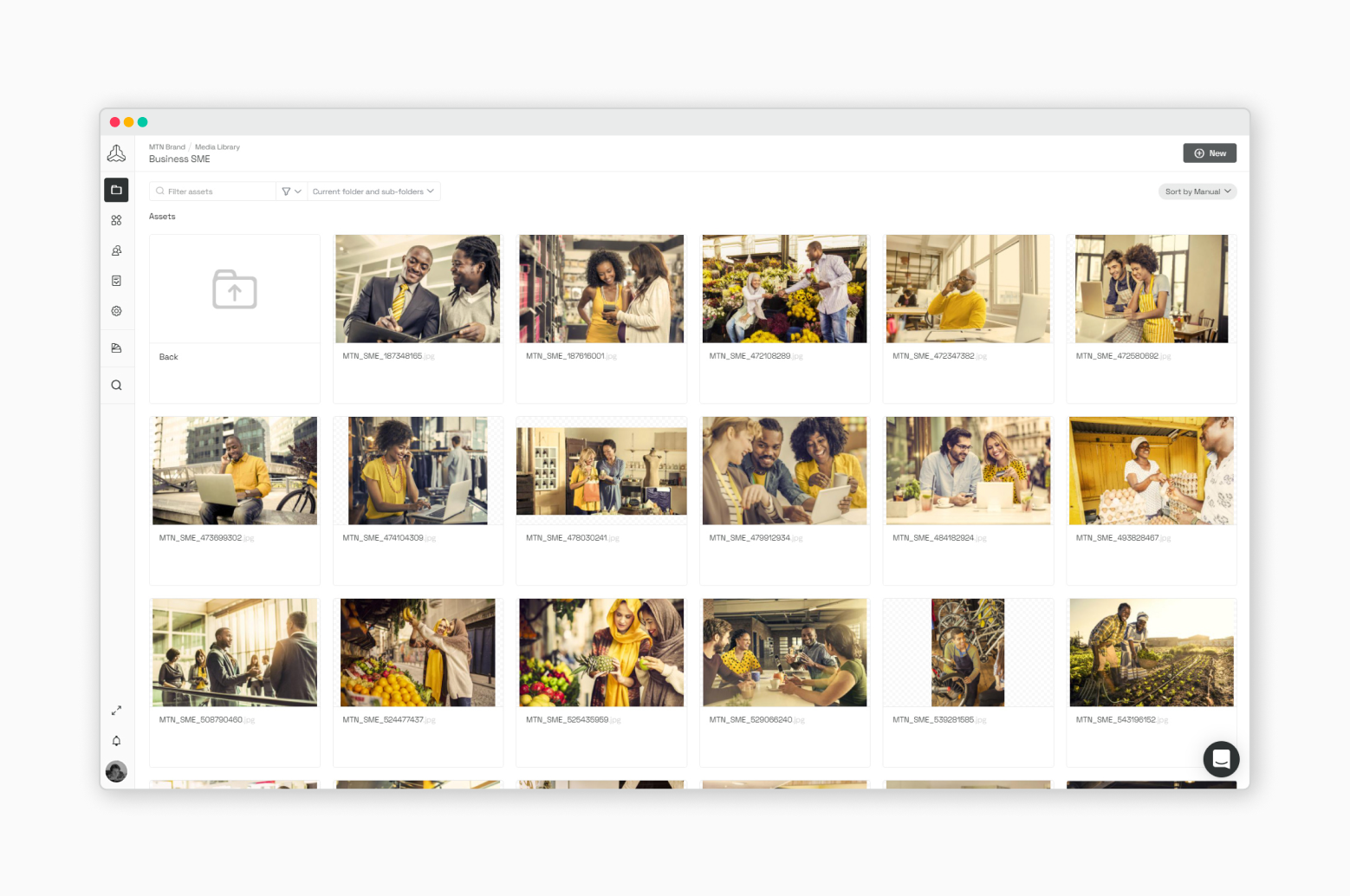 "Launching the digital brand portal was a game-changer for MTN's operating companies and all the agencies working for MTN, as everyone got access to the same information, and processes were standardized," says Greg Davies, Creative Director and Chief Experience Officer at PlusNarrative.
Gaining Efficiency Through Centralization
The digital asset platform is the real differentiator for MTN because it has been set up to efficiently solve all of their major pain points. By ensuring that everyone has real-time access to core brand assets – like images, graphics, and logos – Frontify increases efficiency and streamlines communication in and around the organization, saving significant time for each person in the communication chain.
The fact that everything can be viewed and used in the cloud also means that teams can collaborate and leave feedback quickly and easily on important brand campaigns and products. With Frontify's project workflows, tracking team progress and notifying stakeholders of the next steps in real-time is effortless.
Brand Consistency in a Remote Environment
In the past, working with PDF guidelines that were stored on different servers made it difficult to build and maintain a consistent brand identity. Not only were rules broken, but it was challenging to prove that mistakes had been made because there were so many variations of the brand identity on company servers.
By partnering with Frontify, MTN and PlusNarrative were able to make the brand guidelines and document rules (dos and don'ts) accessible to everyone who creates products for MTN's brand. As a result, the brand consistency increased significantly, as employees and external partners could cross-check their finished projects against a single set of company brand standards.
The benefits didn't stop there. Frontify's templates took MTN's brand consistency to the next level by replacing briefings in word docs, eliminating the need to hunt around for assets, and streamlining painful approval processes with a cloud-based collaboration space.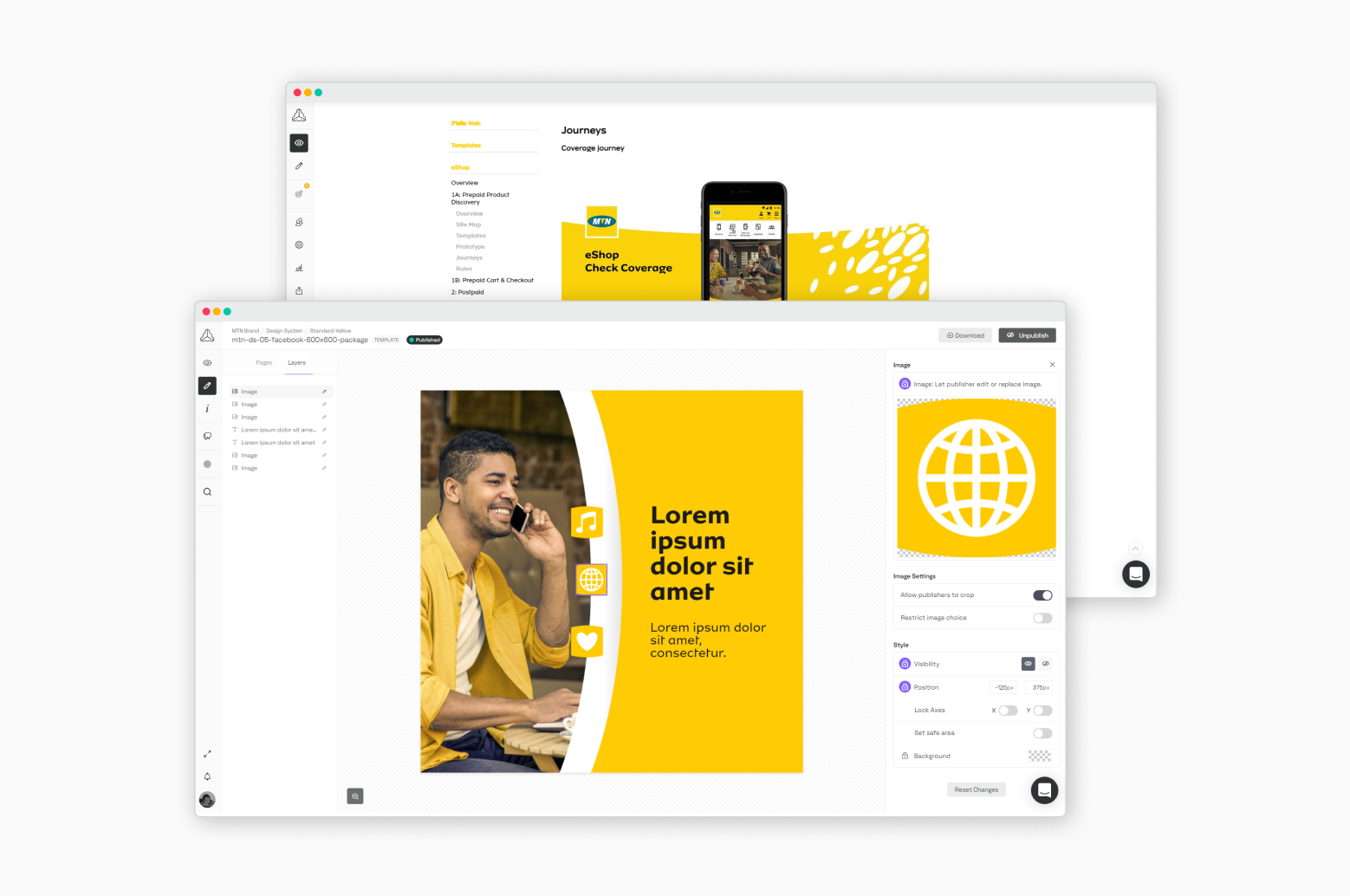 Elevating PlusNarrative's Service Offering
Frontify wasn't just a one-off solution for PlusNarrative's MTN project. It's become a permanent part of their service offering, since it solves a critical problem that clients are already thinking about and it's easy for stakeholders to see the return on investment.
For the agency, it's also an easy avenue to recurring income as their team assists in maintaining the platform, and it opens the door to ongoing asset creation and sharing. With Frontify, every aspect of long-term client relationships, from project management to collaboration is easy for all involved.
It is a real partnership between us. Frontify helps us generate new business and grow as an agency, and with our experience, we help the Frontify team further develop the product based on the client's needs. It offers organic growth for all of us.
Let's Build Better Brands Together
If you're also looking to strengthen your agency's brand, a good place to start might be to check out the Frontify Partnership Program, where we work collaboratively to improve our touchpoints – and build better brands together – for you, and your clients. Just click the button below to learn more.
How Agencies Partner With Frontify From Pitch to Presentation & Beyond