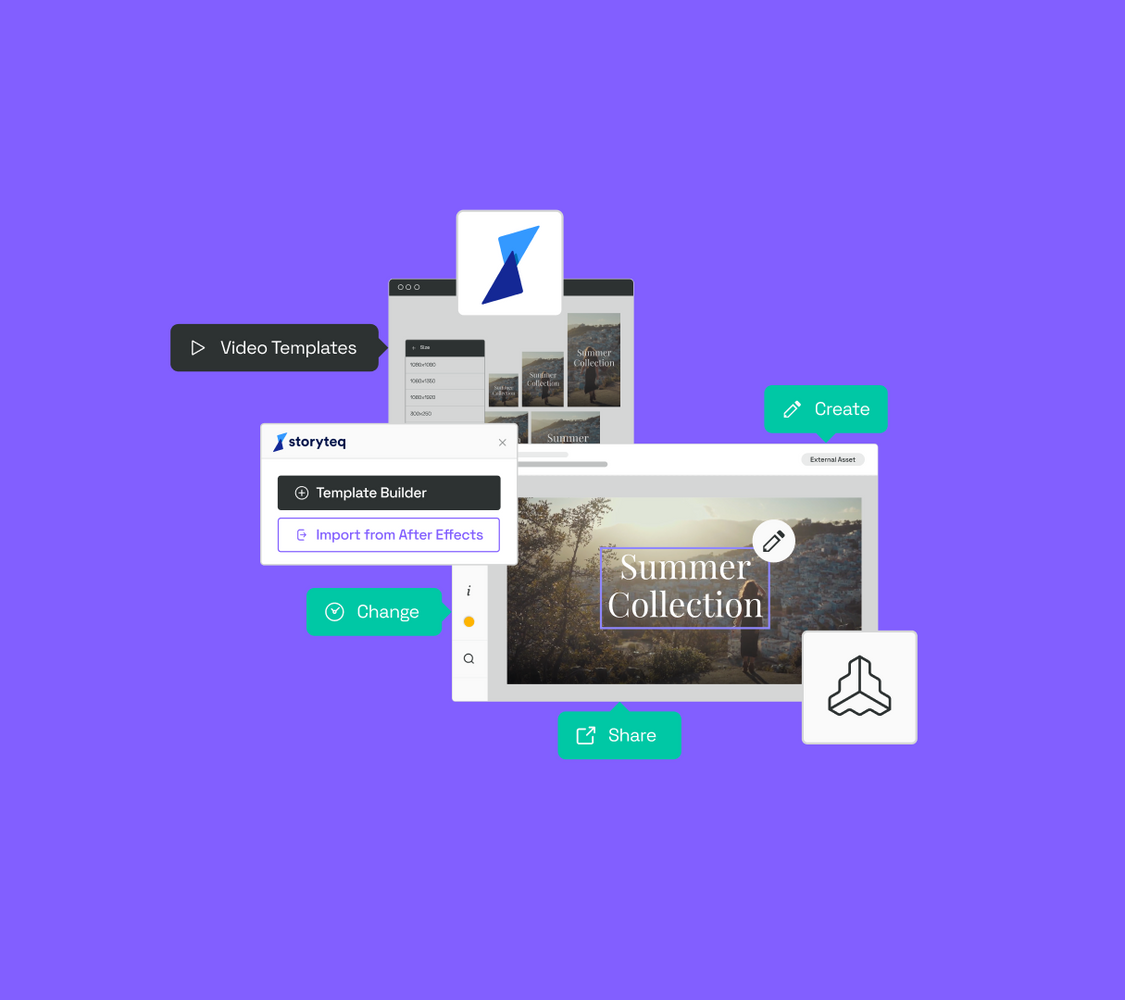 Introducing Video Templates: Powered by Storyteq
Video production, editing, and rollout is about to get a whole lot faster (and easier) thanks to an exciting new templating feature in Frontify.
Are your brand and design teams tired of losing time and effort creating what seems like the same videos from scratch, over and over again? And sure, maybe there are small tweaks catering to different channels, regions, or departments, but the foundation remains the same?
We hear you – in fact, we've been there – but now, you can cut out this tedious and repetitive process, thanks to the new Video Templates solution in Frontify, powered by Storyteq, a creative automation platform for video and banner creation.
This seamless integration of Storyteq within the Frontify platform allows Frontify Enterprise customers to scale the creation of high-quality video templates, by enabling their end-users to easily modify video templates in seconds, without any design or video production skills (while always ensuring they're on-brand). Users can leverage all the images, icons, colors, and fonts living on the Frontify brand platform directly in branded video templates – then, publish for individual use or speedy distribution to a preferred channel.
So, Why Video Templates?
It should come as no surprise that we have an open ear to what our customers are saying. Our product team and our product roadmap are driven by our customers' needs, market opportunities, and our vision for Frontify at large. The short story here is that the integration is a timely response to all of the above. Here are a few thoughts from some of you:
Creating videos is expensive, and eats up more resources than available to meet video generation demand.
Creating on-brand videos involves a detailed process with many bottlenecks that limits the creative freedom of our teams while slowing down your time-to-market.
The integration directly addresses pain points for our users and can immediately serve to make their lives, and the video production process, easier. Our Senior Product Manager, Stephanie Morales, puts it nicely, saying:
"Our Video Templates solution can extend the shelflife value of our customers' video assets and help their teams scale the production of frequently used assets, by putting the customization in the hands of their end-users. Now, they'll gain control of all their assets by ensuring each element is on-brand, letting their creative teams focus on creating, and enabling their marketing, sales, and other teams to get the assets they need to market, as quickly as possible."
A Simple & Straightforward User Experience
The direct, out-of-the-box integration between Frontify and Storyteq allows users to access and implement Storyteq as a native app on Frontify.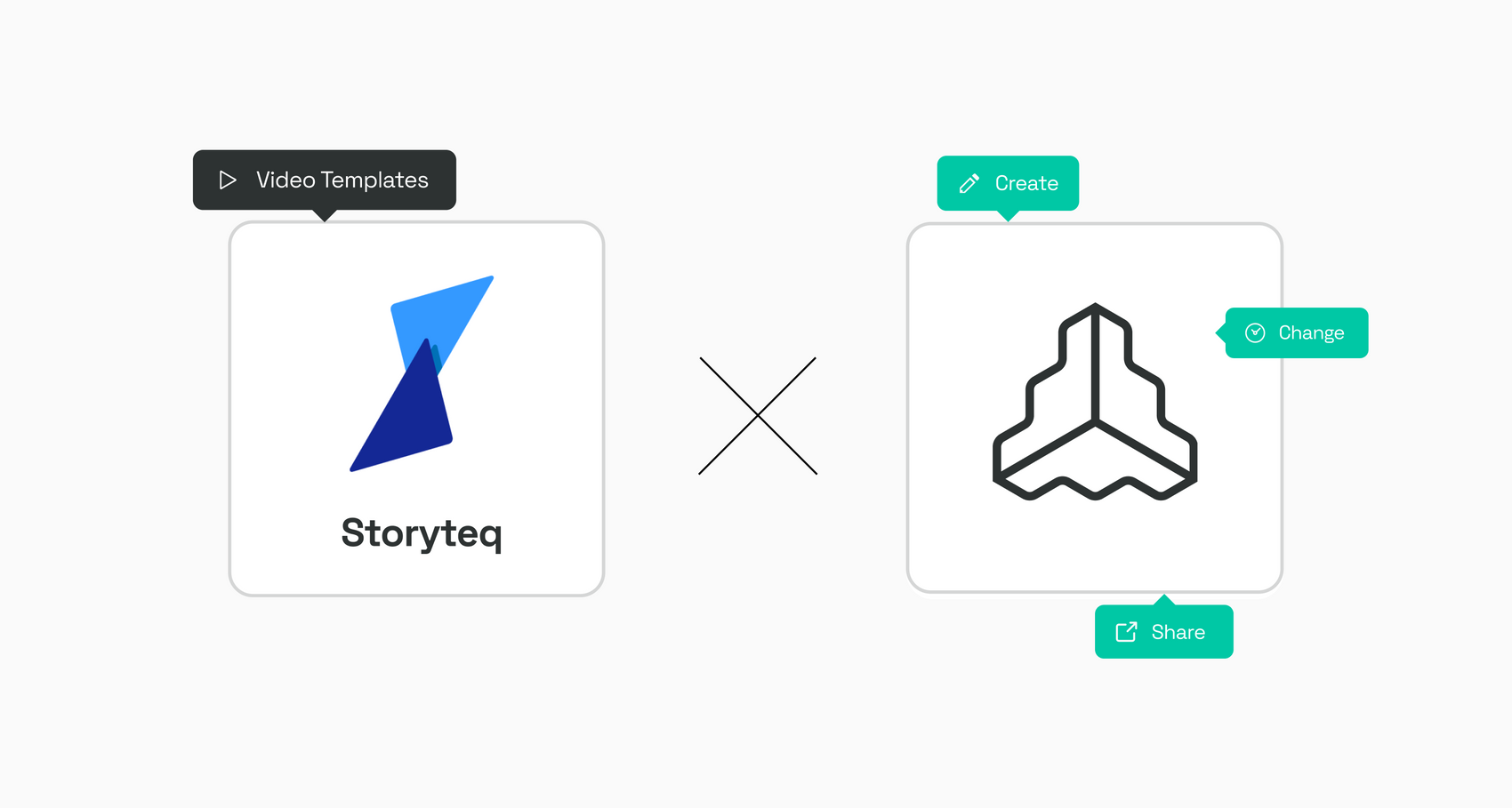 Key Benefits of This Partnership
Speed up adoption with efficiency. Expertly create, update, and share a series of related videos to meet the requirements of different channels, markets, audiences, and formats.

Boost customer experience with scalability. Leverage the power of videos for a superior customer experience, by scaling video creation and modification efforts across teams and partners.

Ensure brand consistency with approved assets. Achieve brand compliance for all your videos as users access only the latest, approved, on-brand assets from your Frontify DAM.

Reduce time-to-market with optimization. Create appealing templates quickly, and make changes in seconds, thanks to ready-access to approved content and easy search for the right assets across libraries.

Enhance user experience with a single entry-point. Make your users' lives easier by allowing them to create and change videos, select assets, and share them from the same application – all without having to switch between tools and interfaces.
About Storyteq
Storyteq empowers the world's leading brands and agencies to generate creative assets at scale.
Their self-serve platform enables creative marketing teams to easily scale and improve their video and display creative production. Working with tailor-made creative templates, allowing you to create, scale, and deliver creatives in multiple formats.
Every day they work with many brands worldwide, including Heineken, AON, and Mentos.
Their platform allows teams to quickly scale the creative production, by making elements of a video dynamic – or swappable – such as text, scenes, products, or CTAs, therefore enabling high-speed ad personalization at scale, and enhancing Dynamic Creative Optimization opportunities.
Together, we're on a mission to rid the world of the hassle that's always been part of creating visual content, and help brands become even more relevant in their advertising.
Claudia Colombo
Senior Product Marketing Manager
Johannes Waibel
Product Ambassador