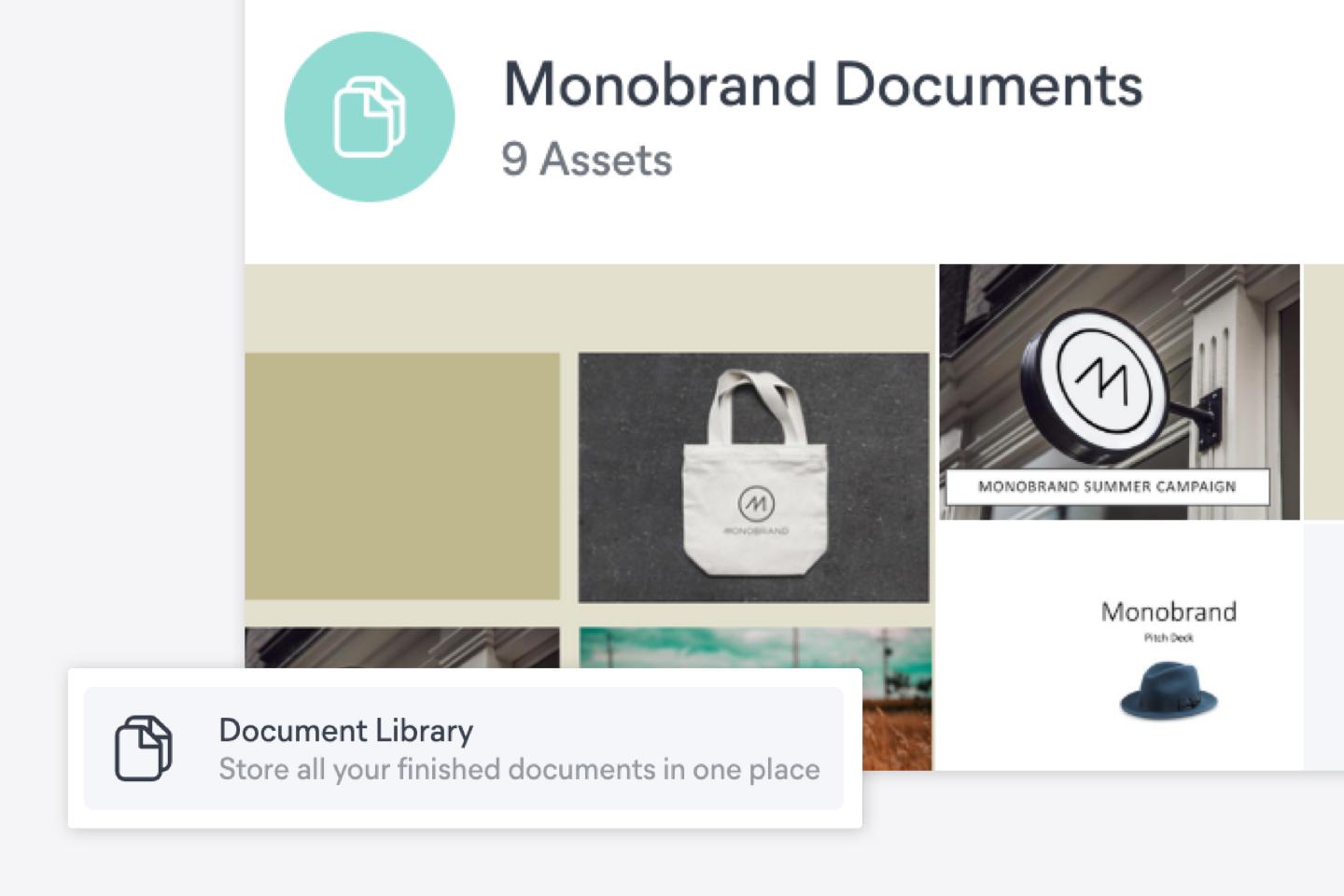 Introducing The Document Library
We're pleased to give you a first look at the Document Library. The newest member of our library family lets you host all your office files in one dedicated place.
One Source Of Truth For All Your Documents
It's no surprise that a lot of effort often goes into creating beautiful and picture-perfect presentations, documents, and sheets. After all, they help us present our businesses and brands to the outside world. But finding those important files among the jungle of material can be a hassle. We've all lost time browsing through our company drive to locate documents; even when we've found them, we can't be sure if the selected file is the most up-to-date or not.
Thankfully – you probably saw this coming – there's no need to worry anymore because we've introduced a dedicated Document Library to the Frontify product suite. This space is purely for managing documents and keeping this asset type separate from any other. This way, you and your end-users can avoid that black hole of a search, finding what they need in no time.
By centralizing your documents and hosting them in the cloud, you increase the accessibility for all your stakeholders. Upload, share, and download the documents directly to your Frontify Document Library. With the help of categories, tags, collections, and metadata, you can easily categorize your files for optimized search.
Thanks to some document-specific features, such as Microsoft Office previews and file type based ordering – yeah, we went all out with this one – the Document Library will add an additional layer of value to the experience of your brand home. Set preview images for all kinds of document types to quickly scan through and select the document you had in mind.
Collaborative Working
We imagine you'll probably want other users to have access, right? Invite all relevant stakeholders to your Document Library, and assign different levels of rights to keep your documents under control. The Document Library also comes along with the Targets feature. This way, you can target your documents to different groups, and only let people consume what they're intended to see. Use functionalities like commenting and approvals to discuss the content of your presentations, pitch decks, and more. Thanks to the Revision feature, you'll never lose sight of the changes made.
A little heads up: to increase the control over your assets a step further, we're planning to introduce the copyright and license notice, as well as asset lifecycles to the Document Library soon.
Since the Document Library is an Enterprise feature, make sure to connect with your dedicated Customer Success Manager to add this to your Frontify environment.

Rahulan Sivalingam
Product Marketing