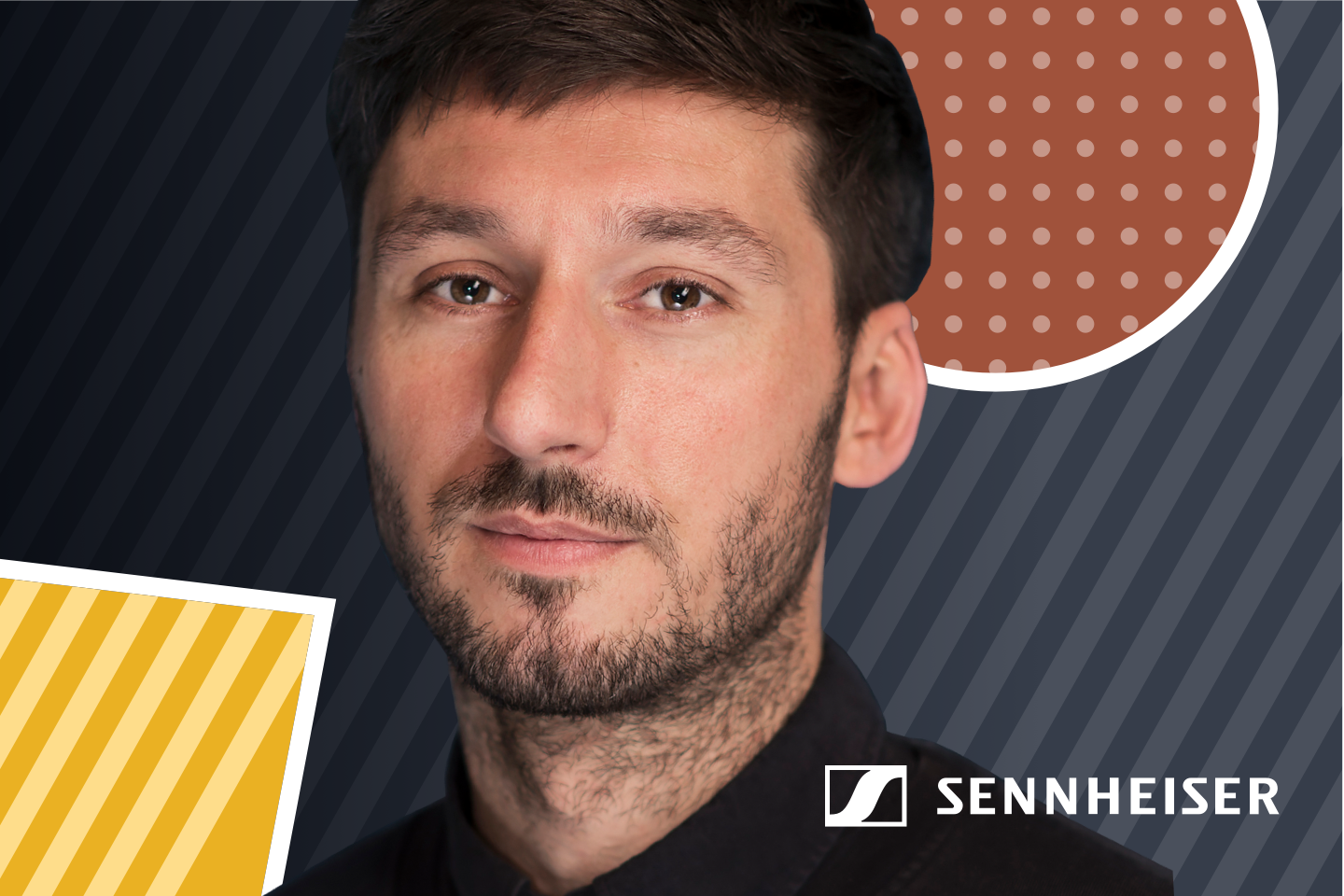 How Sennheiser is Using the Frontify Brand Asset Management Solution
We caught up with Yvo Casagrande, Brand Design Manager at Sennheiser, to talk about how they use the Frontify asset capabilities to provide cross-team enablement with a central system.
We met up with Yvo Casagrande – Brand Design Manager at Sennheiser – to talk about how they use the Frontify Brand Asset Management capabilities to enable their marketing teams across Europe, the US, China, and over forty other countries – worldwide.
Sennheiser is one of the world's leading producers of headphones, microphones, and wireless transmission technology. The family-owned company is based in Germany, Ireland, and the US.
In this interview article, you'll learn more about how Sennheiser uses the Frontify brand asset management capabilities to get more done. Oh, and maybe – just maybe – it might inspire you and your brand, too. So, without further ado, let's dive a little deeper into our conversation with Yvo.
Tell us about the Sennheiser Brand & Design Department.
The goal of the Global Brand & Design Management department is to enable our marketing units to produce on-brand materials compliant with our high standards on corporate design.
As a corporate function, we do act a little bit like an internal agency. Located in Zurich, outside of our headquarters in Germany, our main impact is to provide clear guidance, best practices, and training materials that enable marketers to apply our brand assets and principles in their communication, campaigns, and all other types of materials.
Back in 2019, we launched Brandzone – our global Brand Hub, living in Frontify – to give the whole brand and design topic more presence in a company historically driven by high-end product engineering, and not primarily by Design and Brand. This has changed.
How does the Brandzone differentiate from any other digital asset management solution?
Having a central and easily accessible assets repository is business crucial. Sennheiser has over 20 000 assets, where about 50% of them are currently used in our marketing communication channels such as our website, social media, press, and other media types.
Given this volume, an advanced asset management solution is vital, but it's not enough. To understand and guide employees on how assets should be used, we were looking for a platform to combine both worlds: The assets and the context – where and how to use them.
Brandzone has become our new company-wide Brand Hub, merging these two dimensions in a user-friendly and easily accessible way in one single place. It includes all kinds of assets, such as the complete imagery world, to social media videos – but also icons, templates for PowerPoint, and other applications used by our regional marketing departments. They now have a platform at hand which is updated frequently to make this a one-stop hub.
How did you design your user access management setup?
Access management is something most of our stakeholders don't want to think about, but sometimes they have to. So, we tried making it as simple as possible.
We do distinguish between five access levels (from 1-5) and provide them with different viewpoints and access rights for assets, guidelines, and other capabilities.
With this setup, we can make sure that every stakeholder group has the right viewpoint and get what they need. The technical access management capabilities help us to granularly tailor our global guidelines and assets to specifically target explicit departments, markets, campaigns, and much more.
What's next for the Brandzone?
We launched Brandzone in 2019, and see this as phase one, meaning we were simply making sure we can deliver assets, combined with optimized workflows, and make global teams work efficiently.
The next step will be to link our DAM with our product information management (PIM) system, to improve our publishing process end-to-end. We also want to expand the digital guidelines for more in-depth product information – like digital marketing playbooks for our dealer network – all within the same platform. There's still a lot to do in order to make the Brandzone a touchpoint where you can experience the full potential of our brand.
Looking into topics like brand automation, we worked on an experiment with Frontify and EyeEm, where we use AI selected stock photography currently on the EyeEm platform, but we're also thinking about integrating this functionality directly into Brandzone. There are other initiatives planned, but more on this will follow at a later stage.
In a Nutshell
For Sennheiser, the Frontify BAM has helped them to:
Enable their global teams to find the vision, guidelines, and actionable assets in one single place, with a state-of-the-art brand environment.
Adapt to an ever-changing demand for all types of assets.
Make a great step towards ensuring brand consistency throughout their various communication channels.
Learn more about our Brand Asset Management capabilities or get an Expert Call.
Johannes Waibel
Product Ambassador