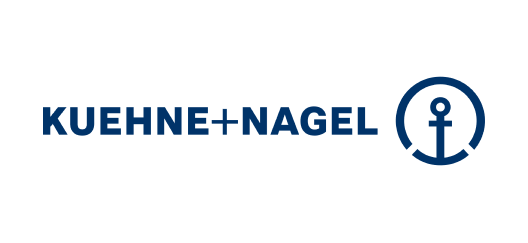 Delivering the Brand Globally
The Kuehne+Nagel Group is one of the world's leading logistics companies with 74,000 employees across 1400 locations in over 100 countries. Its strong market position lies in sea, air, road, and contract logistics. Covering all corners of the Earth, however, does mean having to manage a large group of stakeholders on a truly global scale – no easy task. With Frontify, they have a partner to ensure their brand scales effectively.
Kuehne+Nagel uses Frontify since 2020
Brand Guidelines
Digital Asset Management
Creative Collaboration
Digital & Print Templates
We spoke with Dmytro Taran, Global Head Centers of Excellence at Kuehne+Nagel. Dmytro has been spearheading and driving the implementation of Frontify within their organization. We asked how he sees the brand, and what the Frontify platform has meant for Kuehne+Nagel. Read on to find out how perspectives have changed since the start of their journey with Frontify's software, and how they plan to power their brand moving forward.
When and how did Frontify first come to your attention? Kuehne+Nagel started using Frontify at the beginning of 2020 as part of a global rebrand project. The use case for a more sophisticated way of managing our growing brand assets and consolidating all our stakeholders was one of the key priorities. So the search for a new provider began and an agency contact of ours suggested we should check out Frontify. This was the first time that I personally had heard of you and I think it was the same for most of the wider team. After a quick website check and introduction, Frontify was added to a growing list of potential solutions and so the search and assessment began.
How was your brand managed before the implementation of Frontify? Our intranet was being used for storing all our files and assets which obviously created a very scattered ecosystem that only worsened over time. You have to remember that every country had its own dedicated pages which were being managed independently from one another. This created growing inconsistencies and work silos which our marketing team always ended up having to firefight on a regular basis. With a new solution, we really wanted to bring clarity and efficiency to an otherwise confusing environment and find a tool that would enable us to continue growing but keeping everyone under one roof and always aligned.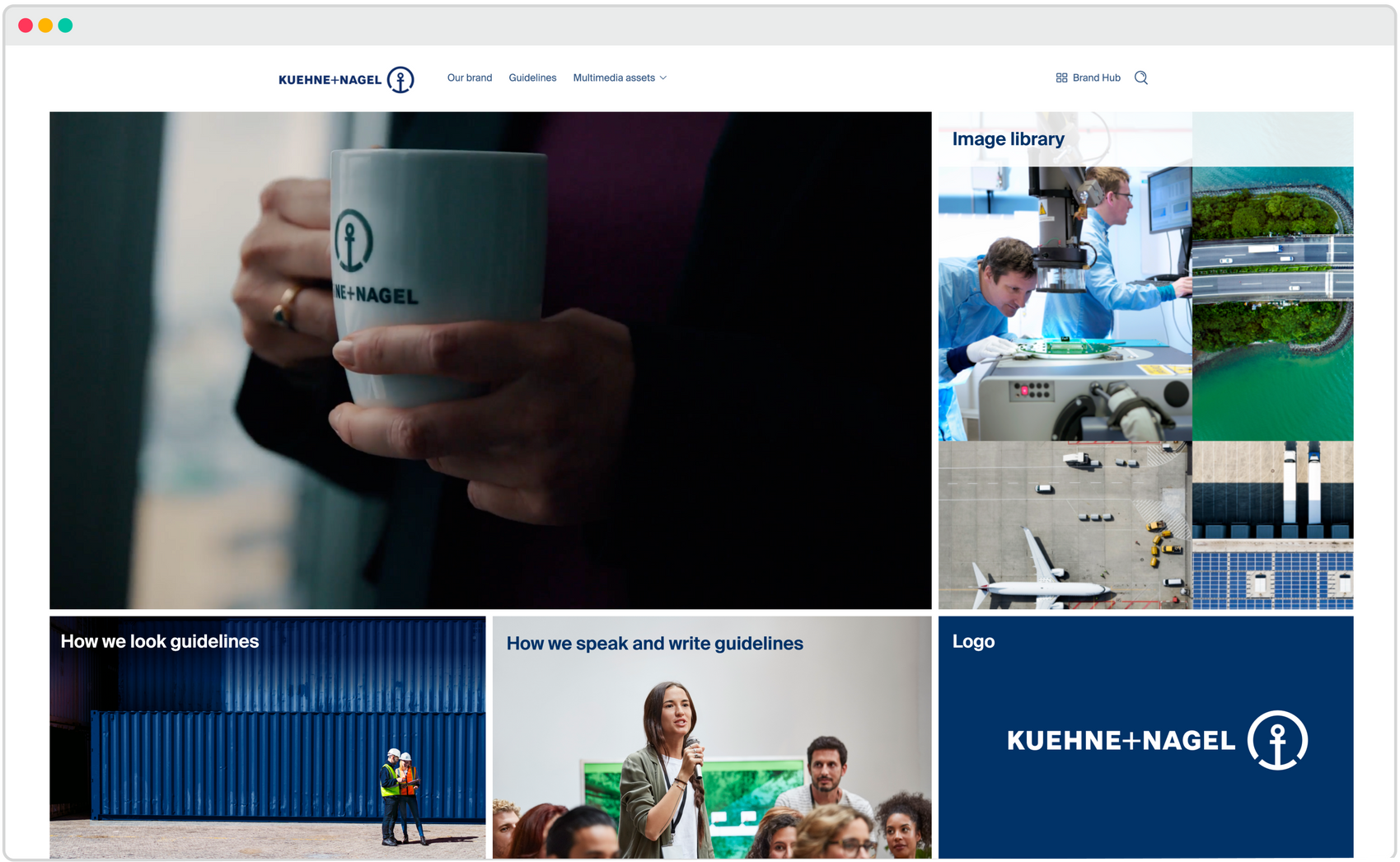 Can you give us a better idea of your company's use of Frontify? Which teams use Frontify the most in your organization and for what purpose? Everyone within the company has access to Frontify via Single Sign-On (SSO), making guidelines and asset libraries easily available for all to use in just a few clicks. By establishing one authorized source, we have essentially created a central place for all guidelines and assets to live while ensuring that a clean, up-to-date and efficient process is in place for all our users company-wide.
What has the general feedback been so far from your users since implementing Frontify? Have your processes experienced a surge in efficiency? The implementation was actually pretty easy and the process very smooth, as no installation was required being a web-based platform. For us, the installation of the Desktop App has been a game-changer but it took more time as each user had to follow a process to install it on their machine. With over 25,000 users this was quite a challenge to implement. But, early adoption was never in doubt. Easy access and the value and gains experienced from having such an intuitive tool to find imagery and other assets meant that very little assistance was needed for our users to engage more actively with the platform on their own.
How would you describe the platform adoption so far and, if there were any, what were the main challenges? The feedback has been really positive so far. Everything is easy to use and all content easy to find. This is not only true for guidelines but also for documents, icons, etc. This process was implemented swiftly as we built on the foundations we laid down for the Proof of Concept. So, we identified what our needs were for the launch and roll-out and have continued to grow the portal ever since. All the creation and maintenance is done in-house which means that we can scale it and cover many needs swiftly. I also should mention that I felt your Support Team was extremely quick and helpful during the whole process which made it all the more straightforward to release on our end. To keep everyone involved, we also conduct regular internal onboardings using videos which enables new users to stay up to speed with Frontify in no time. However, users usually realize that the platform is extremely intuitive so no major training is really needed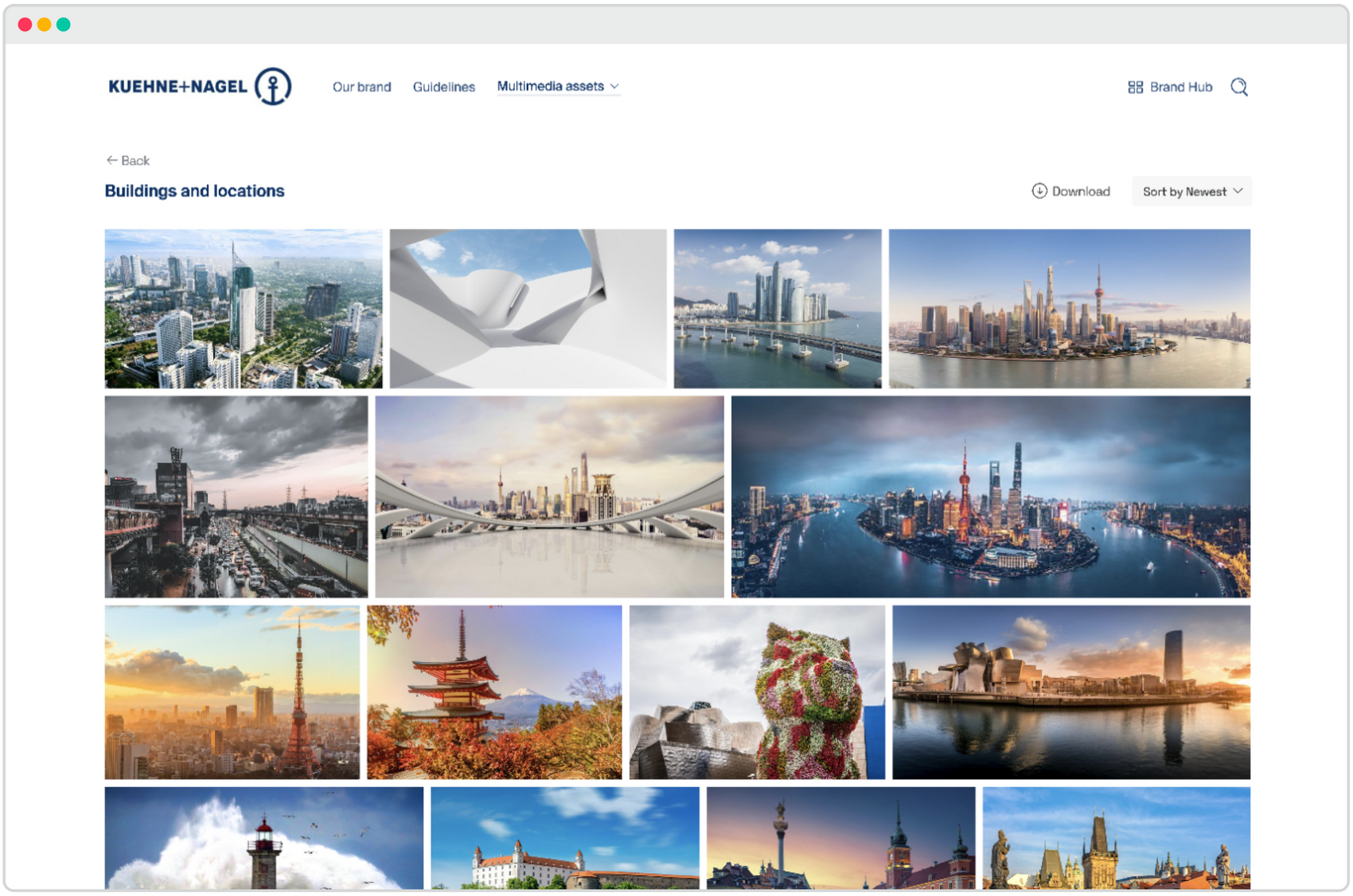 If you had to summarize, what would be the three greatest benefits and tangible results for your organization?
Time saving and efficiency, resulting in greater brand consistency
Internal information exchange with smooth communication flow and no silos
More structure to our brand with fewer inconsistencies between regions and countries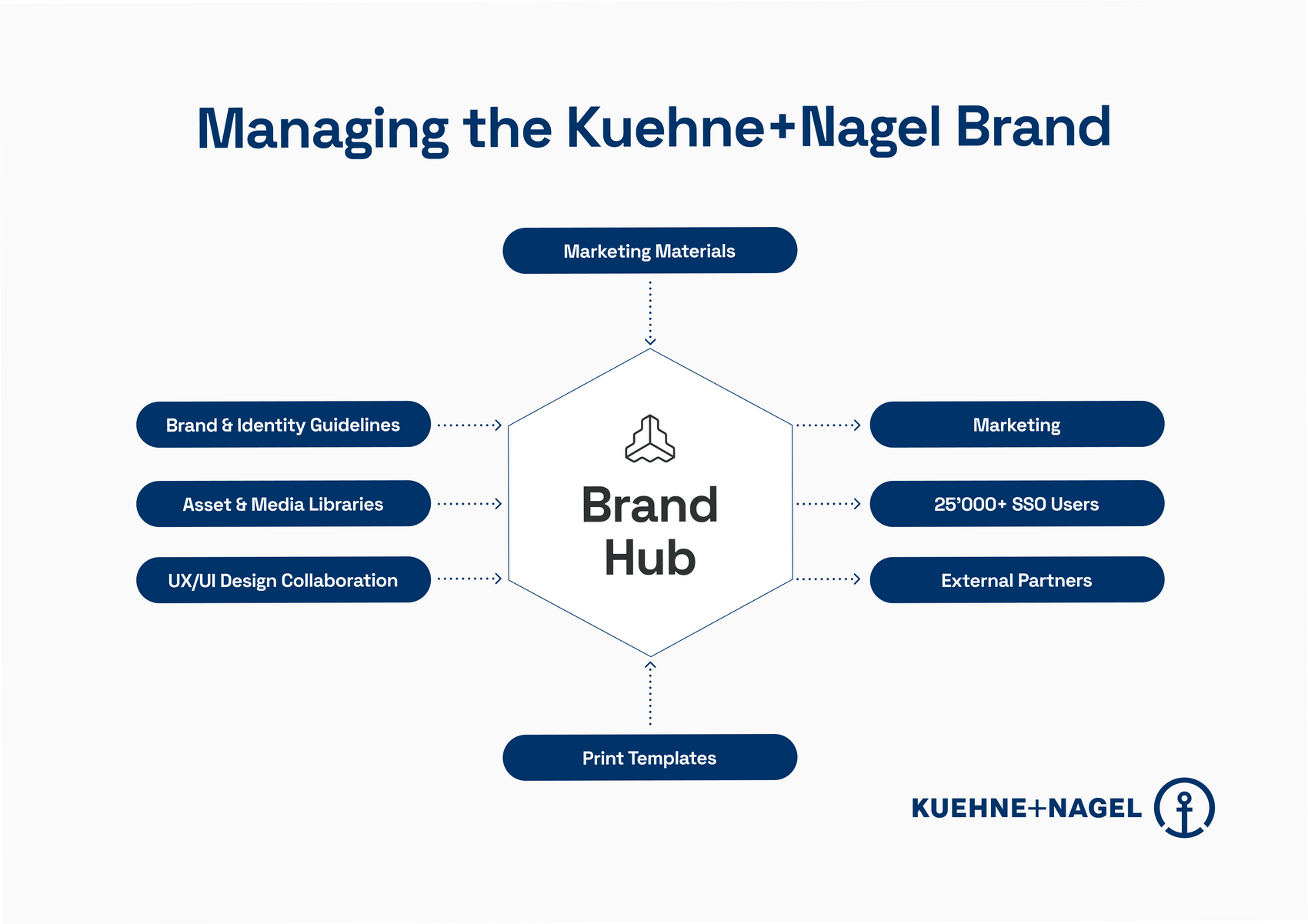 What are your next milestones for the coming years for the Kuehne+Nagel brand? What plans do you have moving forward? Are more teams going to join the growing number of users in the future? The usage so far has been steadily growing which confirms high engagement and adoption. Our next goal is to roll out the app fully and we are nearly there. Then, our aim is to leverage the analytics capability more effectively so that we see and understand what our users are doing and how they use the platform. This will help us, as a company, to really be at the forefront of our brand and make sure that we are as consistent with it and as close to our users as possible. We are very excited to continue this journey with Frontify as we see every day the value the tool brings to our users and simplifies the way they live and breathe the brand. This is something we want to build on and continue to grow throughout the organization and with our partners.
Finally, are there any other highlights that you would like to mention? There are two additional aspects that I would like to mention, both revolving around increased collaboration and workflow efficiency.
Firstly, our UX/UI designers have been able to leverage the project space fully and are avid users of the Sketch integration which has significantly improved collaboration workflows on a global level among our design teams. Such a centralized way of working is not something we had in place before and something we now want to leverage fully.
Secondly, Digital & Print Templates has been a massive game-changer for us since we started using it and has proved extremely useful for marketers and other non-designers, now able to create on-brand publications from given templates autonomously. A common example is our HR teams being able to create LinkedIn banners on their own, making this creation process an integral part of their scope of action as they do not need to involve additional design resources to support them anymore. In other words, InDesign is not a required skill for such tasks anymore. This has really helped us reduce the amount of time and resources needed but also has enabled us to remove any bottleneck, standardize our communication company-wide and take more pressure off our marketing team thanks to more automation. The exponential growth in publications observed since using this templating tool is a sign of just how well Digital & Print Templates has been received and how actively it is being used across departments. In line with the Kuehne+Nagel company tagline, Digital & Print Templates has enabled its users to be inspired, empowered and to deliver.
Kuehne+Nagel is on an exciting journey with its brand and at Frontify, we look forward to continuing this successful collaboration. Enabling our partner to power their brand efficiently and bringing it closer to their entire stakeholder base, at all times and anywhere in the world.