Brand Voice vs. Tone vs. Personality: Understanding the Brand Voice Umbrella
A strong brand voice can help you form meaningful connections with your audience, which is crucial in getting them to engage with you.
Your brand voice is an element within your brand identity, and your brand identity is communicated through messaging, content, visuals, and even your product offering. Because your voice is a big part of your overall brand identity, you need a strong brand voice to effectively communicate with your customers. But what's the difference between brand voice and tone? And where does a brand's personality fit in?
In this article, we define each element of your brand voice, compare them all to help you understand the key differences between each, and explain how tone and personality fall under the brand voice umbrella.
Brand Voice, Tone, & Personality: What Are The Differences?
Your brand voice includes the words and language that you use to speak with your audience, but, more importantly, it also embodies your brand's "unique perspective, and the values you stand for." It also comprises your brand tone and personality.
Your brand tone is the attitude with which you convey your values and beliefs; it's the way you speak. Your brand personality is your brand's traits and characteristics. Your tone and personality help to reinforce your messaging and the language you use by creating a more distinct and defined voice.
A strong brand voice can help you stand out to your customers. According to HBR, a "fully connected" customer – one who is completely satisfied by your brand and able to perceive "brand differentiation" – is 52% more valuable than a "highly satisfied" customer – one who is satisfied by the products you offer but not fully connected to your brand. You should aim for your customers to be "fully connected" and therefore able to differentiate your brand from other brands. That's where your brand voice comes in.
Use your voice, tone, and personality to set yourself apart from competitors and find a unique way to communicate with your audience. Take this snippet from Slack's brand guidelines as an example. In the image below, you can see how Slack has established its brand voice.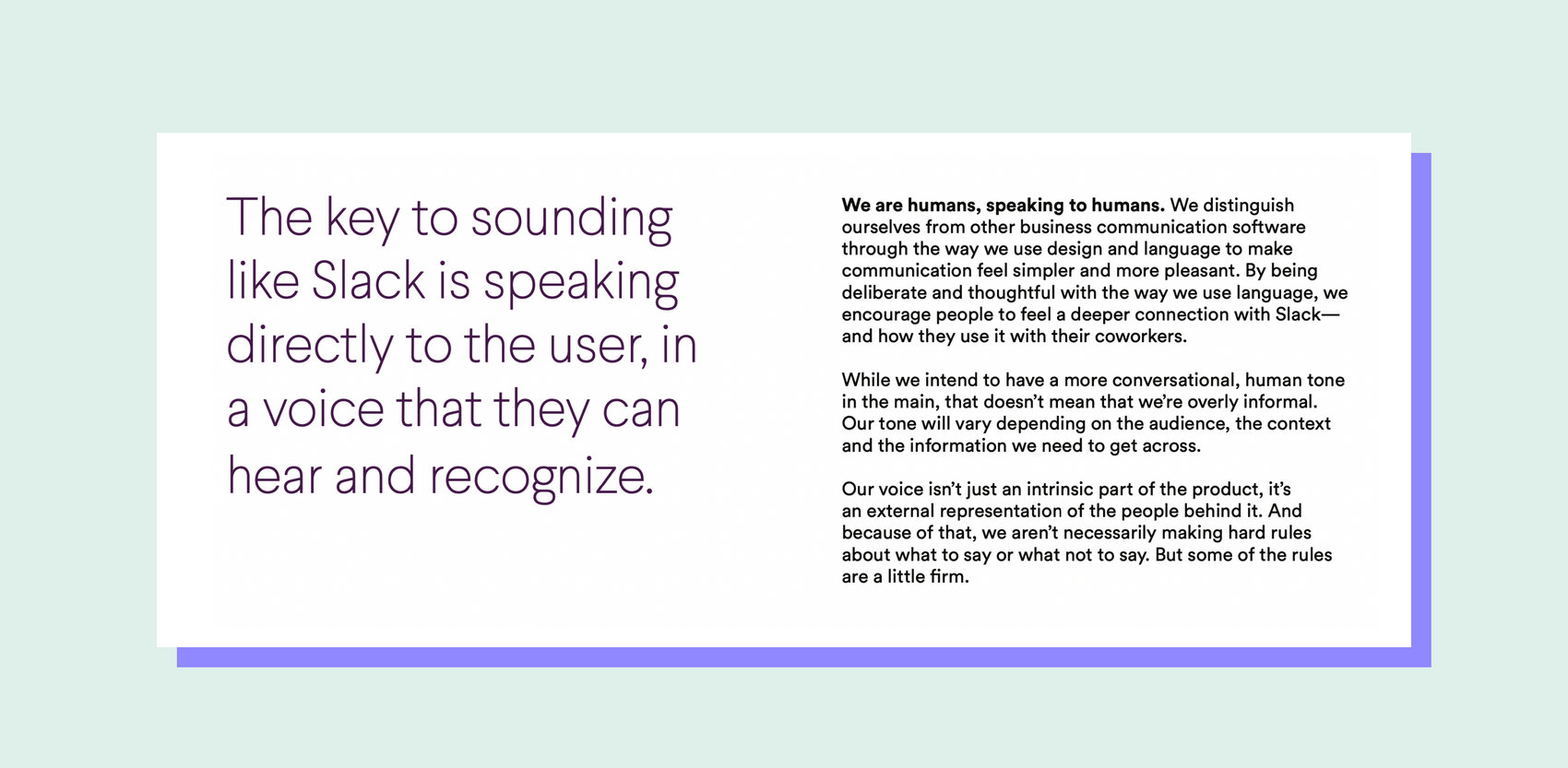 Slack has focused on being direct and recognizable in its brand voice. It uses language that makes "communication feel simpler and more pleasant" so that the audience feels like they're conversing with another human. Slack says, "By being deliberate and thoughtful with the way we use language, we encourage people to feel a deeper connection with Slack — and how they use it with their coworkers."
The detail that they've included makes it easy for anyone within the company to understand and use this voice in any brand communication. Its brand voice is refined even further by defining its voice and tone in its brand guidelines. (More on that below!)
How Brand Tone Relates to Brand Voice
If your voice includes the words and language you use, your brand tone helps define the way you use those words and language. It can be a caring and friendly attitude or more casual and direct, or virtually any other adjective – whatever it is, it has to align with your brand voice as a whole.
Look to Slack's brand tone as a strong example. You can see that Slack's tone builds on its initial brand voice descriptions. At the beginning of the guidelines, it says, "We are humans, speaking to humans," and it enforces that with a tone that is "conversational."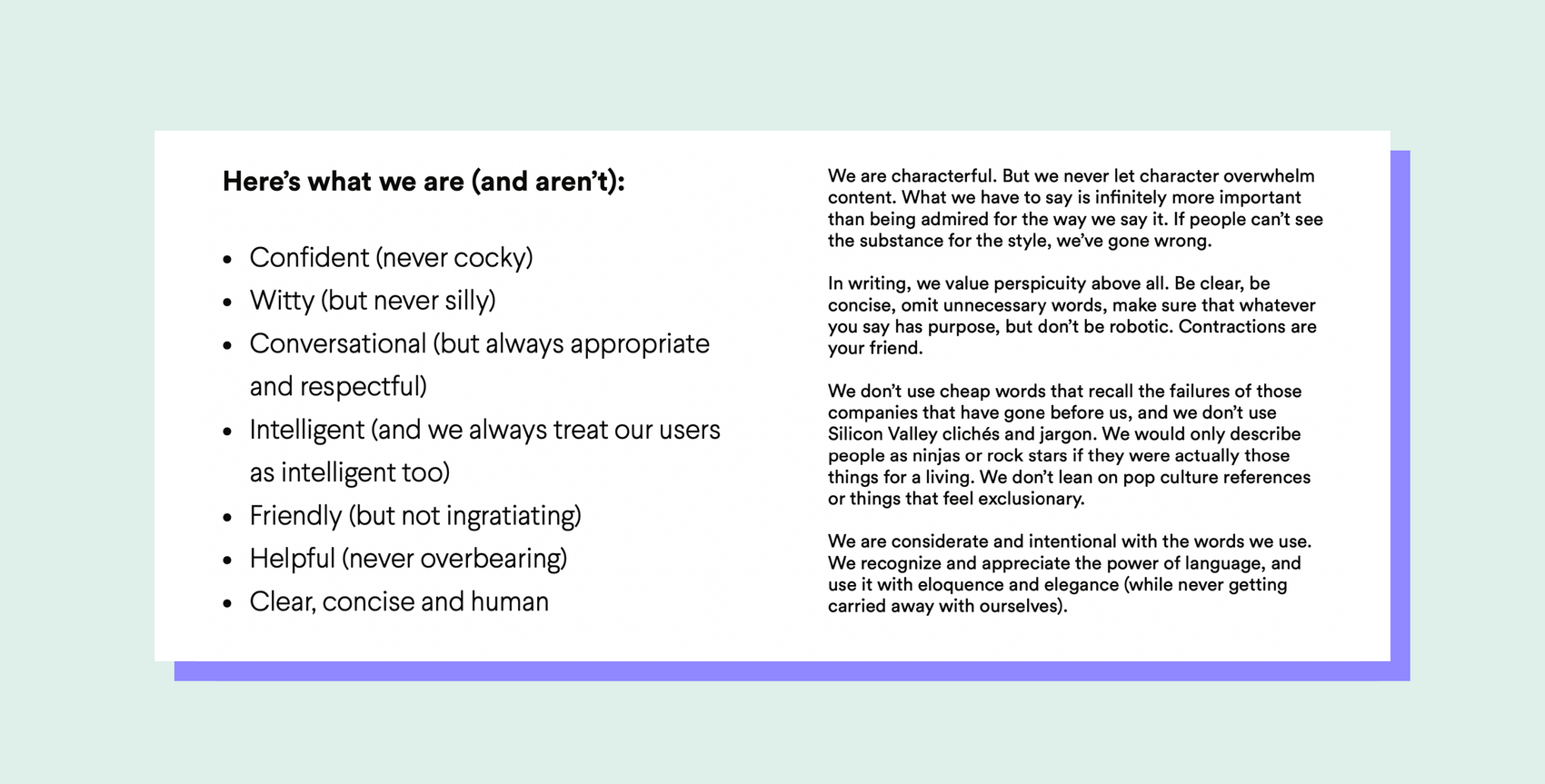 Slack says, "We are authentic. We like the people we're talking to. We're proud of what we're talking about. That itself sets us apart." Slack has set forth boundaries about what its brand tone is and what it isn't, which helps in determining how its teams should communicate with its customers.
It's important to note that your tone will most likely change slightly between different platforms (e.g., being more chatty on Instagram versus more casual on LinkedIn). However, it's helpful to set those expectations as you work on curating your brand voice. For example, if your tone is "clear, concise and human" like Slack's, you can be more friendly on Instagram and more formal on LinkedIn without veering from your overall brand voice. Just be sure to document this along with the rest of your voice, tone, and personality guidelines.
How Brand Personality Relates to Brand Voice
A brand's personality is the set of characteristics attributed to its brand voice. Your traits should be pretty similar to your tone but closer to the way you act and less about the way you talk. For example, in Slack's brand guidelines, part of its tone is "helpful," but for its personality, it describes itself as "collaborative."
You'll add even more value to your brand by establishing a personality that your audience feels connected to. However, you can't just establish one and assume your audience will get it. Your personality is meant to elicit a positive response from your customers, so you have to make sure they buy into it.
Slack's persona also says, "We are deliberately human — we aim to be an ideal colleague: One who works on the basis of respect and admiration for working people." Not only does Slack say that's what the brand's personality is, it also shows it through every piece of content delivered as well as its product offering.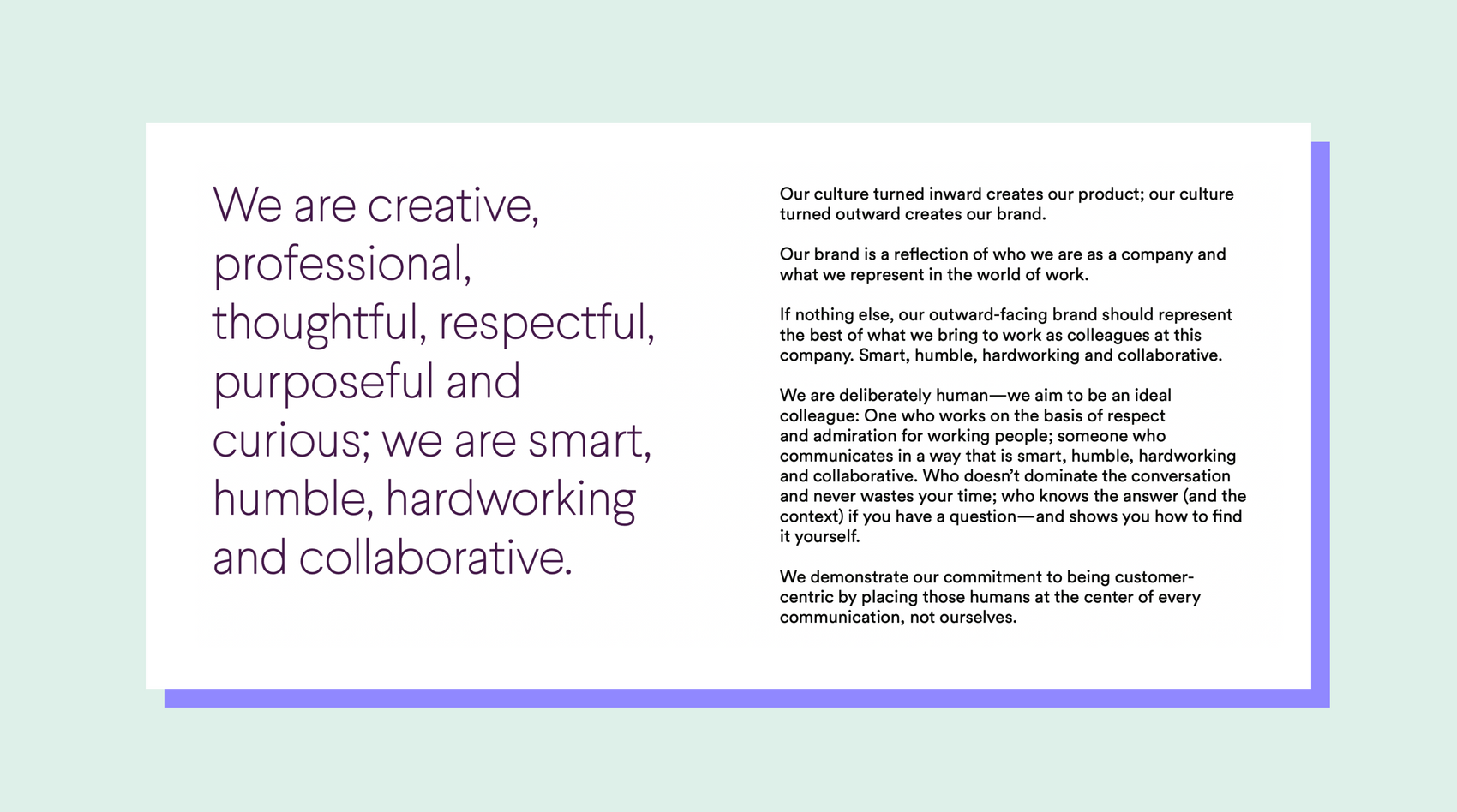 Your personality is also the type of content that you publish and the platforms you publish on. For example, using TikTok may not align with your brand identity or core values – that's something you should establish and add to your guidelines as you refine your brand's personality.
Use Your Voice, Tone, & Personality to Help Establish a Strong Brand Identity
Your brand voice is part of your overall brand identity; it encompasses every piece of your brand's communications, messaging, and content.
A strong brand voice is important because it can convey to your customers that you understand them. And according to a study by Salesforce, "66% of customers expect companies to understand their unique needs and expectations."
Look to strong brands like Slack to emulate what others have done, and be sure to avoid their mistakes, too. Always keep your customer at the forefront of your mind as you work toward discovering a brand voice that encompasses a tone and personality to match your unique identity.
Once you have curated all three, be sure to document it all in your brand guidelines to help align your teams, so they stay consistent in all marketing materials and content. With a strong brand identity and these guidelines, you can work toward strengthening your overall content marketing and digital marketing strategy.
Oskar Duberg
Senior Brand Content Specialist