Erfolgreiche Marken aufbauen
Unterstütze deine Teams, beliebte Marken zu kreieren. Frontify ist die einzige Lösung für skalierbares Brand Management - wir haben alles für dich, ganz unabhängig von der Größe deines Unternehmens.
Fully scalable solution
Everything for your large-scale branding universe. Align, manage, and advance your brand(s) across different countries, departments, and languages.
Used by companies such as KIA, Uber, Microsoft, Allianz, Lufthansa and more
What's available?
Multi-Brand Universe
Separate different brands into individual brand platforms for improved workflows.
Branded Experience
Stylize everything with your brand: your domain, whitelabeled emails, and more.
Digital & Print Templates
Create customizable templates to enable non-designers to produce on-brand collaterals.
Video Templates
Create, edit and share on-brand video templates easier and faster.
Advanced Access Management
Create custom user groups to manage different levels of access to your brand.
Identity Management
Access enhanced permissions and team support via SAML and SSO.
Personal Success Manager
Work with a Customer Success Manager for onboarding and for periodic audits.
Premium Support
Get instant support within minutes and arrange custom service agreements.
Managed Services
Leverage our experts to complete migrations of your data and assets.
Developer Platform
Use of our Developer Platform's capabilities to create custom Content Blocks for your Brand Guidelines and integrations.
Full Suite of Integrations
Create an ecosystem for your needs with our GraphQL API and Developer Platform.
Analytics & Insights
Access data and insight reports to track the performance of your brand.
Frontify Community
Join our exclusive community of brand lovers sharing expert insights.
Advanced Security
Secure public and private control over the Frontify platform.

Frontify ermöglicht es uns, eine zentrale Plattform für unsere Marke zu haben. Egal ob Brand Guidelines oder jegliche Markenelemente – alle Beteiligten können einfach darauf zugreifen und so für eine konsistente Markenkommunikation sorgen.
Marius Happe
Head of Marketing at Borussia Dortmund
Noch Fragen? Dann lasst uns ein Gespräch vereinbaren.
Wir sind hier, um all eure offenen Fragen zu beantworten und die spezifischen Bedürfnisse eures Unternehmen und eurer Marke(n) zu besprechen.
Neugierig, wie hoch der ROI unserer Kunden ist?
Im Auftrag von Frontify hat Forrester den Einfluss unserer Software auf die Markenführung untersucht. Erfahrt mehr darüber!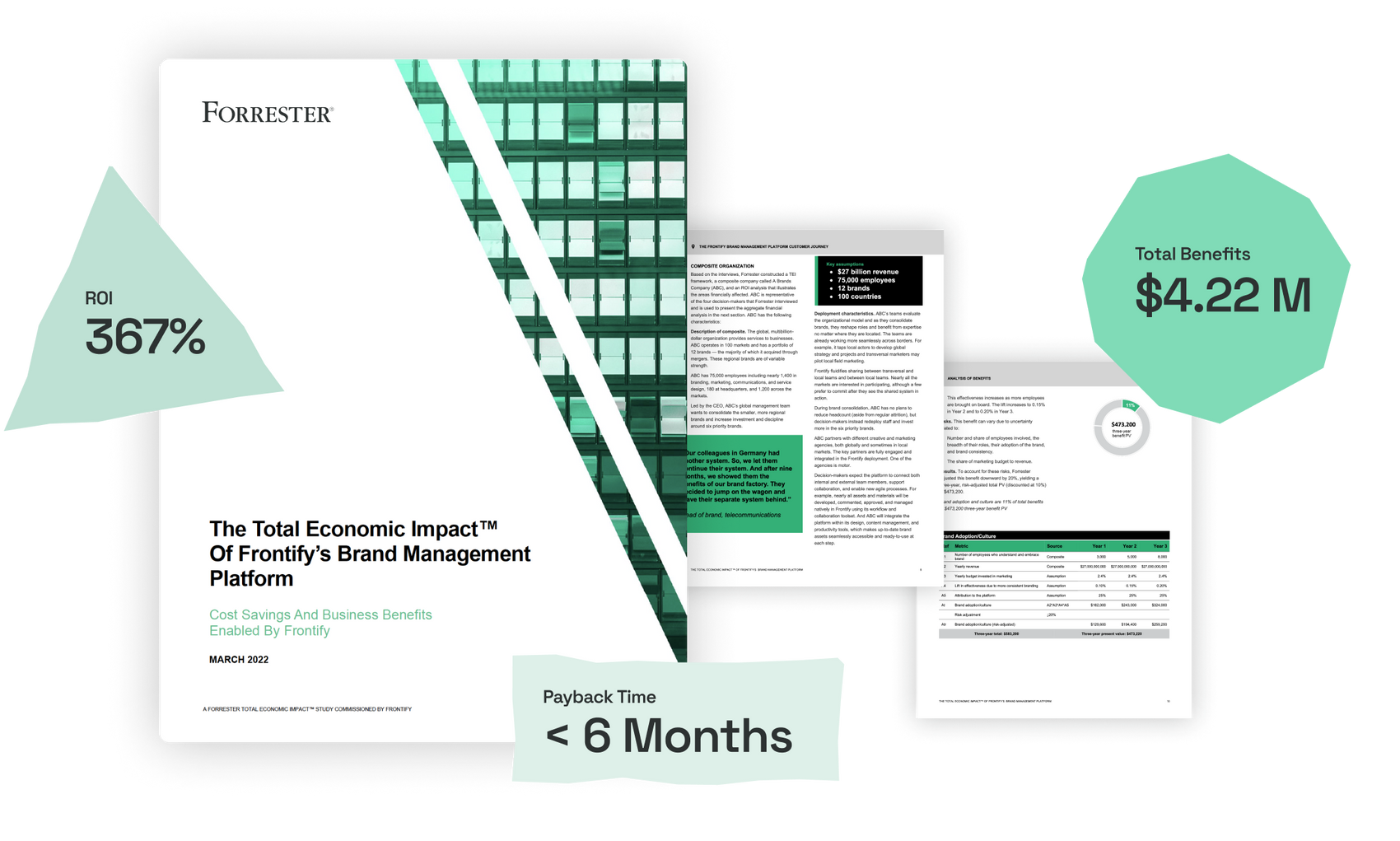 Häufig gestellte Fragen
Bietet ihr individuelle Pläne für gemeinnützige Organisationen an?

Noch nicht. Aber bitte teilt uns eure Ideen mit, damit wir herausfinden können, wie wir eure Bedürfnisse am besten unterstützen können.

Ist Frontify GDPR-konform?