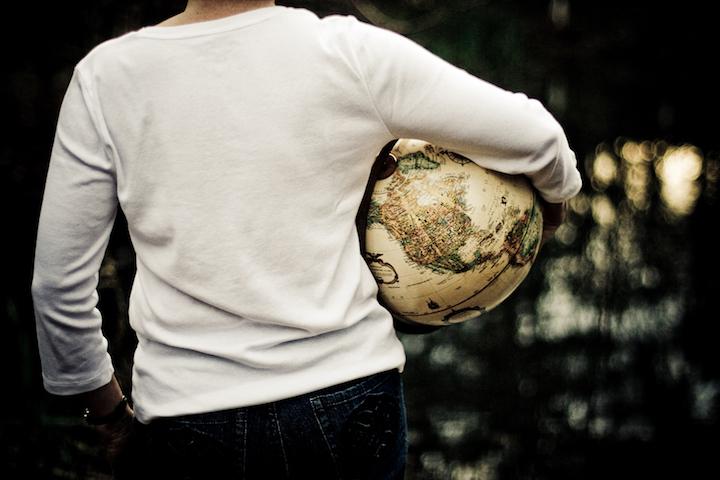 Going Global: How to Take Your Brand Global
Your brand is more than just a skin over your marketing. It's who you are, down to the bones. When your brand is successful, it's the best feeling in the world. And like all good news, you want to share it with the world. It may be time to take your brand global.
Checking out the Forbes list of the 10 most valuable brands, it's clear that a global brand is both impressive and lucrative. At some point as your company grows more successful, you'll outgrow the customer base in your home country. Expanding into other markets may be an attractive option.
But before you go global, it's important to think through the many potential pitfalls as well as benefits of taking your brand to a world audience. Just ask the executives at Perdue chicken, who found out the hard way when the company's slogan, "It takes a tough man to make a tender chicken" got translated in Spanish as, "It takes a sexually stimulated man to make a chicken affectionate." Aye carumba!
More Brands Going Global without a Plan: Good or Bad?
You may wonder why you need a plan before branching out to other countries. After all, with your website available 24/7 to a worldwide audience, you're already part of the global market, right?
Not so fast. Your site may be open to all, but what impact do you make? Brands are about more than products, more than slogans or taglines that translate into funny or embarrassing phrases. Brands are about the inherent perceived value a company's products or services bring to the consumer.
Such value takes careful thought, planning and action to create the desired attributes in the minds of your customers. You may have a good handle on these attributes within your own nation, but when you expand globally, you may be venturing into new branding horizons.
Having a plan, backed by global marketing professionals who understand cultural nuances and variations, can help you build a strong foundation for a global brand so that not only does it resonate now with a worldwide audience, but it continues to grow for many years to come.
Just take a look at some brands who did a great job of going global. Less than a decade ago, Airbnb was a small San Francisco-based startup. Today, their listings span 190 countries, and the brand is a household name.
Airbnb crafted a global strategy that embraces both a big-company feel and a localized, community-based approach. Engineers tweaked their website code so that it could provide 26 language translations, for example, making the site feel very localized. Word-of-mouth marketing from satisfied users around the world also enhanced the small, local, community-driven feel of the site.
Additionally, in countries where cultural norms may make home sharing difficult, such as in Japan where uncertainty is viewed as undesirable, an open, accessible corporate culture made Airbnb feel less strange and more familiar. This approach transcended country and cultural boundaries, helping Airbnb enter markets that may otherwise be closed to them.
This is just one example among many of a successful global brand. Others, including Uber, Tinder, Netflix and Amazon are all entering additional markets worldwide through a combination of top-down business strategy and localized marketing that first understands the customs of the new markets, then approaches them in a culturally sensitive manner.
Alan Lakein, a well-known time management guru, once said, "Failing to plan is planning to fail." Make sure that your brand has a carefully considered, detailed strategy and plan before launching into a global market.
Going Global: Nine Steps to Consider
If you're ready to go global with your brand, the following steps will help you formulate your action plan. These steps are considered best practices by both Inc. and Entrepreneur, and have been used by many businesses to launch successful global brands.
Research the market: Don't launch a global brand based on gut instinct alone. Get the facts about your target market, especially demand forecasts and potential competition. These two factors are the most important when shaping your global brand strategy. Understanding both the possible demand for your products and services, as well asl local competitors, will help you project the profitability of launching into particular markets.
Build or tweak your products for the market: Some products are accepted worldwide. Many technology products are loved in markets as diverse as Britain and Bangladesh, Uganda and Uruguay. Some products need to be tweaked to the tastes of the market. Unilever launched a color-changing version of its stalwart product, Lifebuoy soap, into the Indian market. The soap changes color after 10 seconds, indicating hands are clean. Such a formula change went over well in India but might garner confused shrugs in America. Chicken with tartar sauce and wasabi may make American customers gag, but in Japanese McDonald's restaurants, it is one of 50 unique items that cater to the Japanese tastebuds. You must assess whether or not your products can stand "as is" among different groups of global consumers or whether, like the McChicken sandwich, it needs wasabi and tartar sauce to appeal to customers.
Develop your strategic position: Companies must always give customers a reason to try their products or services, but newcomers to an established market must give a better reason to switch brands. To develop a strong strategic position, you must first understand the competition. Identify key competing products, similar but indirect competitors, and their stated brand attributes. Determine how you can dominate one particular sector. If your competitor promises sparkling clean dishes but is an expensive dish detergent, perhaps competing with a lower price or improved antibacterial product may appeal to the target audience. Research which brand attributes appeal to your target consumers the most. Lower prices may appeal to one group, while luxury status might appeal to another.
Revamp production and delivery channels: You may need to revamp your warehousing, fulfillment, and shipping channels to meet increased global demand. You may also need to expand product production, factory size, or other capacities to successfully fulfill increased demand. Market size estimates generated in your initial research can also be used to predict current production capacity and demand curves.
Assess how your brand translates: As in the previous Perdue chicken tagline example, translation can make or break your brand. A product name or slogan in your company's native language may translate poorly in other languages. Nuances such as colors, symbols and how people are photographed can also shape positive or negative perceptions in your new target market. A "fingers crossed" symbol on a logo in America may represent luck, but in Vietnam, you've just sworn at someone and called them the C-word. Color can also be tricky across cultural boundaries. Telecom company Orange had to rethink its campaign around the name and color when launching into Ireland, where the color orange brings back memories of the Protestant Orange Order and religious hatred led to bombings and other violence.
Protect intellectual property: The laws governing intellectual property rights such as copyrights, patents and trademarks vary widely from country to country. NAFTA protects patents and trademarks filed in America in Canada and Mexico, but not in other countries. An attorney versed in international intellectual property law should check and adjust or register any important intellectual property prior to market entry to keep your brand protected. R2 (Rights2) provides intellectual property consultations and management services for global IP issues.
Check packaging requirements: Packaging needs differ around the world. Clear plastic packaging that hang from a rod on a pegboard may be standard in the shops where you live, while in your target country, shopkeepers prefer to keep items in boxes on shelves and show customers individual products. Part of your fact-checking is to understand how the potential buyers of your products, whether consumers themselves or the retailers who will sell it, prefer products to be packaged. Packaging is often an afterthought during global expansion, yet packaging designed to appeal to your target customers can help your products sell briskly.
Promote in a culturally-accepted manner: Your tone and marketing message should vary so that it appeals to the cultural norms of your target customers. In some countries, an aggressive approach is fine, but in others, it comes across as bullying and mean. You may find that slogans that work well in one culture just don't work as well in another even if the two countries' residents speak an identical language. Humor is one of the hardest things to translate across cultures, and jokes and puns in your marketing messages may fall flat or worse, offend your target customers. Consult with an agency well-versed in international marketing to make sure that your campaigns are noticed for the right reasons and not because you made a big cultural faux pas.
Find local partners: Having local partners can help you forge new business relationships, uncover distribution channels, and expand your market more easily than trying to conduct business from another country. With good local partners by your side, you've already made inroads into the business community, and have better insight into the customs and needs of the target market. Seek partners from among your current network, or use your business contacts to find someone who can help. The more you have a team of respected local partners by your side, the better your global launch will be.They can help you avoid the missteps and take advantage of opportunities you may not be able to see on your own.
Ready to Go Global? Frontify Can Help
If you're ready to take your brand to the worldwide audience, make sure that it's ready to go from all angles. At Frontify, we help companies create Brand Guidelines that embrace a diverse, global audience while sharing the heart of your brand's attributes.
We'd love to help you take your brand global. Visit Frontify today to get started on your very own brand guidelines.

Roger Dudler
Founder & CEO