How SRF Enable All Editorial Teams to Publish Social Media Content
SRF or "Schweizer Radio und Fernsehen" ("Swiss Radio and Television") is a Swiss broadcasting company for Swiss Radio and Television. It is Switzerland's largest electronic media house and as SRG SSR's largest enterprise unit, SRF is firmly anchored in Swiss society and serves the public with a wide range of high-quality programmes aimed at the entire population of German-speaking Switzerland.
SRF uses Frontify since 2018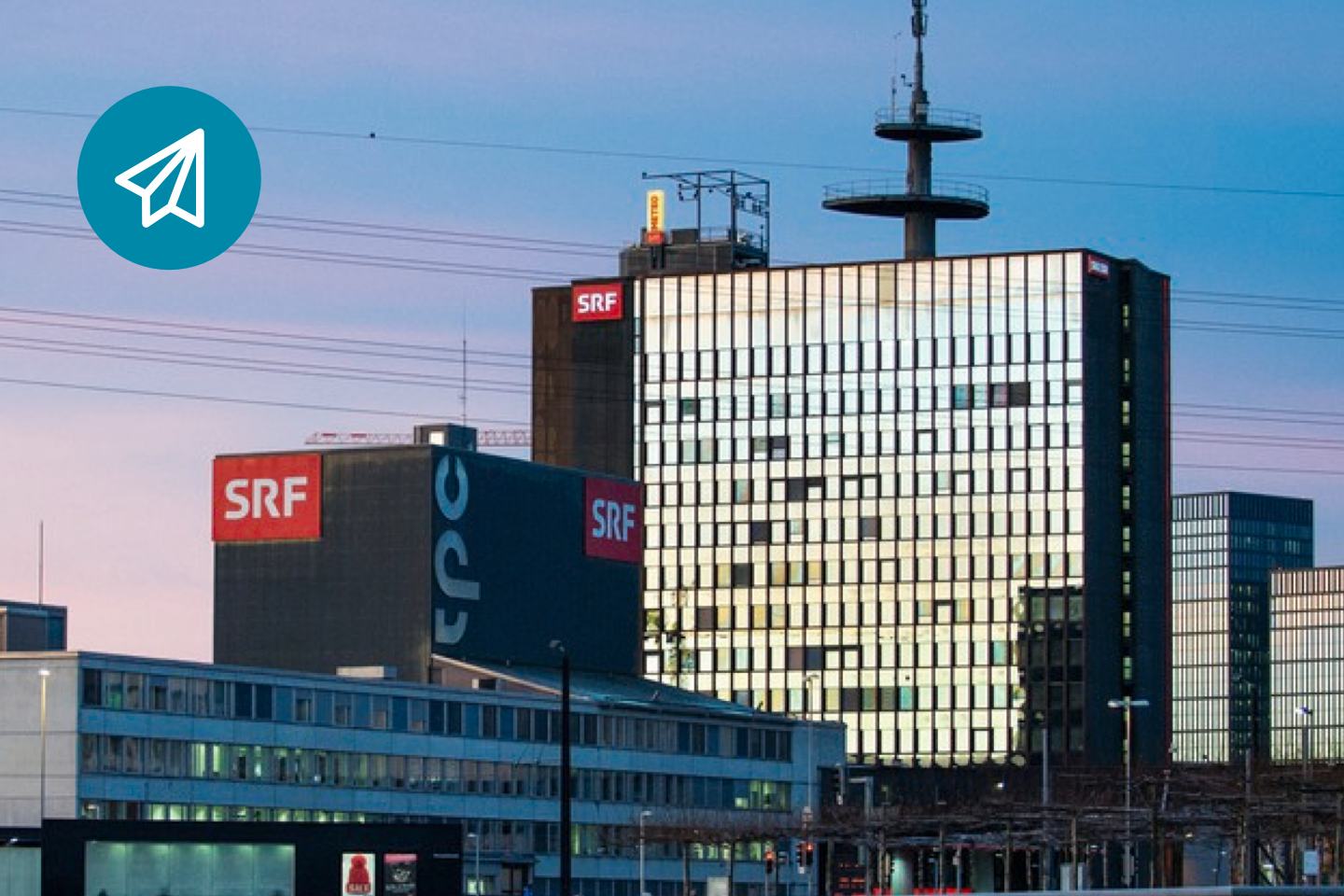 We met up with Daniel Fischer (Head of Product Design) and Jasmin Frischknecht (Project Manager & Design) from SRF, the leading media and broadcasting company in Switzerland, to talk about how they use Frontify to provide cross-team enablement with a central template system for their social media.
SRF is Using the Frontify Print & Digital Templates
Print & Digital Templates allows different editorial teams at SRF to produce their visual social media content, autonomously, regardless of their individual tool ecosystem, installed applications, or skill set. How? The Product Design team at SRF can adapt templates with immediate effect and therefore ensure consistent branding throughout the organization.
Looking at the SRF Use Case utilizing software to improve the way you work – both collaboratively and monetarily – can really be a game-changer. Let's dive a little deeper into our conversation with SRF, to see what their operations look like.
What does the digital department at SRF look like?
The SRF Product Design Team is responsible for our consistent design look across all digital channels, including web and social.
We work closely with our digital product unit, using Scrum, and follow a principle of personal/team responsibilities with flat hierarchies. In a large matrix organization, with many departments and teams that are organized differently, we stand for and promote an iterative design approach.
Our product design team enables up to 200 social media content creators in different editorial teams such as Weather, Radio Channels, Sport, News, Culture, and the central media channel, SRF.
Most editorial teams are actively publishing social media content on their own with the help of Frontify.
How do you unite different editorial teams, owning different digital channels, with around one brand design?
The product design team provides editorial teams with the latest design templates to enable them in creating content for Instagram, Facebook, Twitter, and YouTube.
On top of that, we have corporate design guidelines, specific templates for text, image, and video content, and ensure consistent branding throughout – by unifying the use of branded elements like logo, font, and color swatches.
What are the biggest challenges in publishing social media content?
Social media platforms like Instagram, Facebook, Twitter, or YouTube are always evolving, so for us, the main three challenges are:
Keeping a balance between offering flexible templates that allows editorial teams to produce engaging content, all while ensuring brand consistency. We applied a rather restrictive approach in terms of how they can edit the templates, to ensure on-brand content. It seems to be the best way to enable non-designers while retaining and protect the look and feel of our social media channels.

Keeping track of the latest trends and new features, while incorporating them into consistent and appealing templates. It truly is an ongoing process.

New algorithms, or social platform redesigns, change the way content is presented and perceived by our users in two different ways. On one hand, there are always new formats that we have to adhere to, and on the other hand, there are multiple devices that we have to take into account when cropping images and videos.
For example, new formats of social posts are required to support specific mobile devices where image handling works differently.
How does Print & Digital Templates help you publish social media content?
Print & Digital Templates enables everyone, regardless of the editorial team, to produce their content independently – irrespective of their technical setup, installed applications, and skill set. At the same time, we can adapt and evolve our templates with immediate effect and therefore ensure consistent branding.
Before using Frontify, it was a real struggle to update all existing Photoshop templates and ensure adoption. Template updates have become a lot easier with this new setup.
Which types of content do you publish with Print & Digital Templates?
We offer various image/text compositions that can be used to create content for feeds, stories, or video thumbnails. Below is an example of a thumbnail image of a social media post in the 16:9 format. In May 2020, about 750 single publications were created with Print & Digital Templates.
How does your template setup look like? How many template types do you have in place?
We have around 23 different templates across 8 different brands. This adds up to almost 200 single templates. And more are sure to come.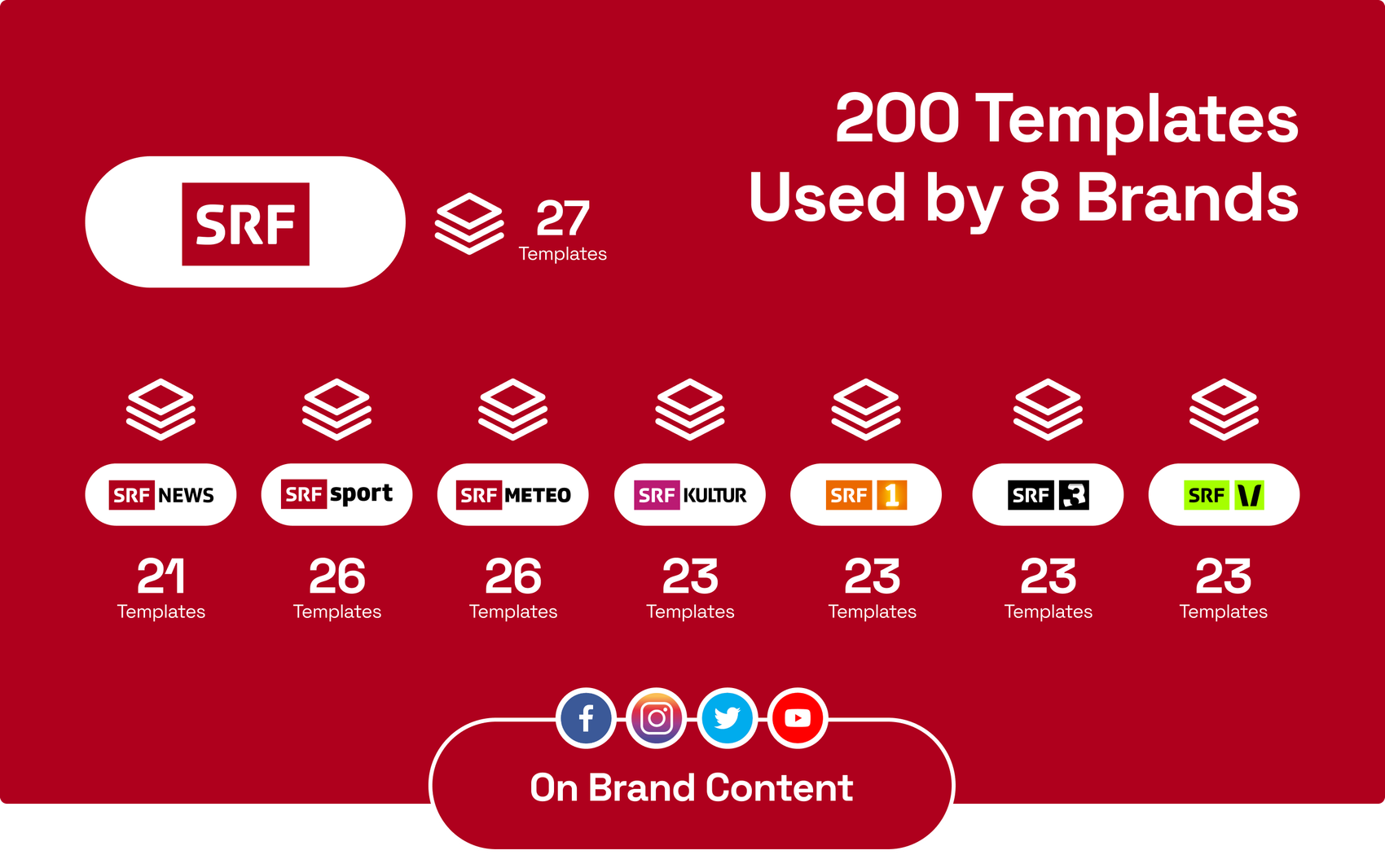 At Frontify, we always try to improve the products, so that you can get the most out of it. If you could wish for one upcoming feature in Frontify, what would it be?
We have a strong mobile-first focus. A mobile version of the Print & Digital Templates would allow our creators to go all mobile and produce content on the road or at venues like music festivals, ski races, or any other event.
In a Nutshell
For SRF, the Print & Digital Templates has helped them to:
Enable their large team of content creators
Adopt to an ever-changing social media environment
Ensure brand consistency throughout their various social media channels