Finding the Right Partner for its Brand
Field Nation brings companies and service professionals together to do great work. In one, easy-to-use, integrated platform they help companies solve a critical challenge all service leaders worry about: accessing skilled labor. Field Nation is built for short-term, high-volume, on-site work. Since 2019, Field Nation and Frontify have worked together to better manage Field Nation's growing brand and its engagement with users.
Field Nation uses Frontify since 2019
Brand Guidelines
Digital Asset Management
Creative Collaboration
Digital & Print Templates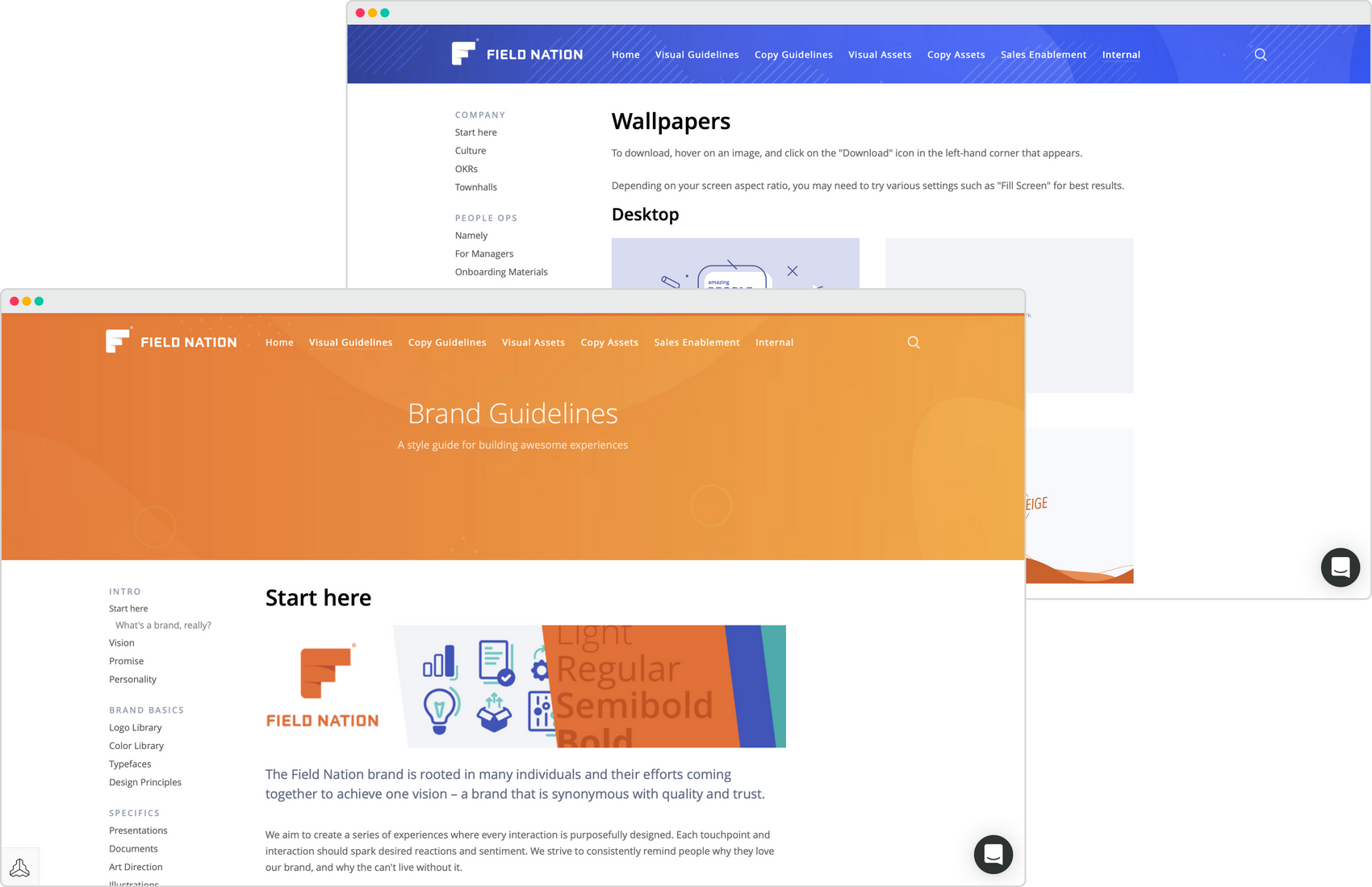 In today's rapidly changing world of work, Field Nation is a catalyst for growth and ensures successful collaborations are made possible every day. We spoke with Joe Rapp, Design Manager for Brand & Marketing, earlier this month about Field Nation's company goals and what the brand means for him, the company, and the wide user base.
According to Joe, Field Nation is a risk-taking, high-fiving, challenge-tackling brand that is out to win together with its clients and technicians. It exemplifies the power of collaboration across the workforce. In many ways, Field Nation is not just a platform that offers a service, but people love Field Nation first and foremost, for its human side. Knowing that there are curious, helpful, and encouraging people behind the technology makes all the difference. And as many know, this is something that we very much share and care about at Frontify, too.
We have found that Frontify has empowered us to really organize our information so that people can go to Switchboard first instead of feeling like they need to send an all-staff Slack or email.
Field Nation's brand journey so far has been an eye-opening one for the company. Its "uniqueness" has come from recognizing that the brand essence is how external users perceive it, not the other way around. For Field Nation, this was a real breakthrough and something they have since embraced on how they approach everything revolving around it. By being extremely customer-focused, they try to make every interaction feel personal and consistent, and at one with their brand's core values. This is where the idea/need for a brand home originated – to house a design system reflecting a reliable and down-to-earth brand.
Because of all the tools Frontify offers, it has also encouraged us to think harder about all our brand assets and make sure we truly have everything people need, like different logo versions, brand colors, social media card templates, and sales assets in one place, always up-to-date.
Before Frontify, Field Nation's content was housed all across the shop: Google Drive, Dropbox, in-office servers, email threads, private desktops, and as Joe puts it: "... sometimes even sat in people's heads". With the help of Frontify, Field Nation wanted to bring all this relevant content into a hub, housing all its brand information and assets, and merging everything into one space to provide a one-stop-shop experience for its users.
So far, the feedback has been positive, but getting people to start using a new tool can be tricky at times. But what's true for any change within a company, once people get familiar with what's being introduced and understand how they can benefit, they usually end up liking it a lot more.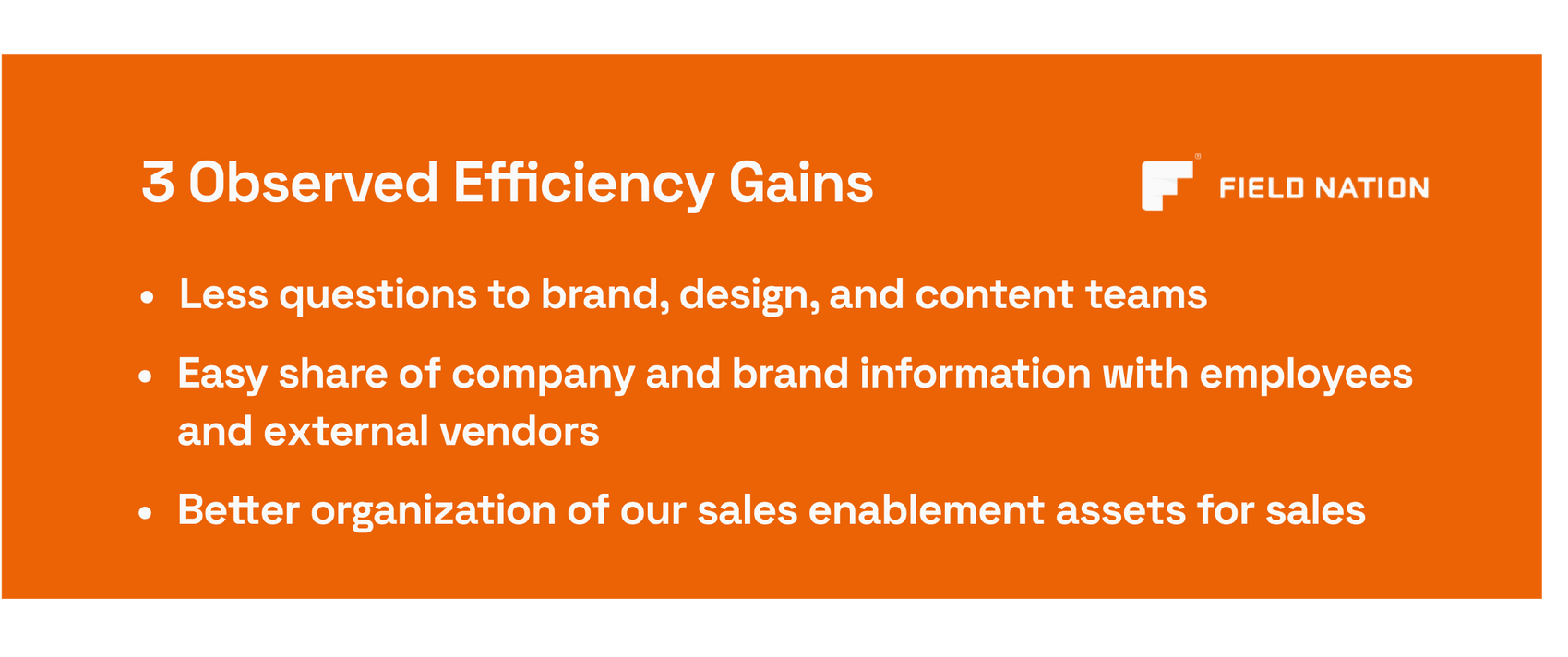 We sat through so many presentations, but they always fell short in one way or another. Frontify impressed us simply based on the number of things it could do. It wasn't just a DAM and right away we were asked questions on what we needed and how they could help us do more. Plus, when we asked for a recurring meeting while we were working through things, it was a yes right away and those meetings are such a pleasure, I actually look forward to them.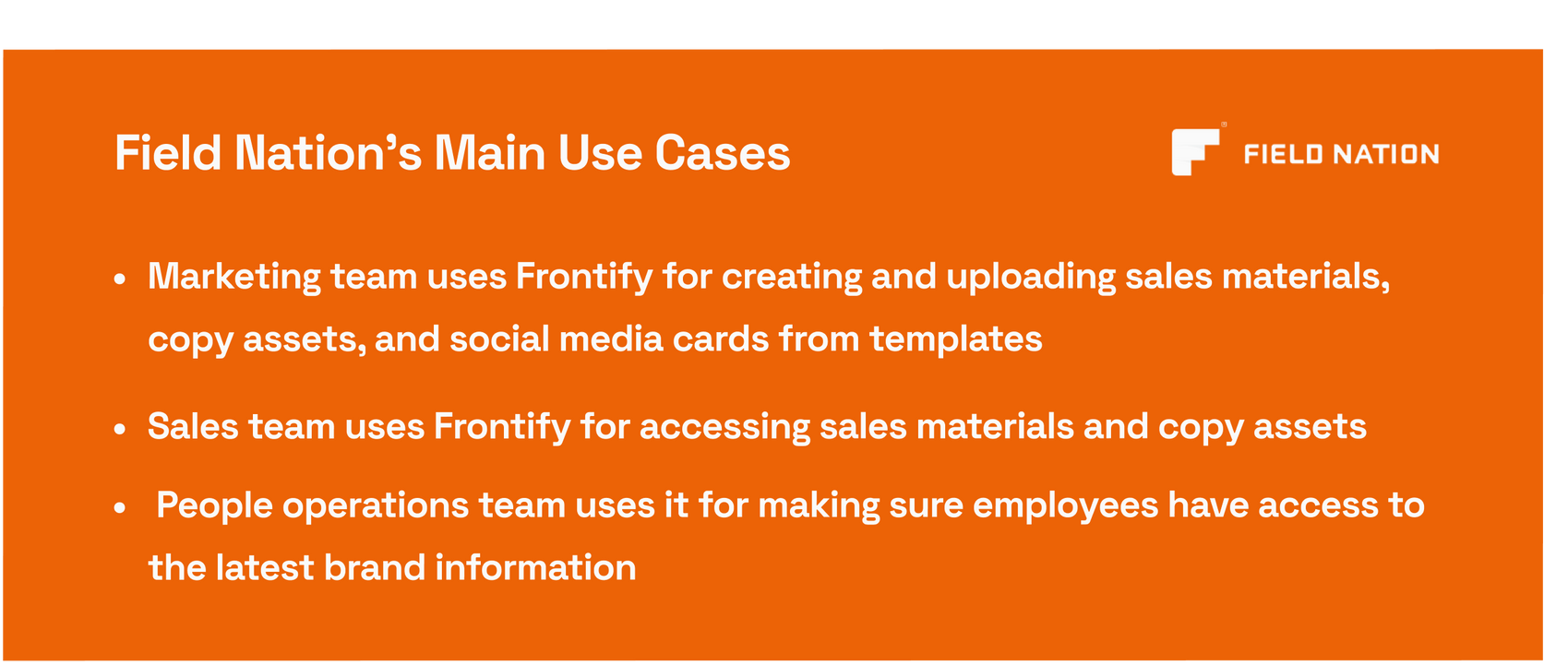 Field Nation's Brand, Content, and Design teams have definitely seen an uptake in efficiency since implementation, with fewer questions asked about where to find information and assets. They're a lot less stressed about requests, too, now utilizing templates to enable colleagues to master certain creatives with ease. Such early user engagement is likely to continue to grow not only with plans to leverage more functionality moving forward but also by revamping the look and navigation of the hub, to make it easier for everyone to use and work with every day.
Looking ahead, we're thrilled to continue this journey with Field Nation and are committed to providing the best possible service for its flourishing brand. We'll be there every step of the way for this key catalyst for growth in the workforce, ensuring a successful collaboration continues for many years to come.