Automating brand asset usage with the Frontify and HubSpot integration (coming soon)
The Frontify and HubSpot integration enables teams to optimize brand management efforts in a frictionless way, without downloading/uploading.
As a cloud-based brand management platform designed to provide the creators and collaborators of brands with SaaS that helps them manage all of their digital assets, at Frontify, we understand the importance of embedded media. When digitizing your Brand Guidelines, collaborating on creative projects with distanced teams, and building design templates, using Frontify is a time saver. It's the natural next step of automation, supplying marketers and sales teams with the approved and consistent assets they need, where they need them, in a frictionless way.
That is why we were thrilled to learn about our upcoming HubSpot integration. At Frontify, we've been happy HubSpot customers for many years and were excited about this collaboration opportunity to help our users more readily access assets and automate workflows.
The Frontify integration will make it easier for users to access and manage all assets stored in Frontify. Users will no longer have to toggle between the two platforms, exporting assets individually from Frontify and re-importing them in HubSpot (goodbye tab switching mania). Instead, thanks to this integration, all assets living in Frontify will be easily found and, with assistance from the drag-and-drop tool, will seamlessly be embedded in website pages and emails directly from HubSpot. Once media has been embedded, users will have access to rich, real-time insights that can be used to track the consumption of your videos and any other embedded media.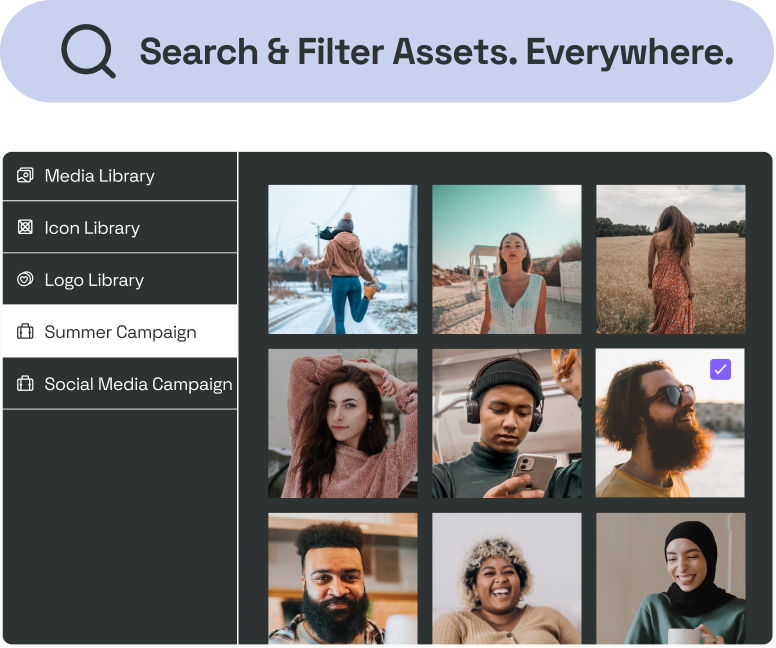 According to Miguel Funes, Senior Manager of Technology Partnerships at Frontify, this upcoming integration will be a necessary upgrade for brands looking to streamline their media embedding processes.
Frontify is on a mission to improve brand consistency across all brand touchpoints. One of the biggest challenges is to ensure that up to date assets are easy to find, and used by all employees across an organization. By building a connector between Frontify's Digital Asset Management solution, the whole process from design to delivery becomes more efficient and streamlined. No more down- and uploading thousands of assets from one tool to another tool.
Key Features of the upcoming Frontify and HubSpot integration
Save time (and headaches) by accessing your Frontify assets directly within HubSpot.
Changes to assets are reflected automatically. As you update an asset in Frontify – it'll be updated everywhere else, too.
Establish a consistent brand experience for every different department.
Users are able to find all the assets they need in one centralized location.
No manual updates are necessary, all changes to assets are automatically reflected.
Miguel Funes
Senior Manager Technology Partnerships